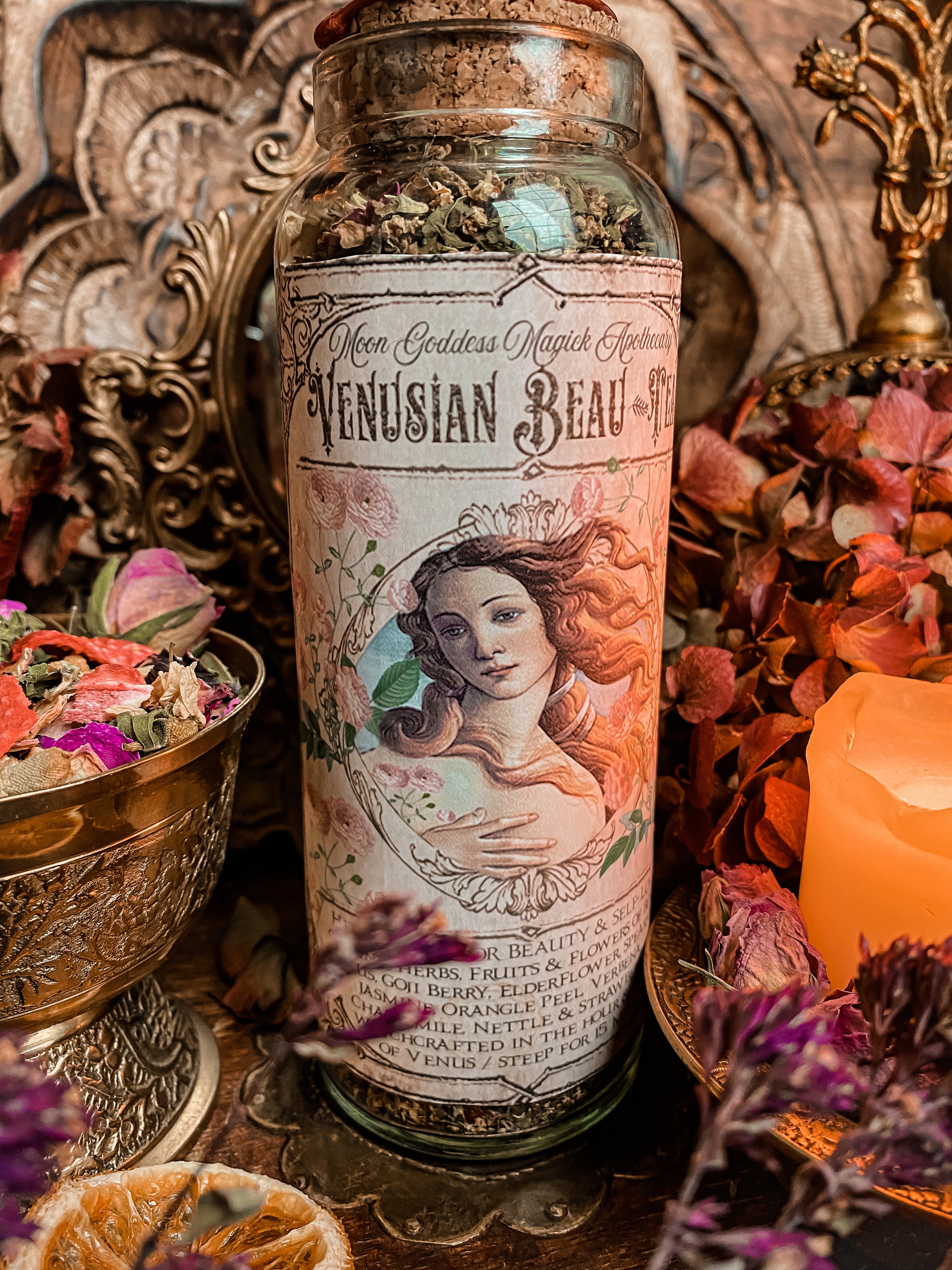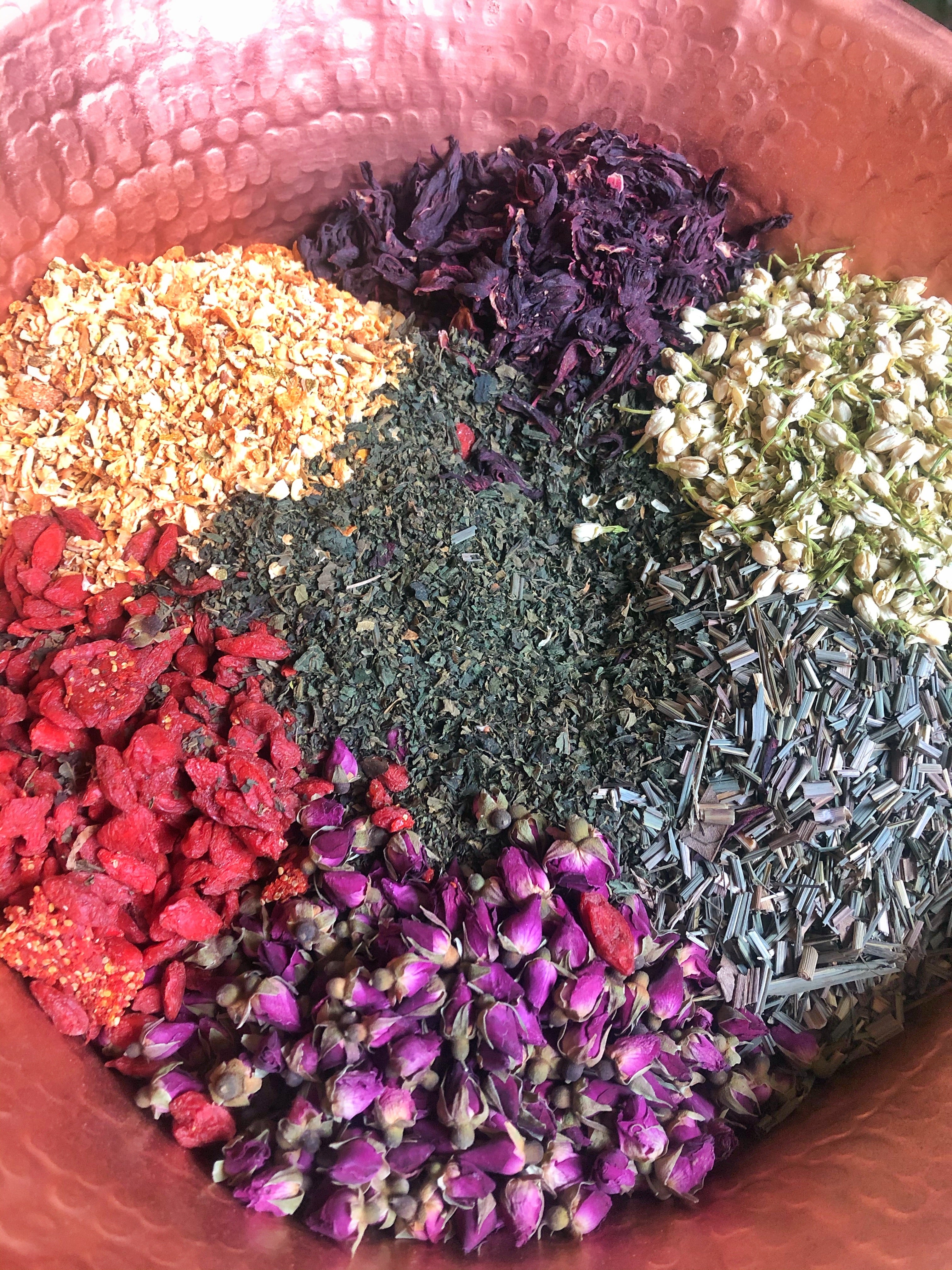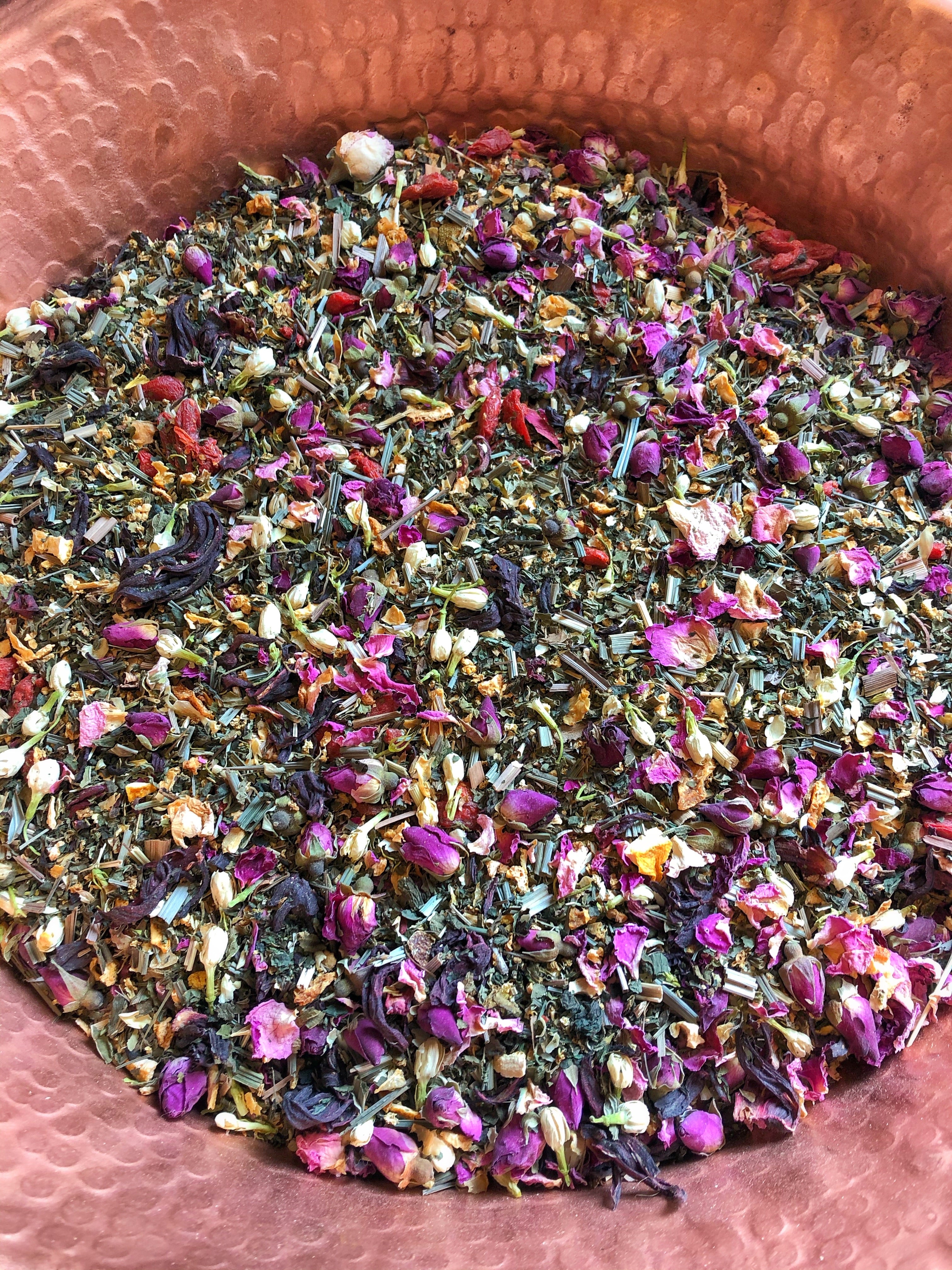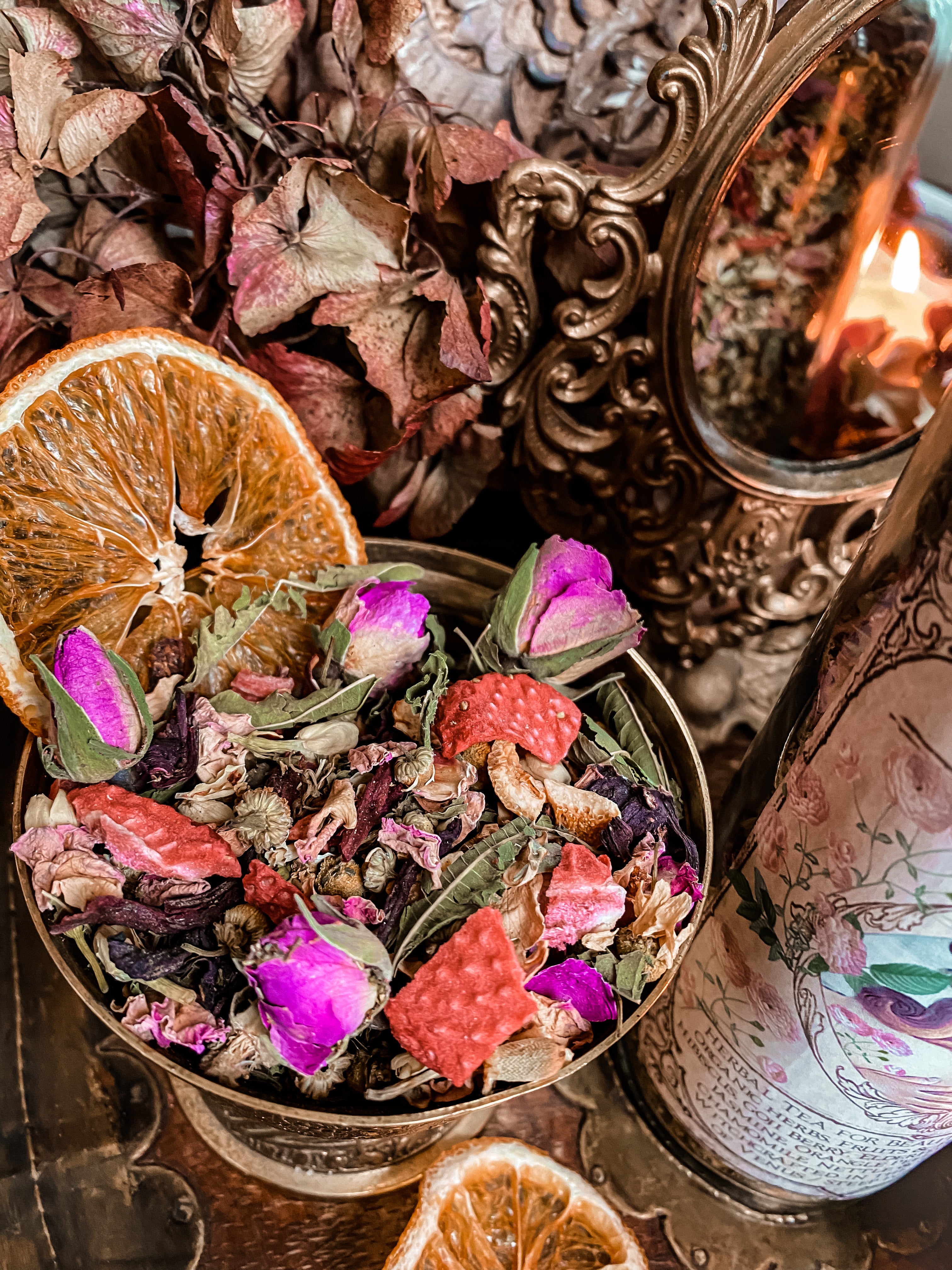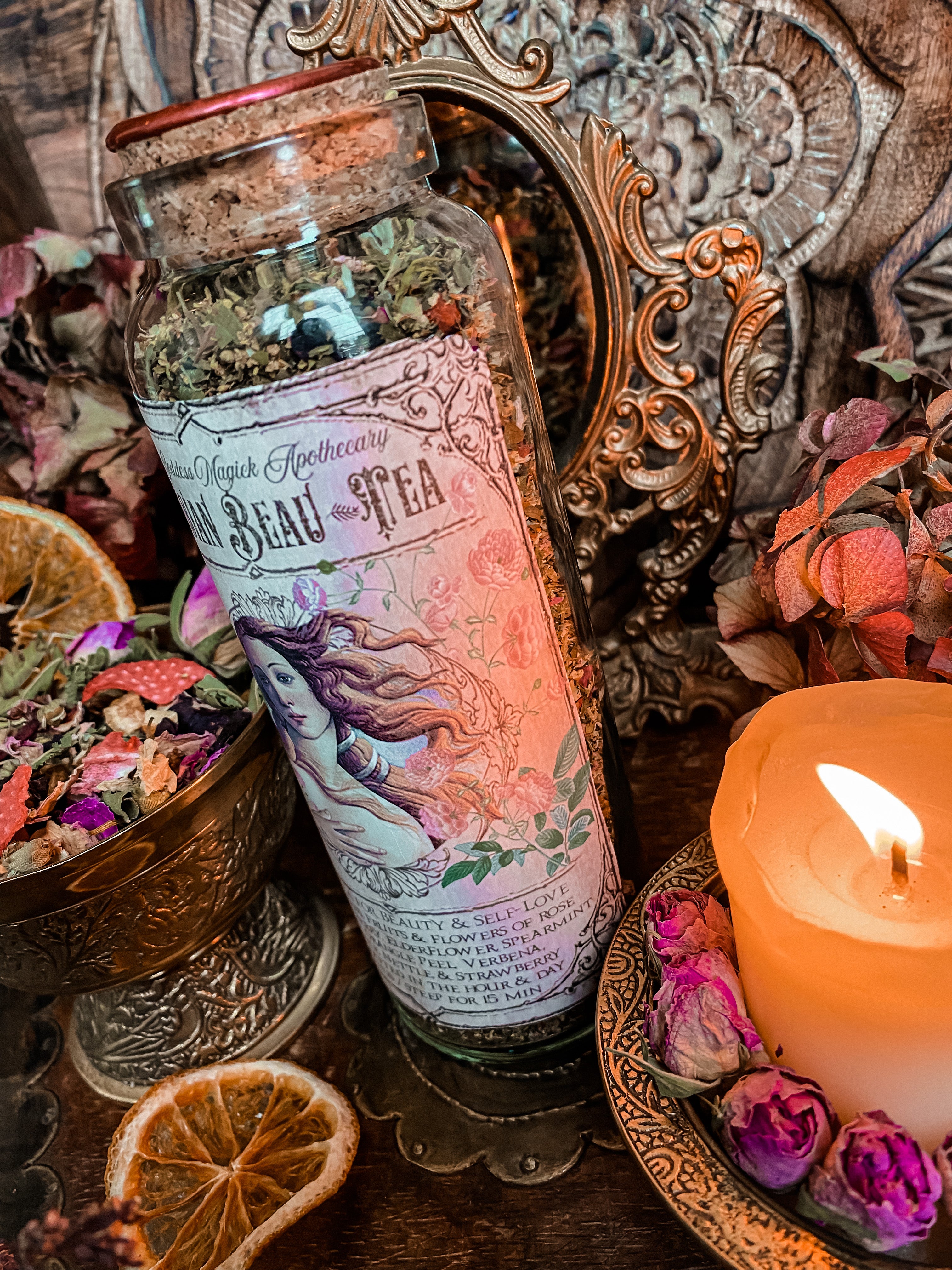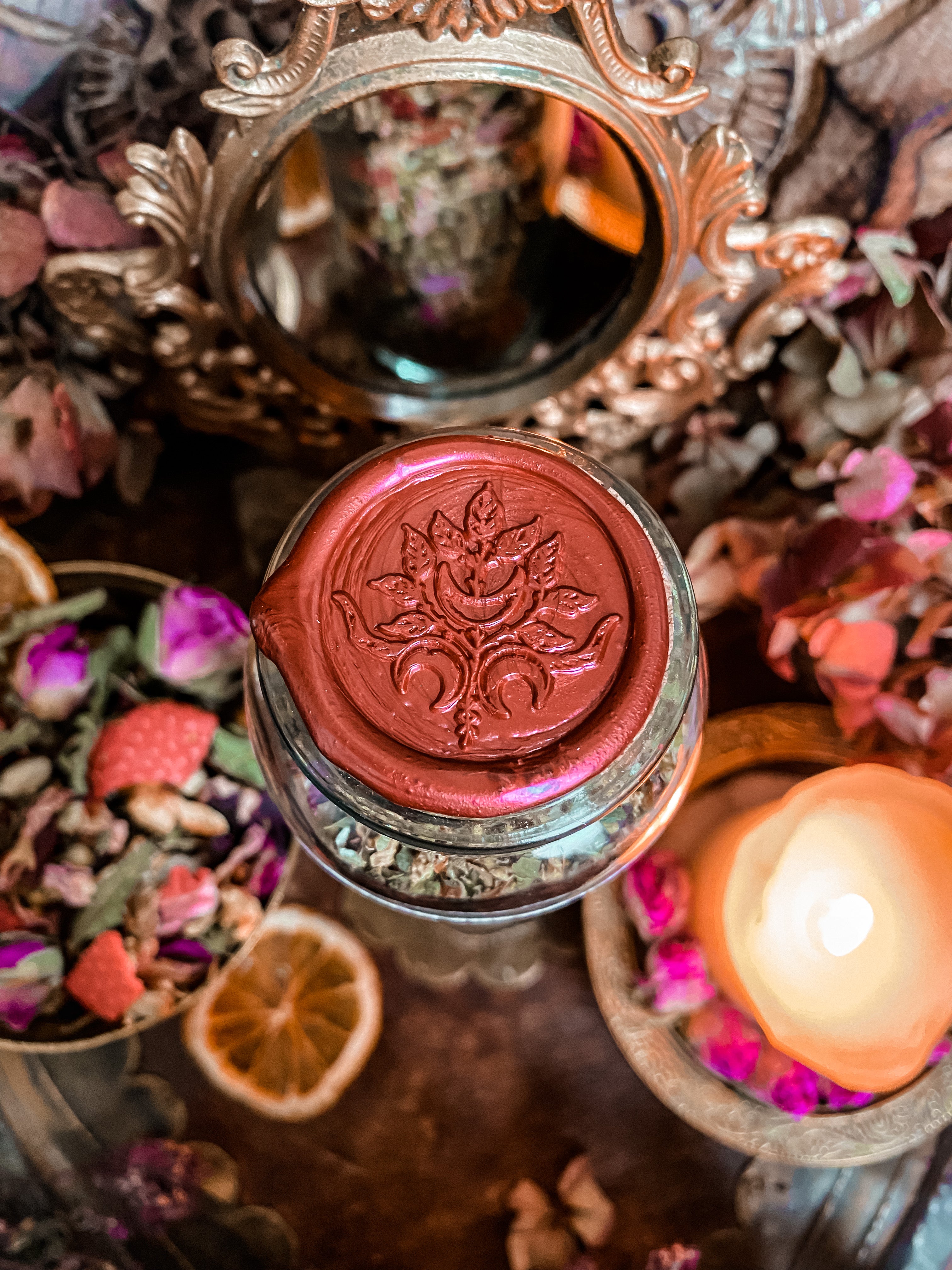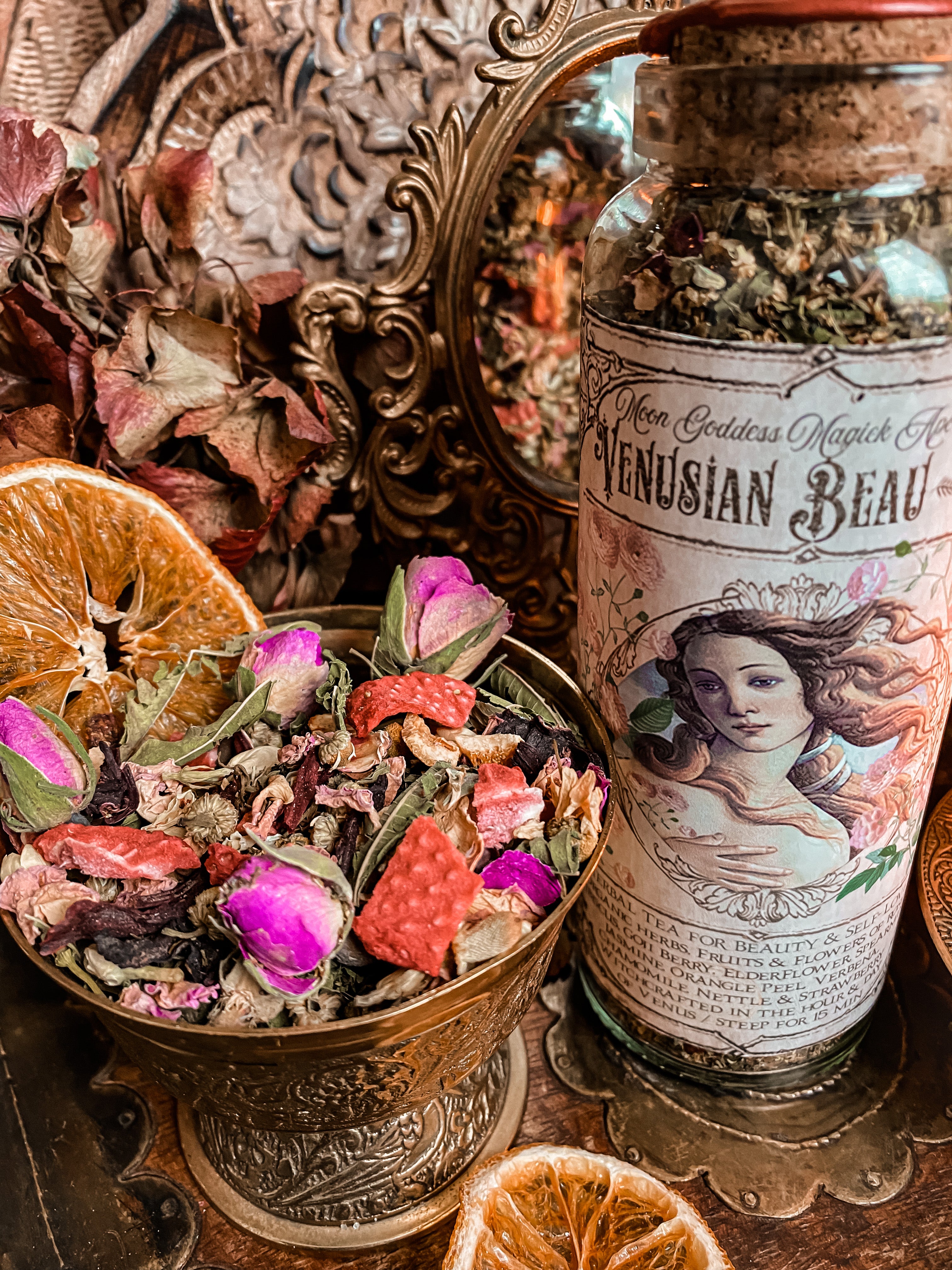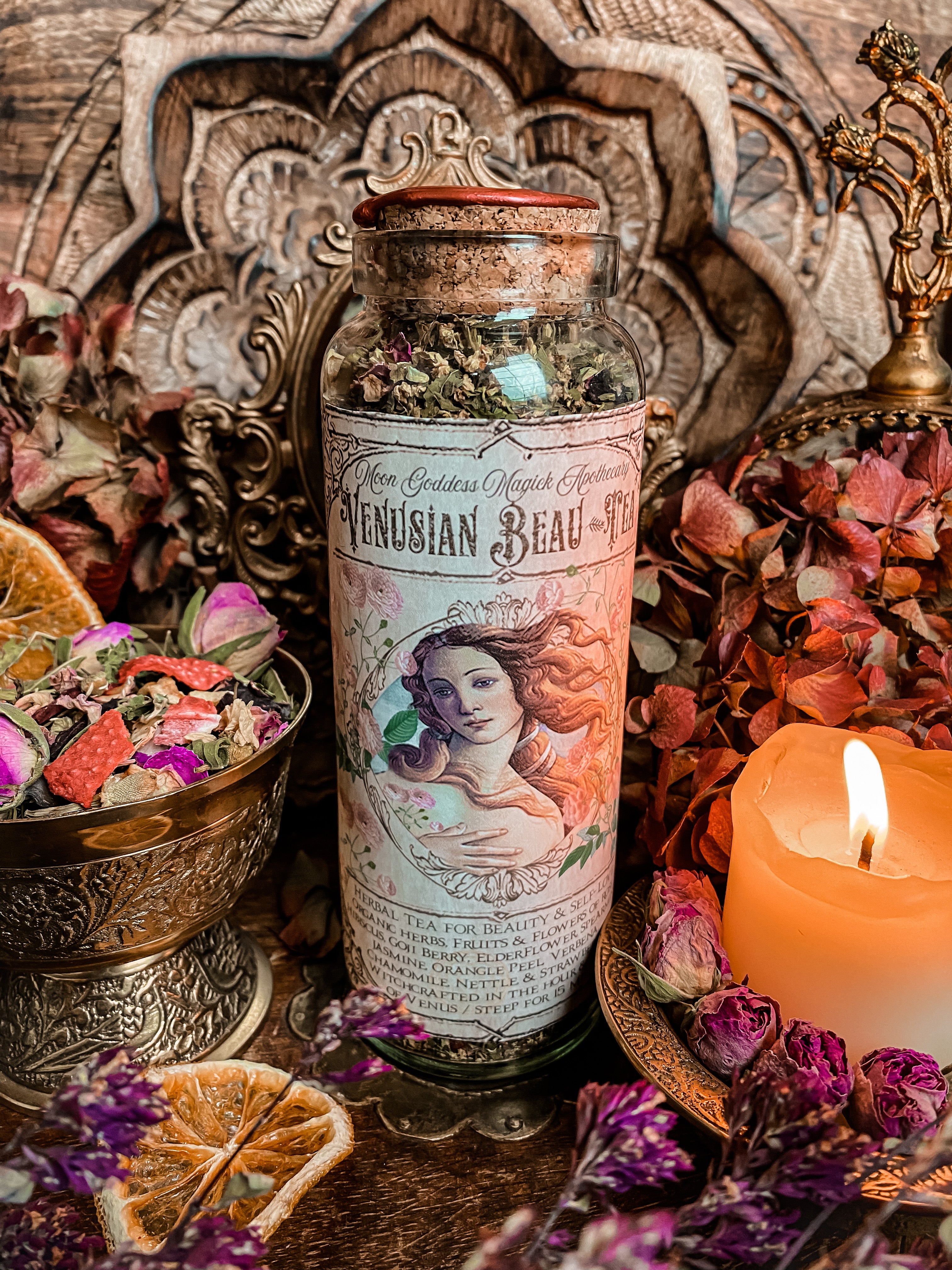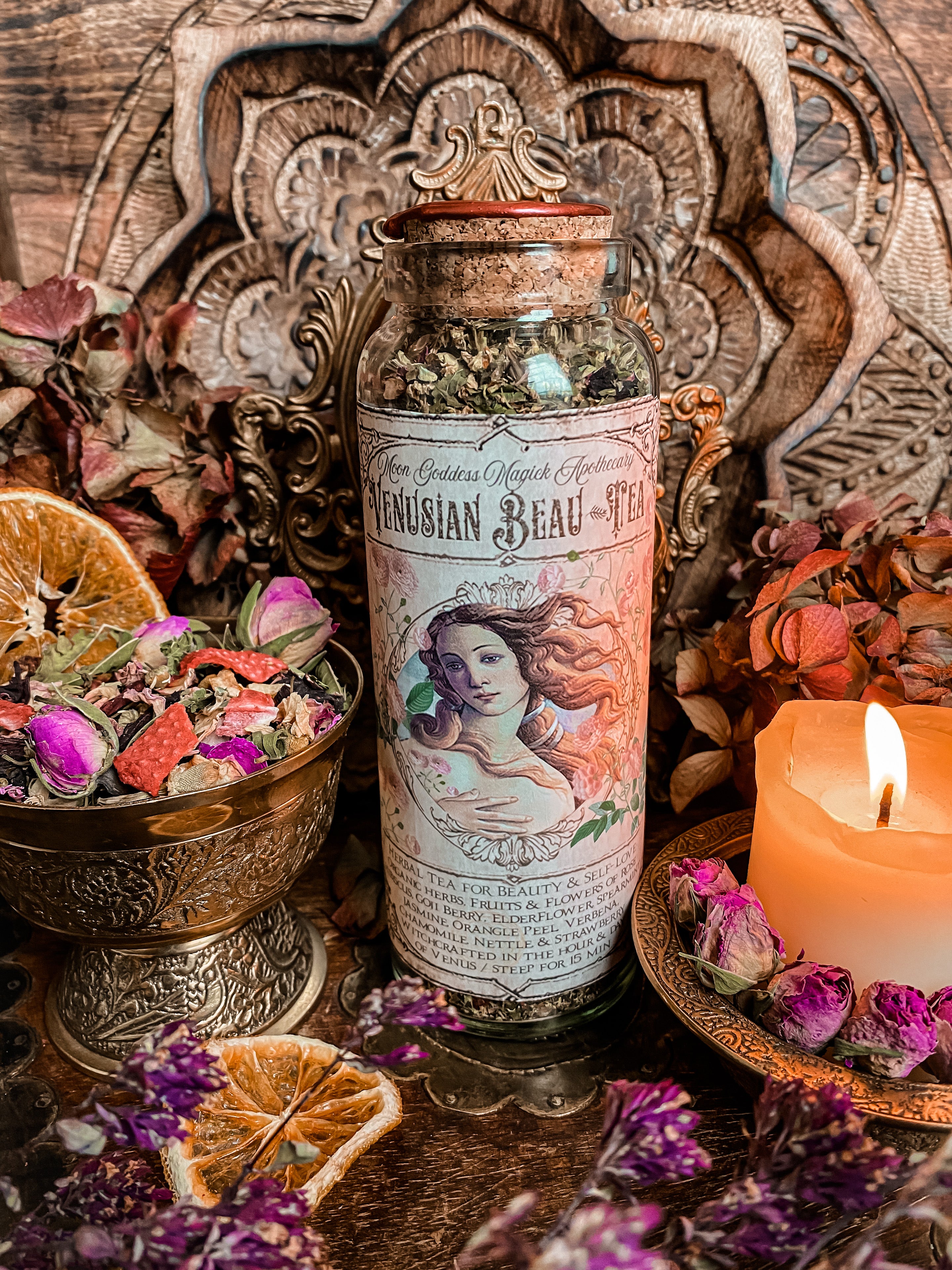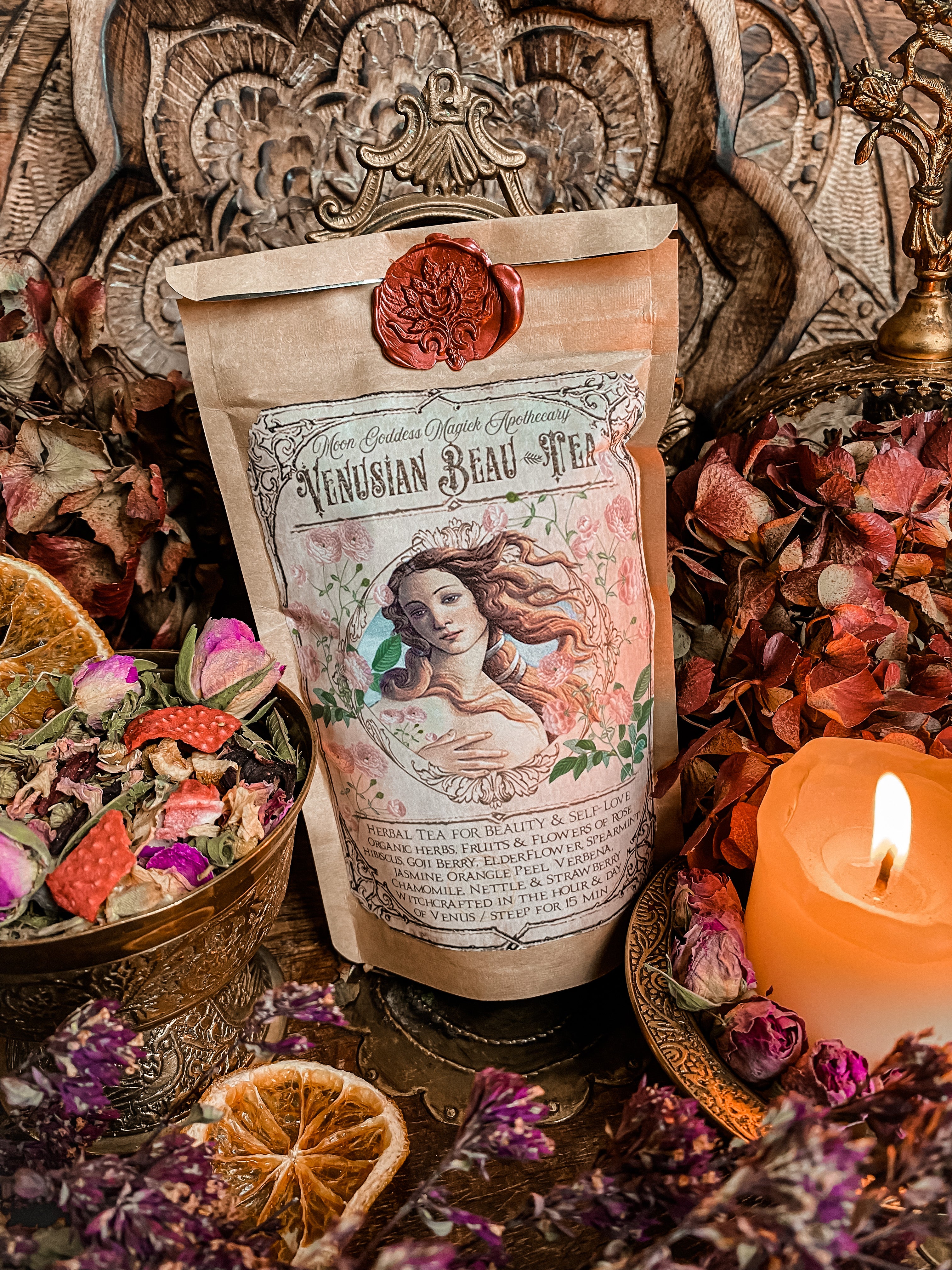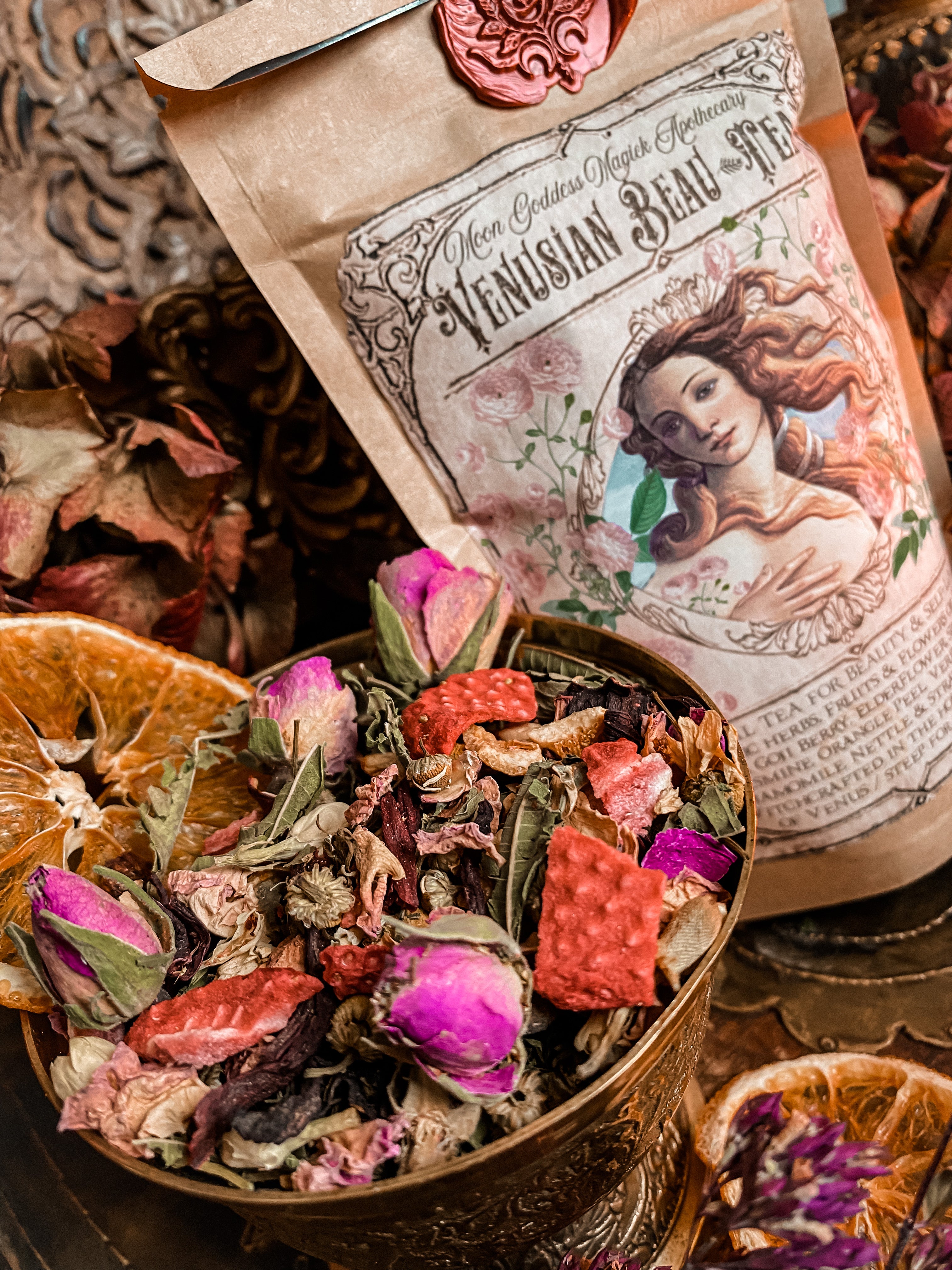 Venusian Beau-Tea /// Organic Herbal Tea For Beauty & Self-Love Rituals /// Good for Hair, Skin & Nails /// 8 oz glass Jar with Cork.
An enticing rose colored tea to invoke the power of Venus within, so that it illuminates outward, filling you and your space with harmony and love. A Venusian botanical offering to self, each sip a devotional gesture to nourish your most sacred divine temple. It reawakens self-Love, opening the heart space to expand beyond earthly limitations, reaching out into the cosmos to dance upon the Rose of Venus. It awakens the divine spark of creativity, leading to the physical manifestation of dreams and desires.



On a medicinal level, this tea nourishes the hair, skin and nails, keeping them strong and flourishing. It also delivers a host of other benefits that make it an ideal tea for health and beauty rituals. It delivers vitamins of A, C, B, K, & E. It lowers blood pressure, improves circulation, provides immune support, and promotes the production of natural collagen, which is a protein responsible for healthy skin and hair. Its mood enhancing qualities also make it a great companion for battling anxiety and other mood afflictions.



Magically, this tea will have you feeling the love and harmony that Venus embodies. I like to enjoy this tea ritual a little extra when our lady Venus is in her retrograde state. If you have certain Venusian qualities or imbalances that you wish to work on, or enhance, this would be a wonderful tea to employ for such rituals. For questions regarding love and other Venusian qualities, you can work with the loose tea leaves for tea divination, also known as tasseography. If this is new to you, there are many online resources to look up the art of tasseography to get started with those love divinations. When you end your day with the herbal energies of this tea that you have consumed, pay attention to your dreams and keep a journal nearby. The botanical influences will surely have something to teach you in the realm of dreams.

Not all plants in this blend are Venusian herbs, I wanted to create balance within this blend my adding a little fire to help move it through the body. I drink this tea at least once a day in the hour of Venus which usually falls sometimes after midday after I've had a small lunch. I find this the best time to really heighten the energetics of this tea when introducing it to your body.

Witchcrafted with all Organic ingredients of Rose, Elderflower, Goji Berry, Hibiscus, Jasmine, Nettle, Orange Peel, Spearmint, and Lemongrass. Ritually blended in a large Egyptian copper bowl on the day and hour of Venus. This tea is Caffeine Free and should be steeped for a minimum of 10 minutes to fully enjoy the flavor. Enjoy up to 3 times per day, but once is enough.

Want to really kick your beauty ritual up a notch? After you have fully enjoyed your tea, you can apply the damp tea leaves to you face and let them sit for about 10 minutes to enjoy the same beauty benefits as your insides did.

After your tea is brewed, if you decide not to put it on your face, at least enjoy the Goji berries! They are delicious and packed with loads of health benefits. You can also scatter your used steeped tea into your garden to shower it with Venusian vibes.



Venusian Beau-Tea comes in an 8oz Glass Jar with a corked lid. This is eco Friendly and can be refilled by re-ordering the tea in a kraft bag. That option is available on the in variants section. This bag comes unlabeled and full of Tea for refilling your jar. Or you can continue to order in the jar and use them for other creative purposes.



Fragment of the Orphic Hymn to Venus



HEAV'NLY, illustrious, laughter-loving queen,

Sea-born, night-loving, of an awful mien;

Crafty, from whom necessity first came,

Producing, nightly, all-connecting dame:

Tis thine the world with harmony to join,

For all things spring from thee, O pow'r divine.

The triple Fates are rul'd by thy decree,

And all productions yield alike to thee:

Whate'er the heav'ns, encircling all contain,

Aphrodite



Please avoid this tea if you are pregnant. If you have underlying health conditions with the heart, liver, or kidneys and are on medication, please consult with your physician before consuming this tea.