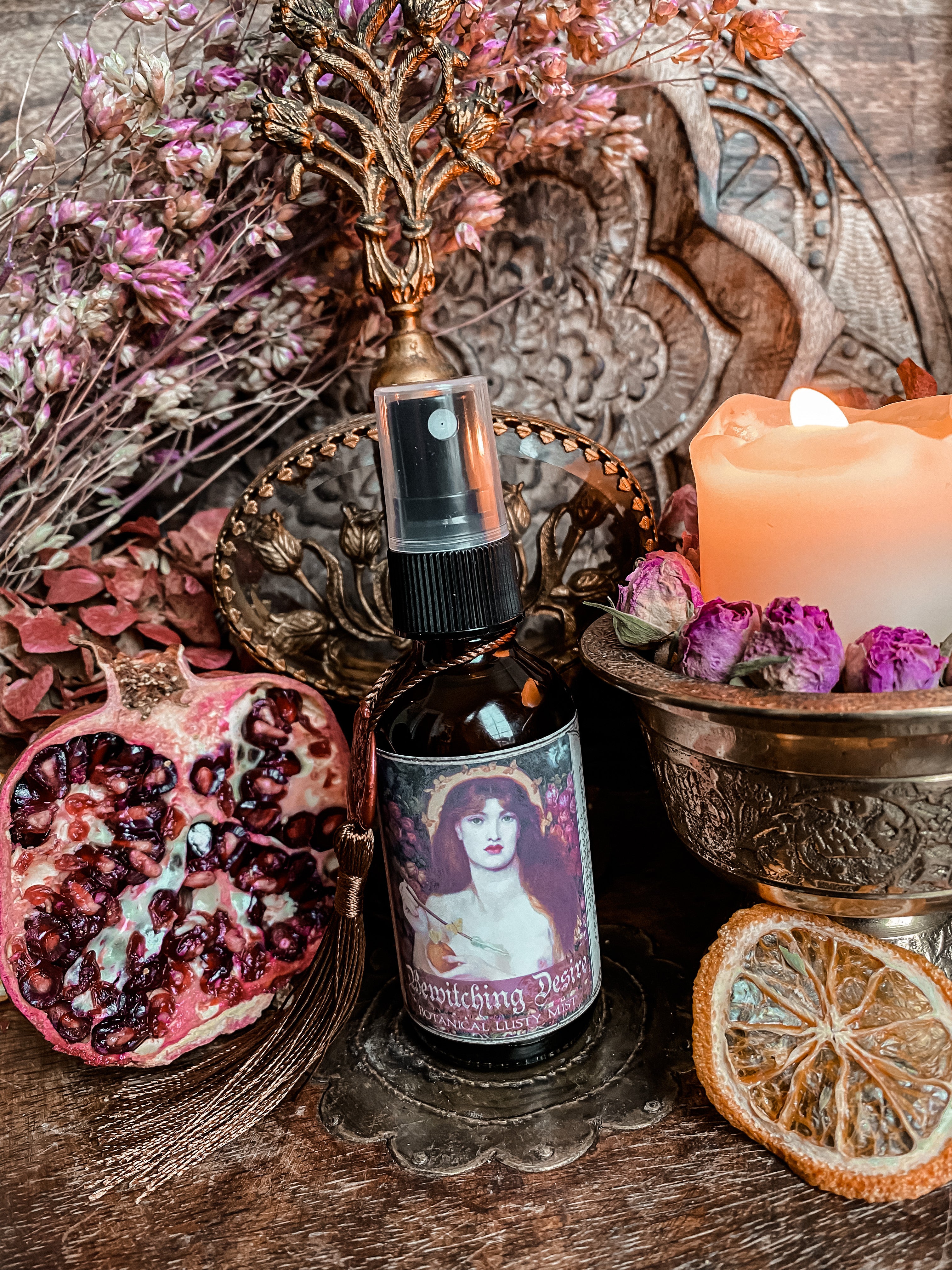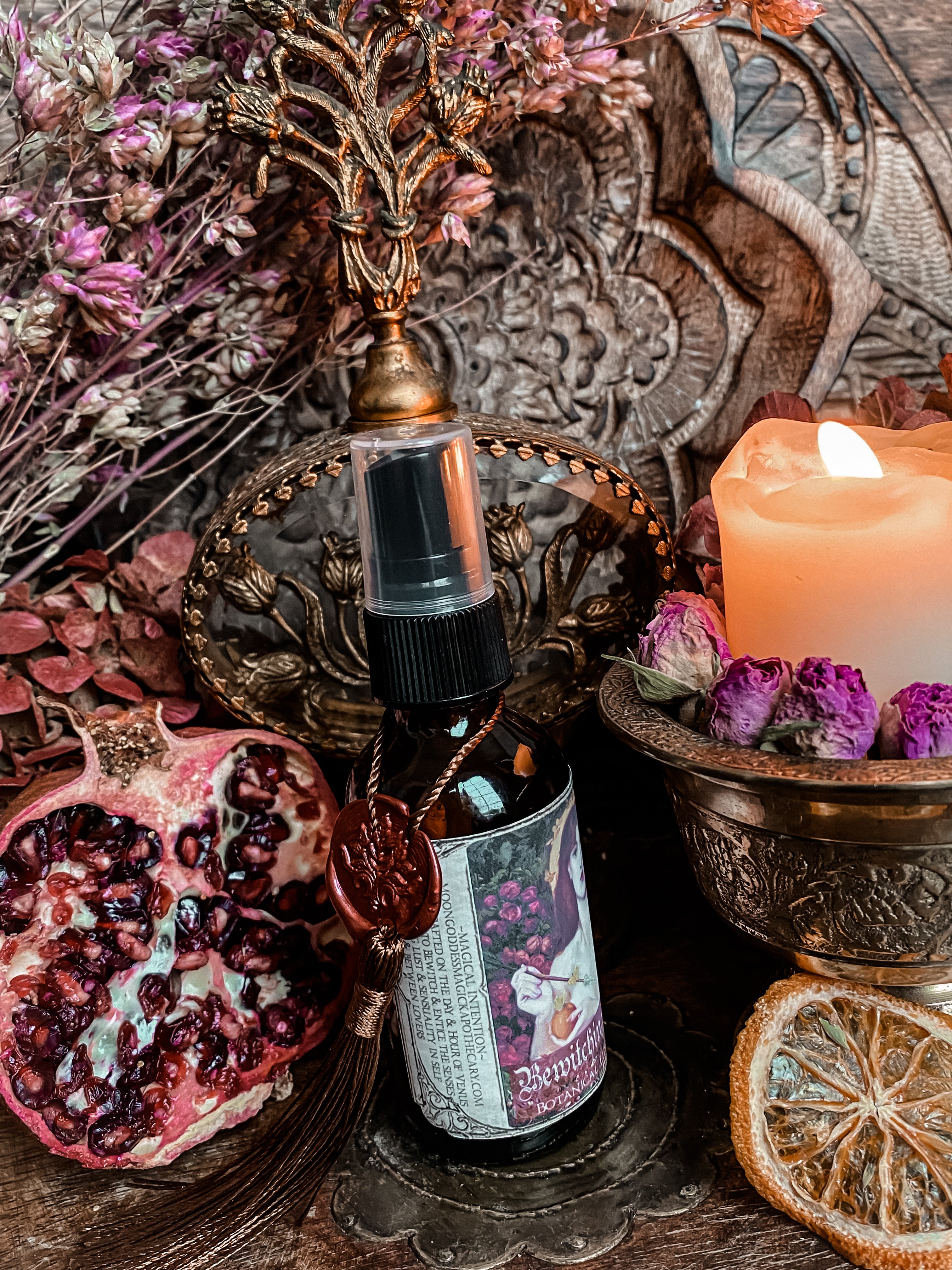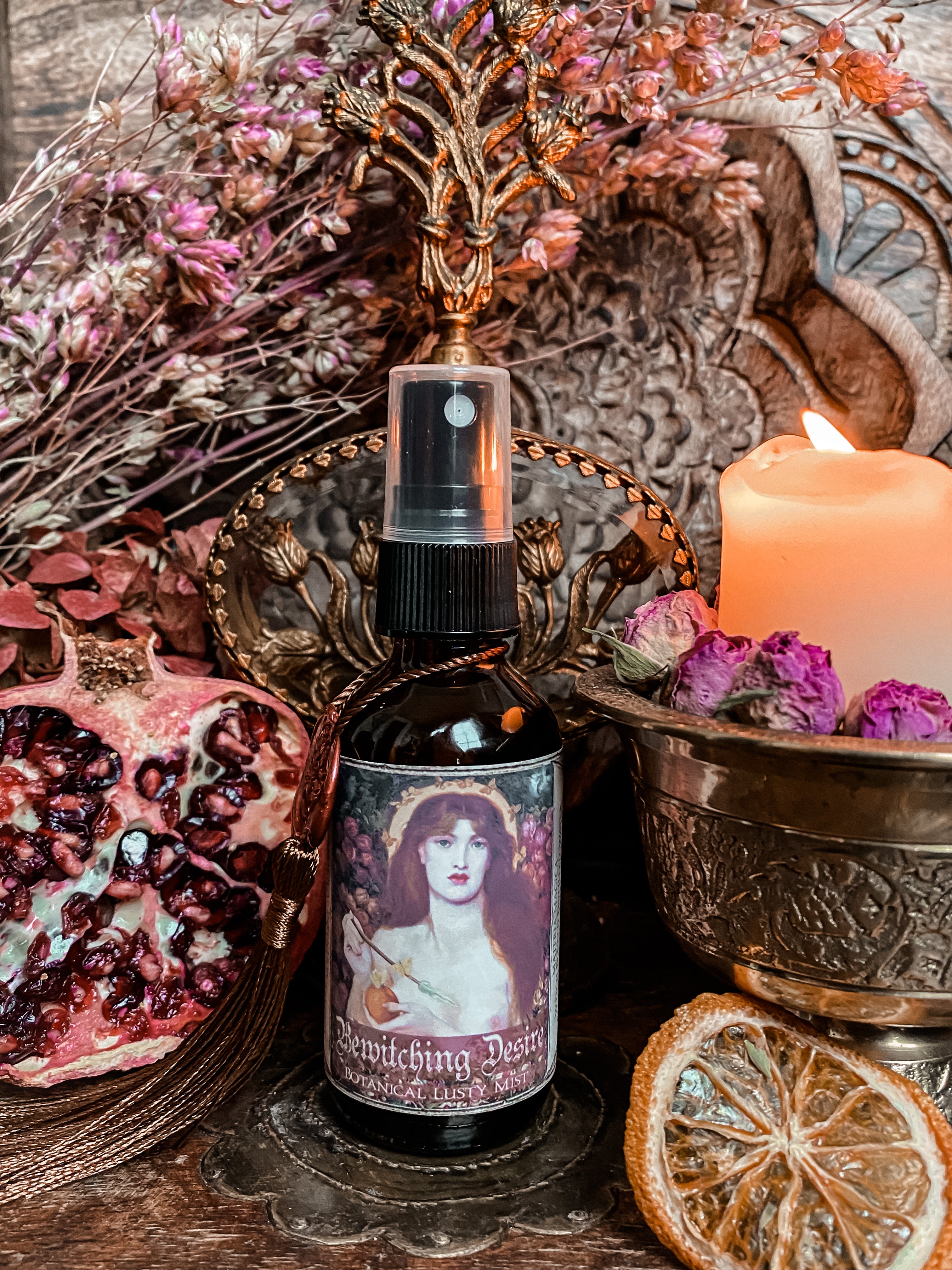 Bewitching Desire /// Room, Linen and Body Spray for Enticing the Art of Love.
A Bewitchingly lusty blend of Rose Otto, Jasmine, Ylang Ylang, Sweet Orange, and Rose Quartz crystal to entice and enhance Love and the Art of making and expressing it through the Mind, Body, and Spirit. Ritually infused into one beautiful offering to evoke desire and sensuality into your sphere. As this aroma fills your senses, it evokes the fires of passion, taking your mind, body and spirit on a journey through centuries of Love. You'll have your would be or current love flames falling at your feet to delight themselves in the erotic aromas that fill their senses. 
Rose, Jasmine and Ylang Ylang have a very long history with love. Lover's of all types have long worked with the power that these beautiful flowers have to offer and would anoint themselves with the oils or bathe with the flowers before their love making and sexual rites. These sacred flowers of love are beautiful allies to invite into daily life to increase desire, pleasure, sensuality, and sexuality. The hopeless romantics and poetic masters throughout the ages have all expressed their love for these powerful botanical beauties. As botanical spirits they possess a magic and charm of love all on their own. 
The Rose Quartz crystal is unique in its ability to reach the heart, strengthen bonds and weave love into self and lovers.
Due to the cost of the Rose Otto and Jasmine Essential oils, the price of this blend is higher than other sprays. These oils are pure and not altered synthetic oils. Their magical energy in potent as well as their lustful fragrance. All Sprays are Witchcrafted with distilled water that has been blessed with a special chant for each intent desired. I have also charged the water with my singing bowls to increase the power of the flowers, and their energy.
~Multiple Uses~
~Spray on yourself in all areas that are external only.
~Spray on your bed or where ever your magic happens ;)
~Spray before or during your love making
~Spray before a date with a potential lover
~Spray where ever you like. Just not in your mouth or in intimate areas. 
~Comes in a 2oz Amber Glass Atomizer bottle~
THE ALL IMPORTANT SAFETY INFO:
FOR EXTERNAL USE ONLY, KEEP OUT OF YOUR LITTLE PEOPLE'S REACH, KEEP OUT OF YOUR EYES (OUCH). ALWAYS DO A TEST PATCH ON SKIN BEFORE USE. IF IRRITATION OCCURS PLEASE STOP APPLYING IT TO YOUR SKIN. MOON GODDESS MAGICK IS NOT RESPONSIBLE FOR MISUSE OF ANY OF OUR PRODUCTS. IF YOU HAVE ANY QUESTIONS PLEASE CONTACT ME. I WILL REPLY :)


~~~~~~~~~)O(~~~~~~~~~~~)O(~~~~~~~~~~~)O(~~~~~~~~~~~)O(~~~~~~~~~~~~~~
FEEDBACK~
In my personal experience, the infusion of Sara's positive energy and the calming, yet sensual scent of Roses and Jasmine make this concoction fulfill its purpose of enhancing the art and magic of creating love. I won't divulge details, but this creation influences new sensual experiences! K.L