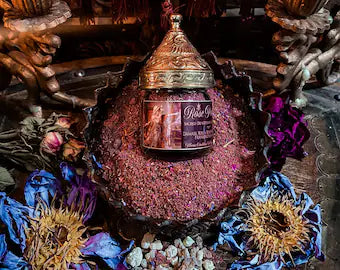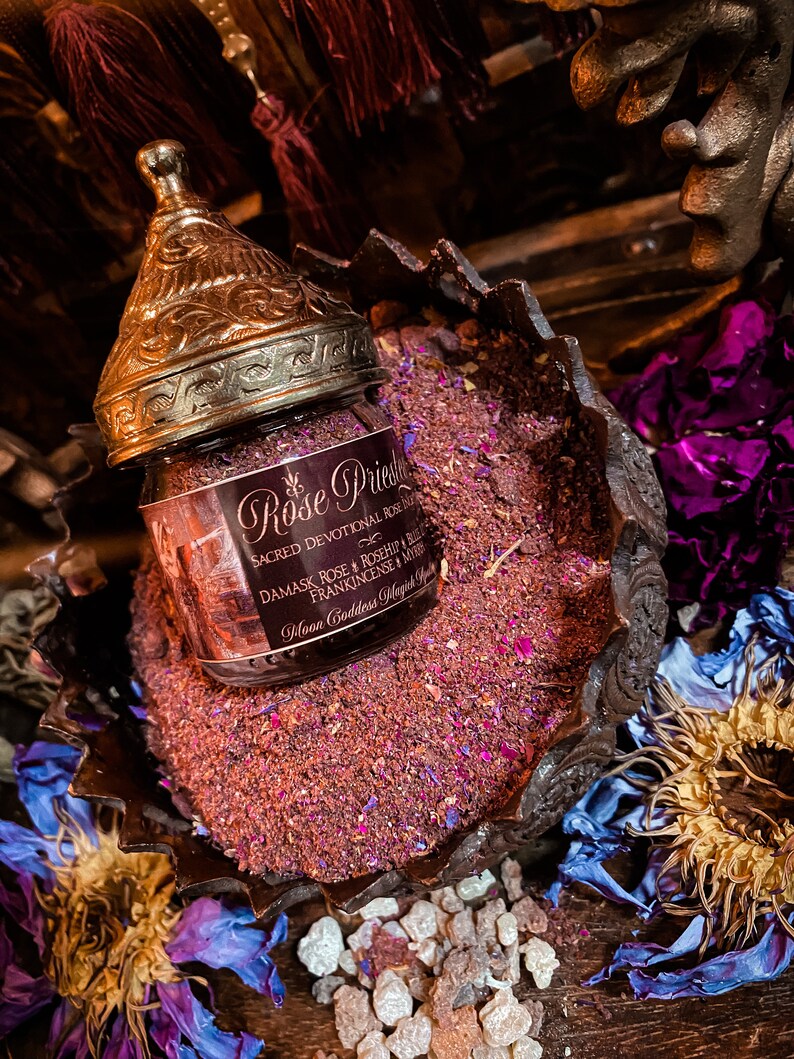 Rose Priestess Incense ~ Rose Priestess Lineage ~ Rose Incense ~ Venus Offering ~ Venus Incense~ Ornate Jar 1.4oz of Loose Incense
If you find yourself reading this and drawn to this offering, you are likely beginning to remember your calling as a Rose Priestess. In this realm, in this moment, you are the earthly embodiment of the cosmic rose lineage made flesh. The rose is a gentle unfurling into your sacred feminine remembrance. An aromatic reminder that you deserve love and that you are love. Your body, mind, and spirit have the deep seeded wisdom to heal the feminine wound in this patriarchal world and within yourself.
You have deeply felt your calling back to the sacred work of the Priestess. You have seen the need to restore the balance between the Sacred Masculine and the Sacred Feminine. The restoration of the Divine Feminine needs to be woven back into humanity. No longer can she stay hidden in the shadows. No longer can her voice be suppressed. No longer can her heart barely beat. She will rise, she will be seen and felt, her voice and heart will echo within every open ear, and she resides in you.
The Spirit archetypes of the Rose Priestesses that came before you stand with you and dwell within you. They are Inanna, Ishtar, Hathor, Isis, Sophia, Magdalene, Anahita, Aphrodite, Freya, and You. There are many more. Their wisdom is woven into your life story. They know that your awakening into a Rose Priestess will not only change your life, but will greatly benefit all of humanity. You will walk the rose path to embody and exude love in divine service for the healing of all.
The ancient rituals and mysteries of the sacred feminine are as old as humanity. The earliest recorded evidence we have of the rose mysteries leads us directly to the planet Venus and her esoteric teachings that spread across the world. We walk the path of the rose. We ascend, we descend, we ascend, we descend, until we form a beautiful five petaled star flower in the cosmos.
This sacred scented smoke is a beautiful way to connect to the Rose Priestess Lineage within you. An aromatic initiation into remembering your power and your purpose here on Earth. As you work with this incense pay attention to the tendrils of smoke that swirl before you. Who do you see? Hathor, Inanna, Mary Magdalene, Aphrodite, Hera, Freya…You?
This beautiful rose scented incense was created in ritual with songs and hymns to Venus whispered during Venus hours. She contains garden grown Damask Roses and Rose Hips, Frankincense and Myrrh from Sacred Lands, and Blue Lotus grown in the ancient lands of Egypt. Bring this blend to life with charcoal tablets in a heat safe bowl. She is ready to adorn your senses with the beauty, power, and magnetic pull of the sacred rose.