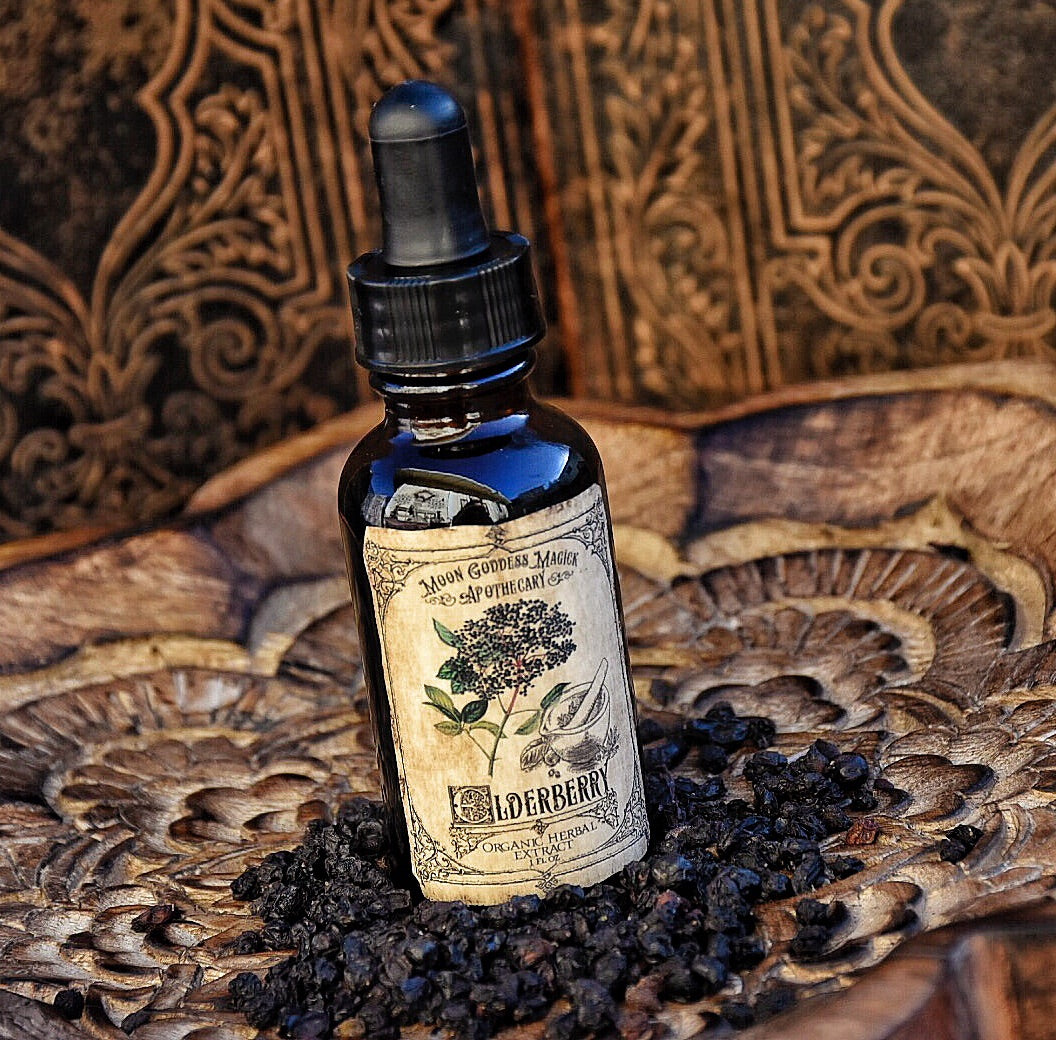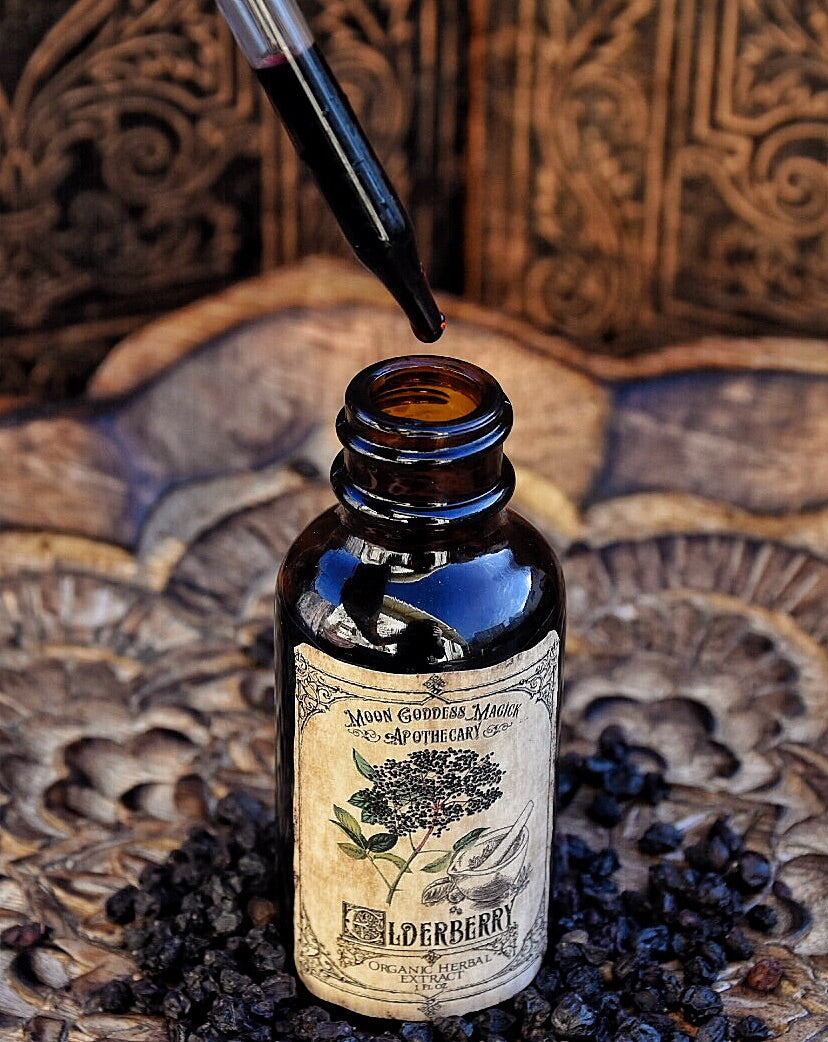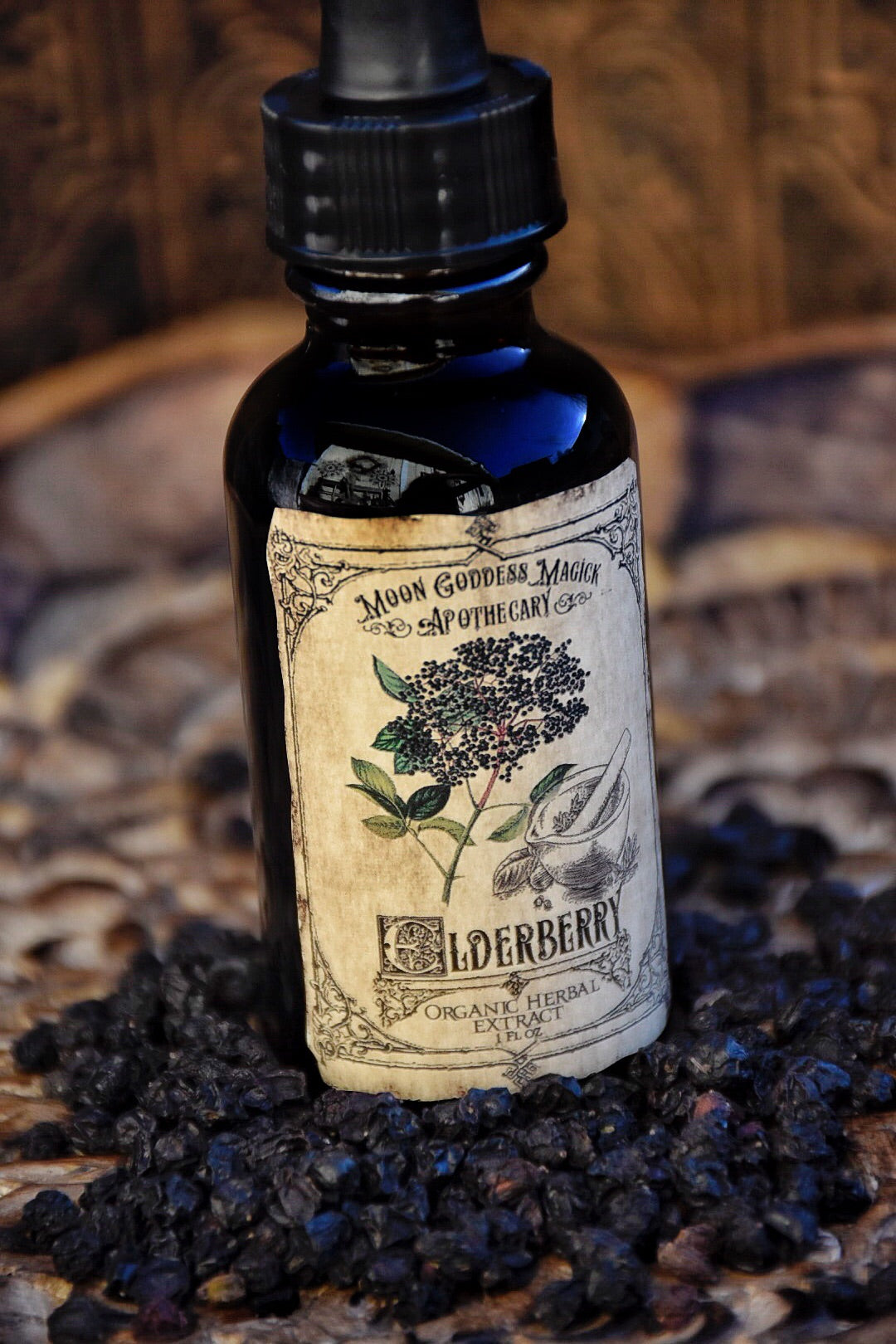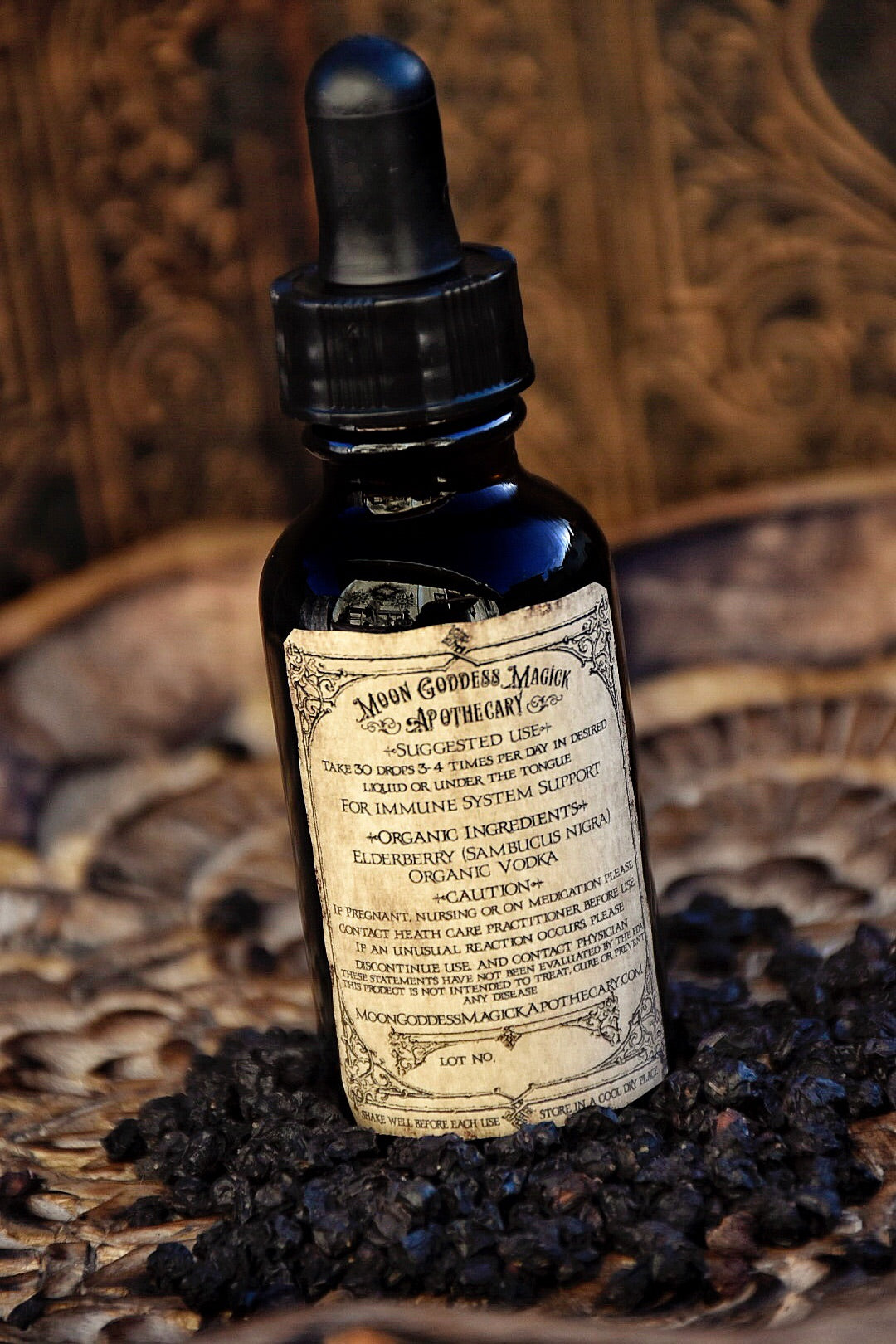 Elderberry Tincture~ Organic Herbal Extract~ Immune Boosting~ Cold and Flu Folk Remedy~ Elderberry Magick~ 1oz Drpper Bottle
•Tinctures are liquid concentrated herbal extracts where high proof alcohol is used to extract the medicinal properties of the plant chosen. Tinctures have a long and ancient history of providing the body with concentrated plant material to work with various ailments and provide a great way to easily take nature's gifts for Mind, Body and Spirit wellness. Good tinctures brew for about 4-7 weeks in high quality organic alcohol pulling out all of the chosen plants therapeutic qualities into a liquid that is both easy to use, and delivers the botanical medicine to your body in a more efficient way.
•My tinctures are created during specific astrological timings to create not only a heightened energy, but a more potent potion for your sacred temple, your body!
•I also incorporate a series of Galdr Incantations into my Tinctures, choosing the one or two Runes that properly match the energy of the of the plant that I am working with, this process is done over the entire 6 weeks of infusion, through 2 Full Moon Cycles . This is a unique and intimate ritual of singing to increase the power of the tincture done by a series of chants invoking the power of the runes.
•I make my tinctures in intimate batches with limited availability between each one~ Herbs chosen are always carefully selected, they come from a certified organic source and are always tasted and tested before release~ I am not responsible for misuse or adverse reactions and upon purchase you are agreeing to this statement. Please be mindful in reading the ingredients to make sure that you are not allergic to any of them. If you experience an allergic reaction, which is rare, discontinue use and consult your doctor.
••• Elderberry (Sambucus nigra) •••
(Brewed for 7 weeks) 2 Full Moon Cycles
Runes evoked are Laguz and Algiz
•Elderberry has been one of my favorite tinctures to create, I am drawn to the rich purple color and seductive scent of her dark mysterious berries. The Elder tree is a powerful feminine force holding the Spirit of the Elder Mother deep within. It is no wonder that her berries bring incredible medicine for the body and mind~For many Moons, healers and herbalists have been borrowing from the magic of the Elderberries to make various forms of healing tonics and tinctures to boost the immune system and to help fight off various cold and flu symptoms when they begin to arise.
•This batch brewed for 7 weeks and was created on the day of Venus~
•Elderberries contain a powerful amount of antioxidants and are high in vitamins like C, A and B. Rich in Flavonoids, including quercetin, which are believed to be responsible for the therapeutic qualities of the elderberry. Flavonoids include anthocyanins that are powerful antioxidants, protecting cells against damage, and arming the immune system to fight. 
•Magically the Elderberry offers her medicine to us in ways that protect, comfort, soothe and heal, much like a Mother would her Child. Taking in her medicine is to take in her comfort and her prophetic guidance.
Precautions~ If you are on medication for a serious illness, please consult your doctor before taking Elderberry tincture. Elderberry can have mild laxative, diaphoretic and diuretic effect, so be sure to drink plenty of water while taking Elderberry tincture. As with beginning any Herbal supplements, please consult your physician first!
•Directions for use~
There are two ways to take your tincture~
1. The first method, in my opinion is the best way and that is to take your tincture directly under the tongue, this is the most effective way to get the magick into your bloodstream.
2. If the tincture is too strong for you then you can choose to take your tincture drops in a glass of water.
•Storing your Tincture~
Your Tincture will keep for a few years in a cool dark place, do not place on window seals and keep out of direct contact with the Sun~
*Ingredients
-Organic Elderberries
-Organic Vodka