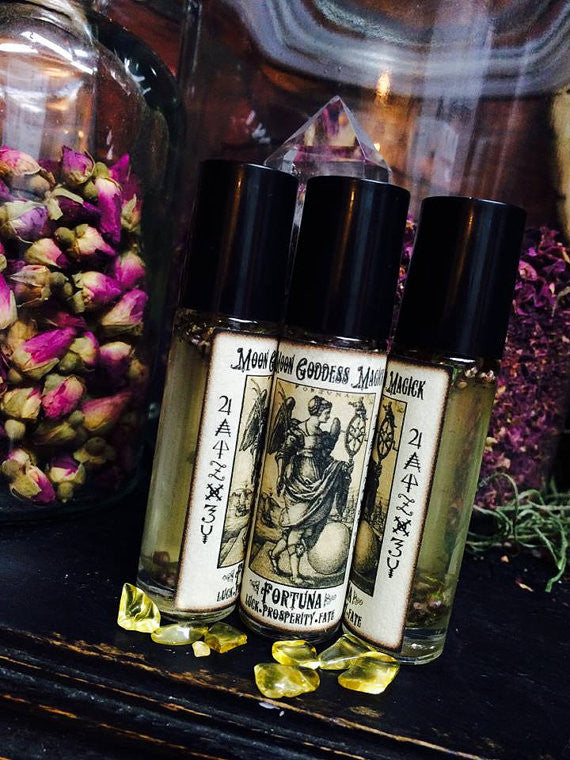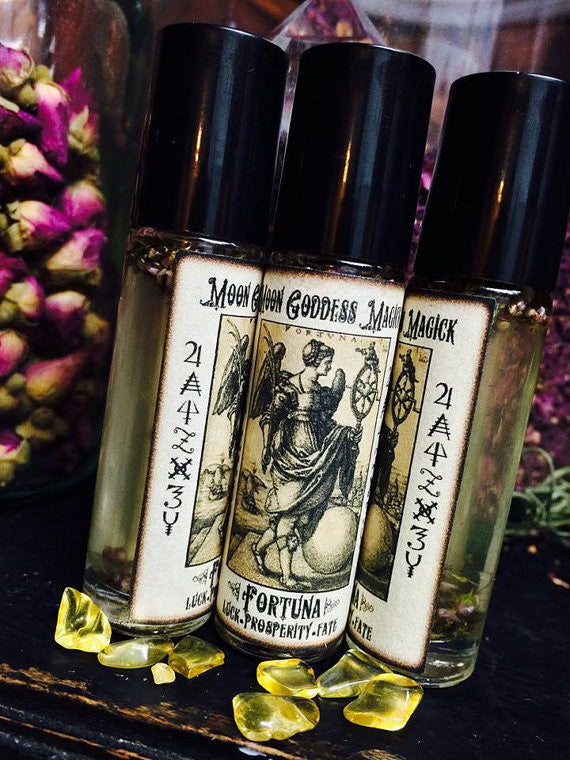 Fortuna Oil ~ Fate ~ Prosperity ~ Luck ~ Turn the Wheel of Fate in your Favor~ Good Luck Oil ~ Abundance oil ~ Lucky Oil ~ Magick~Witchcraft
Fortuna is the Roman Goddess of Fate, Prosperity and Luck. She was very popular in Ancient Rome and had a temple built in her honor where the Romans would go to ask for her assistance and guidance. She wields the wheel of fortune and reminds us to take a look at our own fates and how we can attain the things we desire most if we place our minds in the right thought patterns. Fortuna's wheel has the ability to turn for the better or for the worse and it is up to you to help her steer the wheel in your favor~
Fortuna's Oil is Infused with the finest Herbs and Essential oils of Heather, Chamomile, Cardamom, Spearmint, Cinnamon and Clove~ Crystal charged with Citrine stone to raise your vibrations, bringing in Abundance and a calm steady mind~ Made on the Waxing Moon, this blend is meant to help you manifest your Destiny and embrace what comes your way. Giving you the power to be optimistic and change your fate for your greater good~ As you anoint your body with your oil, pay attention to your pulse points. This helps your oil to reach your entire Aura ~ Invoke the luck of Fortuna by reciting this incantation that I have written for you~
"Blessed Fortuna
She who steers the Wheel of Destiny
I call to thee
Lady of the fates, lady of prosperity
Bless me with your guidance
I invoke thee."
As you invoke Fortuna and ask for her blessings remember to do her the honor of acting on her gifts to you. Life comes with blows, ups and downs to test our strengths and virtues. Will you allow the bad times to take over you, or will you grab good luck and opportunity and act upon them without letting them slip through your grasp? The fate she gives to you as her wheel turns will be yours to lose or gain from. Your perspective means everything with Fortuna's wheel~
Have you ever had something terrible happen to you, yet when you looked at the situation differently and changed your own fate, had it turn out for the better and more in your favor? The more you allow yourself to go with the flow of Fortuna's wheel of destiny, the more you luck will change for the better. Things will become easier and more harmonious~ Let past mistakes be your inspiration for bettering yourself and your goals. Grab hold of Fortuna's wheel and steer it in your favor!
Once you have her wheel spinning in your favor continually feel the power that it offers you as it spins on its eternal path. Visualize it spinning through the seasons and the moments in your life. See the Sun rising and the Moon growing and waning all the while your fortunes stay strong and prosperous~ any bumps in the road in the future are meant to aid you in your Spiritual Growth!
Wishing you Good Fortune and a Blessed Fate~
)O(
Love, Light and Magick
Sarah ~
Listing is for 1/3oz roll on bottle~