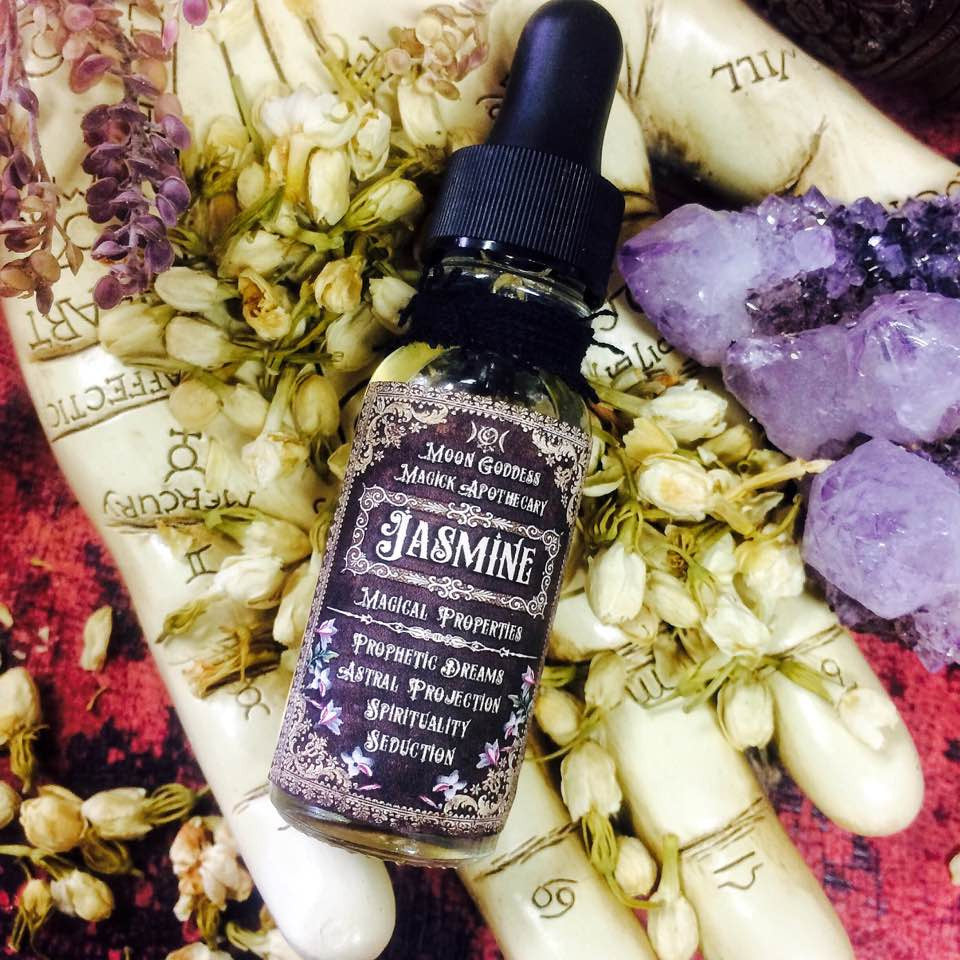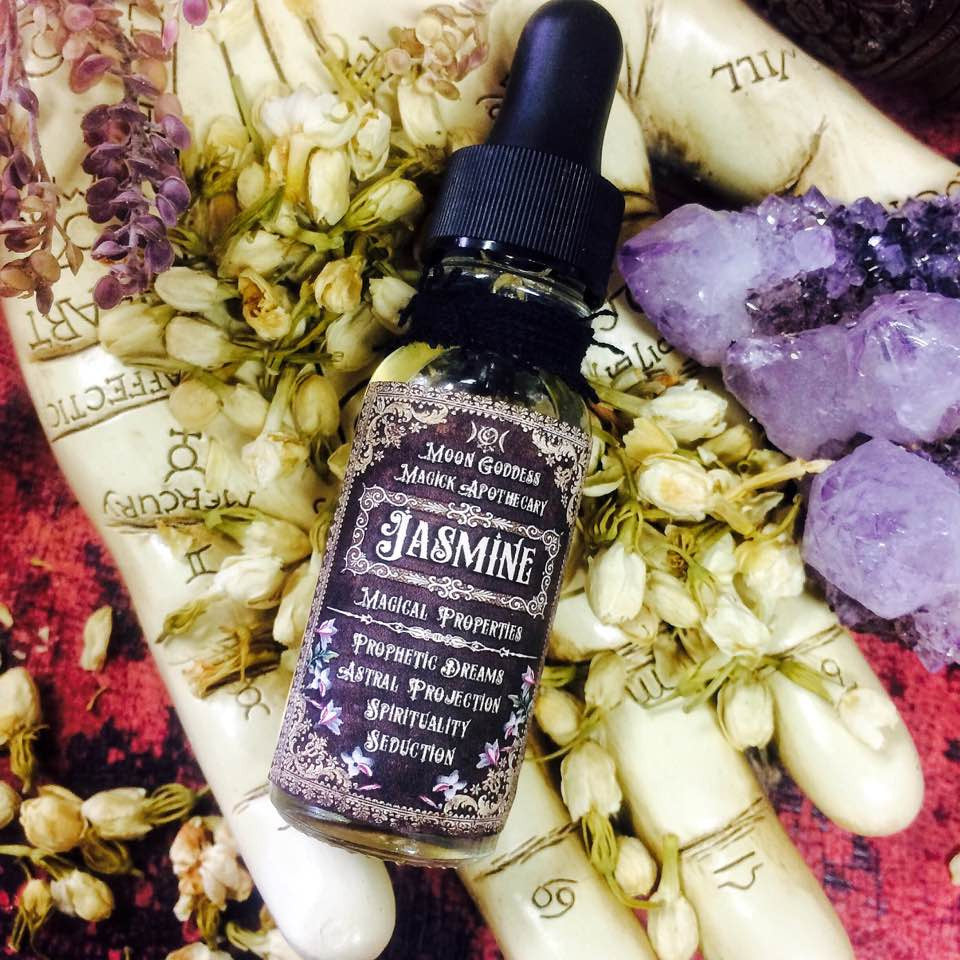 Jasmine Essential Oil~ Astral Projection, Prophetic Dreams, Love and Spirituality..Witchcraft, Pagan, Wicca, Spells~ Love Magick ~ 1/2 oz
"True love is night jasmine, a diamond in darkness, the heartbeat no cardiologist has ever heard. It is the most common of miracles, fashioned of fleecy clouds -- a handful of stars tossed into the night sky" J.B.
This beautifully detailed bottle has some of the magical properties listed on it for easy reference when using your oil for magical purposes and fits into your pocket or purse with ease for magical aromatherapy on the go.
~Jasmine, the name itself comes from a Persian word" Yasmin" which means "Gift of God".
Jasmine was commonly grown in ancient Egyptian temple gardens. Used in many love mixtures for it's ability to attract physical and spiritual love. Magical properties of jasmine will attract money towards you, induce psychic dreams and prophecy, bring ease to a grieving heart, attract beauty, improve wealth status and improve self esteem with her confidence raising abilities.
It is no wonder that this enchanting vine was prized by Kings and Queens throughout history. She holds great power in her sacred five petal flowers which is said to be the key to her gift of prophetic visions. Commonly used in various sacred ceremonies and rites for her divine scent and sacred pattern. It is said that she blooms only in the night which adds to her mystery and allure, as her delicate flowers pine for the cool air of the Moon.
Also being a symbol of Motherhood, Jasmine has been said to relieve some of the pain of childbirth through her soothing sacred scent.
Dab a little of this powerful oil on you and your pillows at night for a night of vivid and prophetic dreams, I find this to be more effective on a full moon with the windows open.
Add a few drops to your hands before reading tarot or during other divination practices.
~Gender: Feminine
~Planet: Moon
~Element: Water
Listing is for .5 (1/2 oz) Amber glass bottle of Diluted Jasmine Essential Oil with a dropper lid for convenient use.
~~~~~~~~~~~~~~~~~~~~~~~~~~~~~~~~~~~~)O(~~~~~~~~~~~~~~~~~~~~~~~~~~~~~~~~~~
DO NOT USE WHILE PREGNANT
*************************************
GENERAL SAFETY INFORMATION: DO NOT take Essential oils internally. Do not apply undiluted essential oils, absolutes, CO2s or other concentrated essences onto the skin. If you are pregnant, epileptic, have liver damage, have cancer, or have any other medical problem, use essential oils only under the proper guidance of your Doctor or Naturopathic Doctor. DO NOT USE THESE BLENDS ON BABIES, CHILDREN or PETS. Only use Oils on your Children or Pets that are listed safe for them. A skin patch test should be conducted prior to using an essential oil that you've never used before.
*****Moon Goddess Magick is NOT responsible for misuse or adverse reactions of Essential oil blends. IF YOU HAVE ANY QUESTIONS ON HOW YOUR OIL SHOULD OR SHOULD NOT BE USED PLEASE CONVO ME.*********