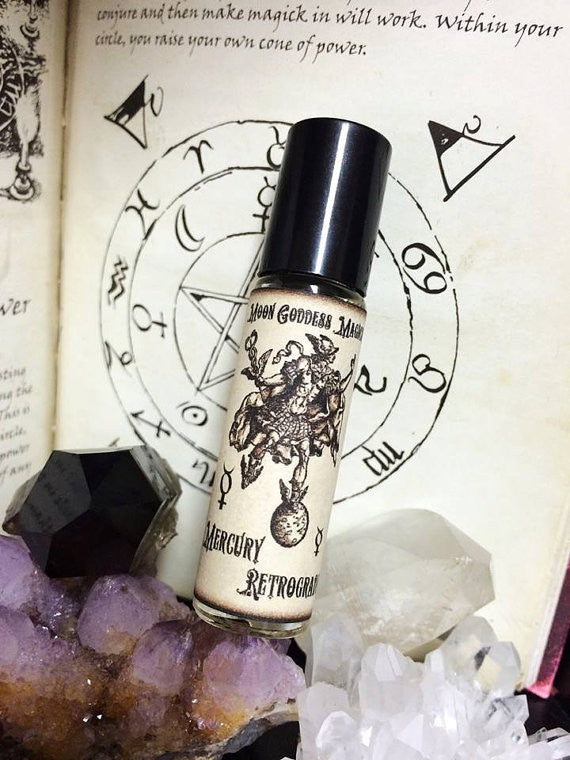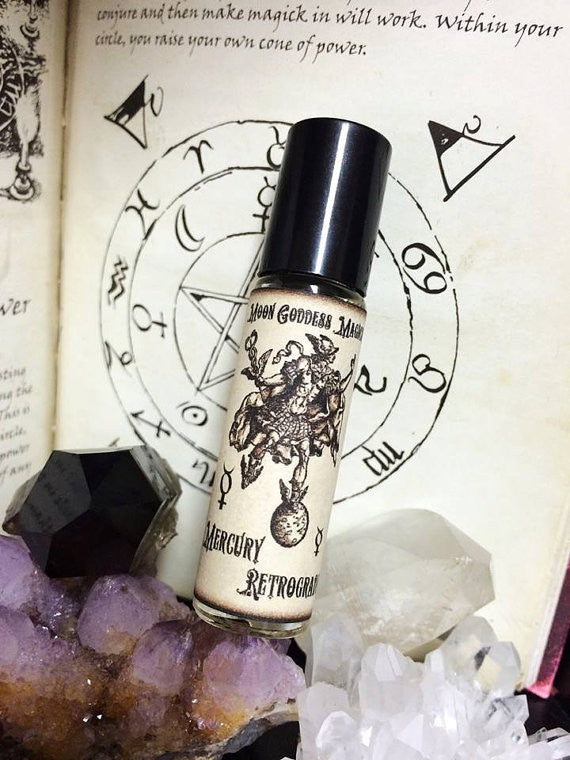 Mercury Retrograte Relief Oil~ Planetary Magick~ Hour of Mercury~ Retrograde Defense~ Moon Goddess Magick ~1/3 oz Aromatherapy Roll on
Be spiritually and mentally prepared for the next Mercury Retrograde, be ready for the challenging forces that this planet has to offer you when it goes retrograde by treating your senses and your psyche to this Magical Aromatherapy relief. Made on a Wednesday during the hour of Mercury. Please wear on your pulse points~ This allows your oil to reach your entire Aura. Your Oil comes in a 1/3 Roll on bottle. Perfect for carrying in your pocket or purse. 
Containing the finest Essential Oils of Lemongrass, Lavender, Elemi and Frankincense~ Magically charged with Black Tourmaline~ All chosen for their amazing influence on the Psyche to redirect the Energy of the retrograde and how it effects you.
This blend is targeted to calm and center the psyche, allowing for deeper internal awareness~ It calms the nervous system while easing stress and tension, thus encouraging inner peace and tranquility~ Offering Spiritual Support and the ability to let go and let things happen as they are meant to.
My Mercury Retrograde blend offers us a glimpse into the darker world of the psyche, shining a light into the recesses of our soul~ This is what we are truly meant to gain from the Mercury Retrograde~ It unfolds our inner mysteries to our consciousness in an unexpectedly jubilant way, taking us on a path away from fear and anxiety and helps us into hope and trust~ This renewing and refreshing blend will help you to face the energy of this Retrograde with a new attitude and your own force to make your experiences more positive and Spiritually cleansing.
Depending on your Astrology chart Mercury can either come as a blessing or a curse. For most it tends to bring in some confusing troubling times. Three to four times per year Mercury shows up when least wanted, presenting us with what appears to be problematic energy, or is it? Mercury retrograde gives rise to personal misunderstandings; flawed, disrupted, or delayed communications, negotiations and trade; glitches and breakdowns with phones, computers, cars, buses, and trains. And all of these problems usually arise because some crucial piece of information, or component, has gone astray or awry. During this Retrograde it is considered unwise to make important life decisions due to the clouded judgment that Mercury can offer.
Mercury also brings us back to our past. We can find ourselves face to face with people, places or things that may or may not be the best for us~ This is where clear judgment is truly needed. Take this time to do some personal reflecting as well. Look within and clean out any remaining energy that is damaging to your beautiful self.
Tips for surviving the wrath of Mercury Retrograde is to ~
Stay Calm and Peaceful……..be ready to see the cleansing process that may be presented to you at this time. Be more aware of your surrounding at this time.
Don't take people or circumstances to seriously, be extra kind and considerate of the Gemini's and Virgo's in your life because they are directly affected by this planet and it's influences.
Avoid making important life decisions, if this is unavoidable for you, make sure that you think things through thoroughly, weighing all of the pros and cons of your decision. Double checking contracts and important documents is also a necessary step during this time.
Use this time to finally finish those unfinished projects of yours.
Be open to some of the influences of Mercury Retro, not all experiences that come from this shift are bad. Take a deep breath and face this Retrograde with your arsenal of knowledge and the help of your oil.
For your reference here are the 2021 Mercury Retrograde dates

~Mercury Retrograde 2021
•January 30th - February 20th in the Air sign of Aquarius
•May 29th - June 22nd in the Air sign of Gemini

•September 27th - October 18th in the Air sign of Libra