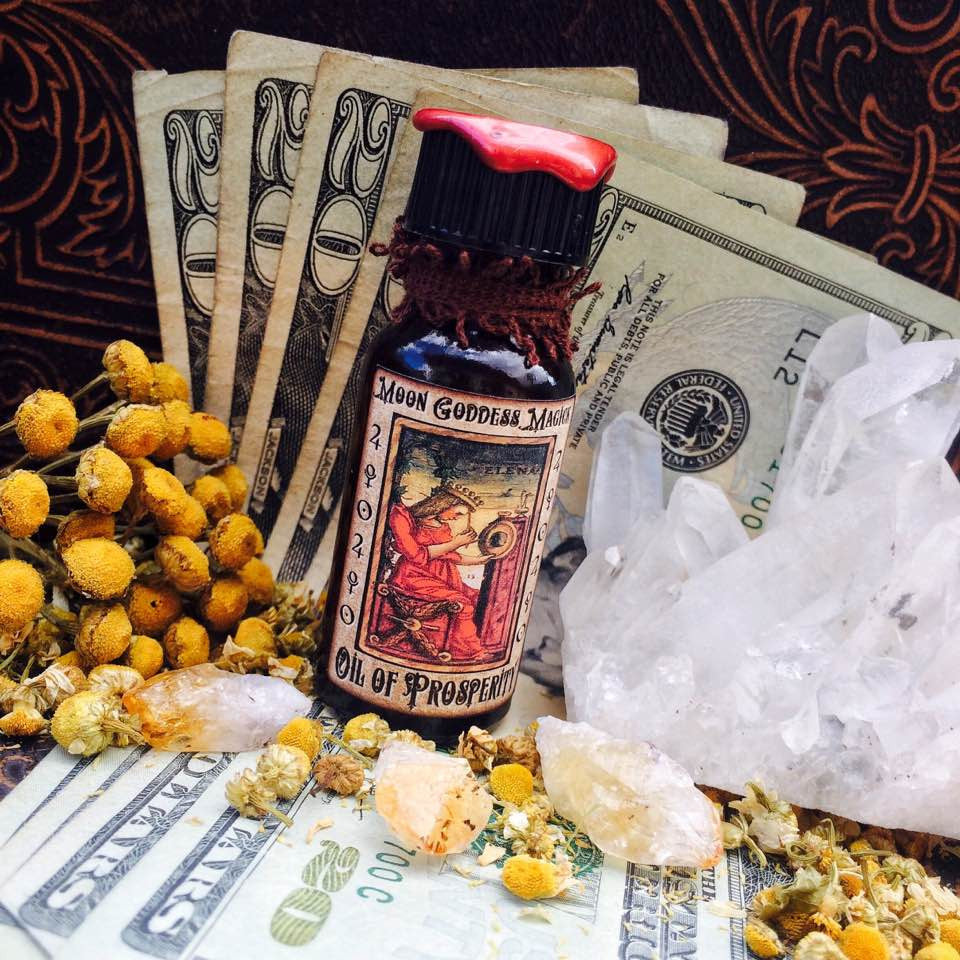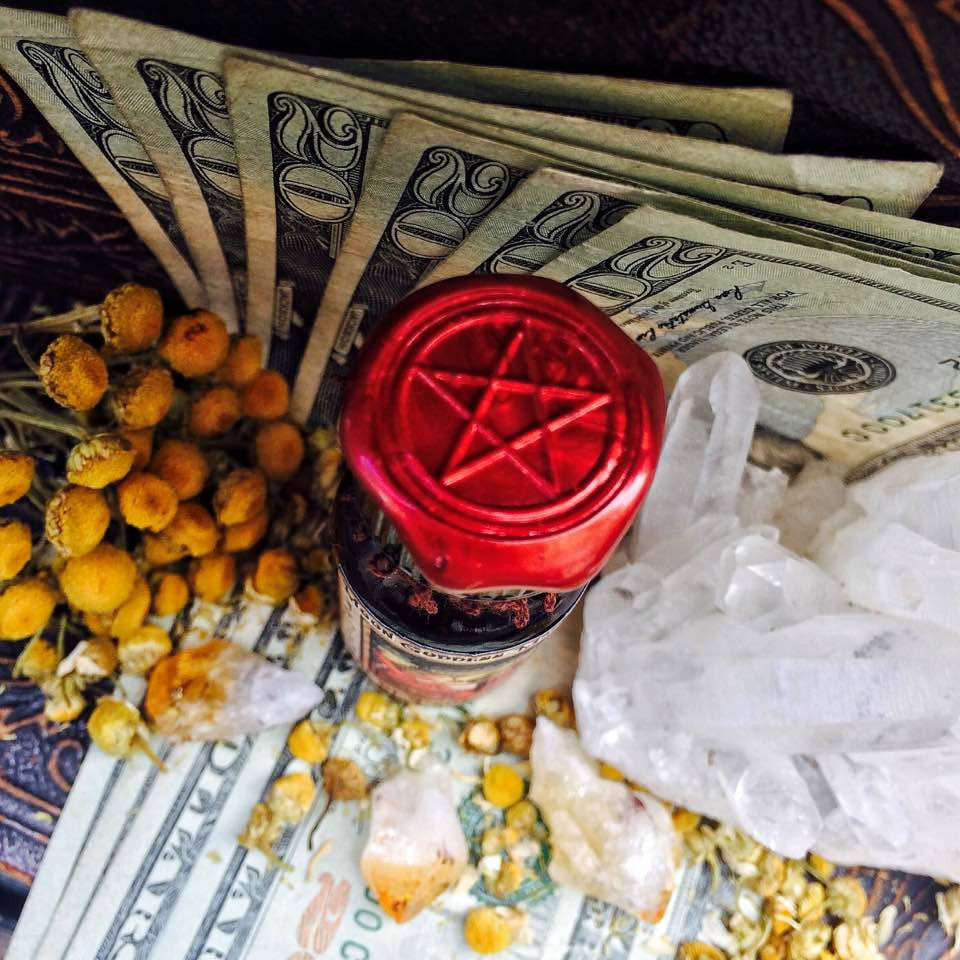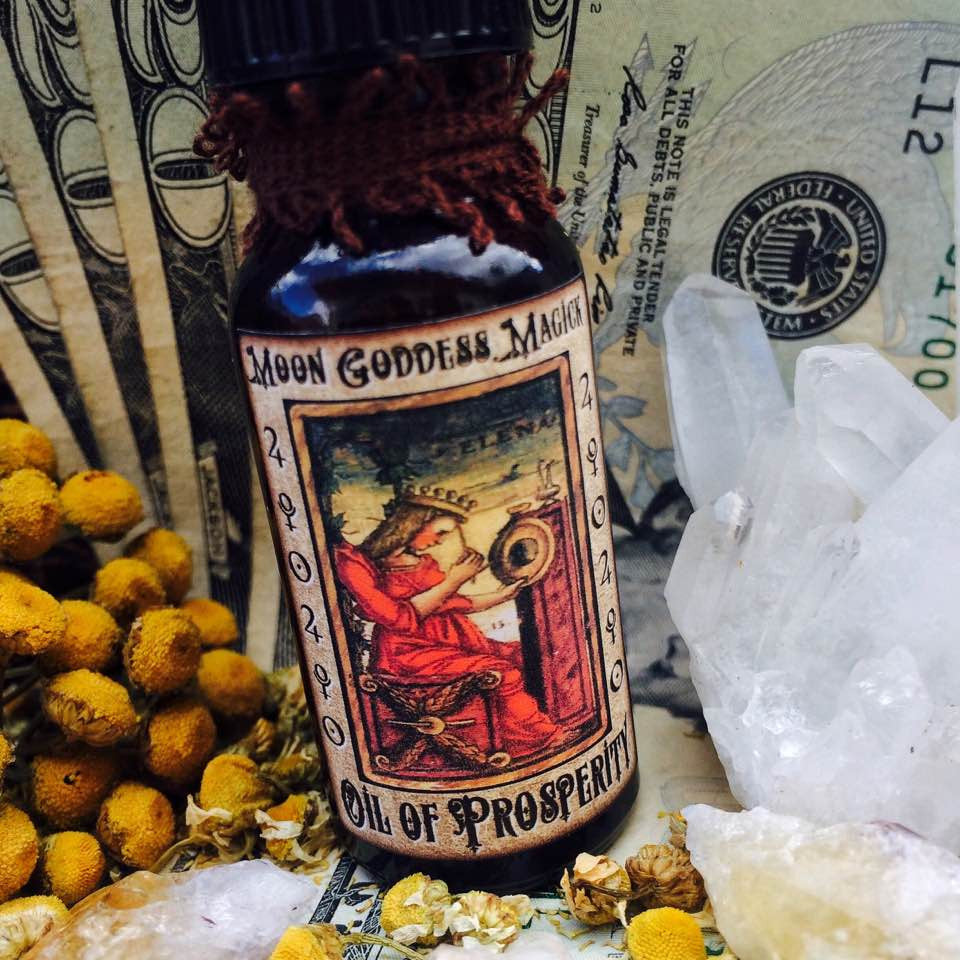 Prosperity Oil ~ Witchcraft ~ Pagan ~ Magick Oil ~ Money Oil
Meticulously witchcrafted during certain planetary hours that rule wealth, prosperity, abundance, and growth. An aromatic talisman that gravitates these energies toward you. This is one potent manifesting oil bringing together some of the oldest known ingredients that inspire the mind and the spirit to conjure up new ways to bring in just what you need to be successful. This oil can evoke a new ideas, show clearer signs of a prosperous path, and invite in inventive new thinking.  Allspice, Chamomile, Peppermint, and Cinnamon, as well as other prosperous herbs, roots and crystals all work with you and your energy to increase a your ideal perception of success.

The imagery on the label alone, also invokes the powers of manifestation, planting seeds in the conscious and subconscious mind to draw the energy of wealth and prosperity to you.

Dab a little on your wrists, wallet, add to your floor wash, Anoint a green candle or burn in place of business, or with business intent in mind, some also like to rub a little on business cards, in business entry ways and windows.
~~~~~~~~~~~~~~~~~)O(~~~~~~~~~~~~~~~~~

Listing is for
.5 (1/2 oz) Amber glass bottle

THE ALL IMPORTANT SAFETY INFO:
FOR EXTERNAL USE ONLY. DO NOT APPLY TO CHILDREN OR PETS. ALWAYS DO A TEST PATCH ON SKIN BEFORE USE. IF YOU HAVE A SERIOUS MEDICAL CONDITION, PLEASE CONSULT WITH YOUR DOCTOR BEFORE USING ESSENTIAL OILS...IF IRRITATION OCCURS PLEASE STOP APPLYING IT TO YOUR SKIN. MOON GODDESS MAGICK APOTHECARY LLC IS NOT RESPONSIBLE FOR MISUSE OF ANY OF OUR PRODUCTS.