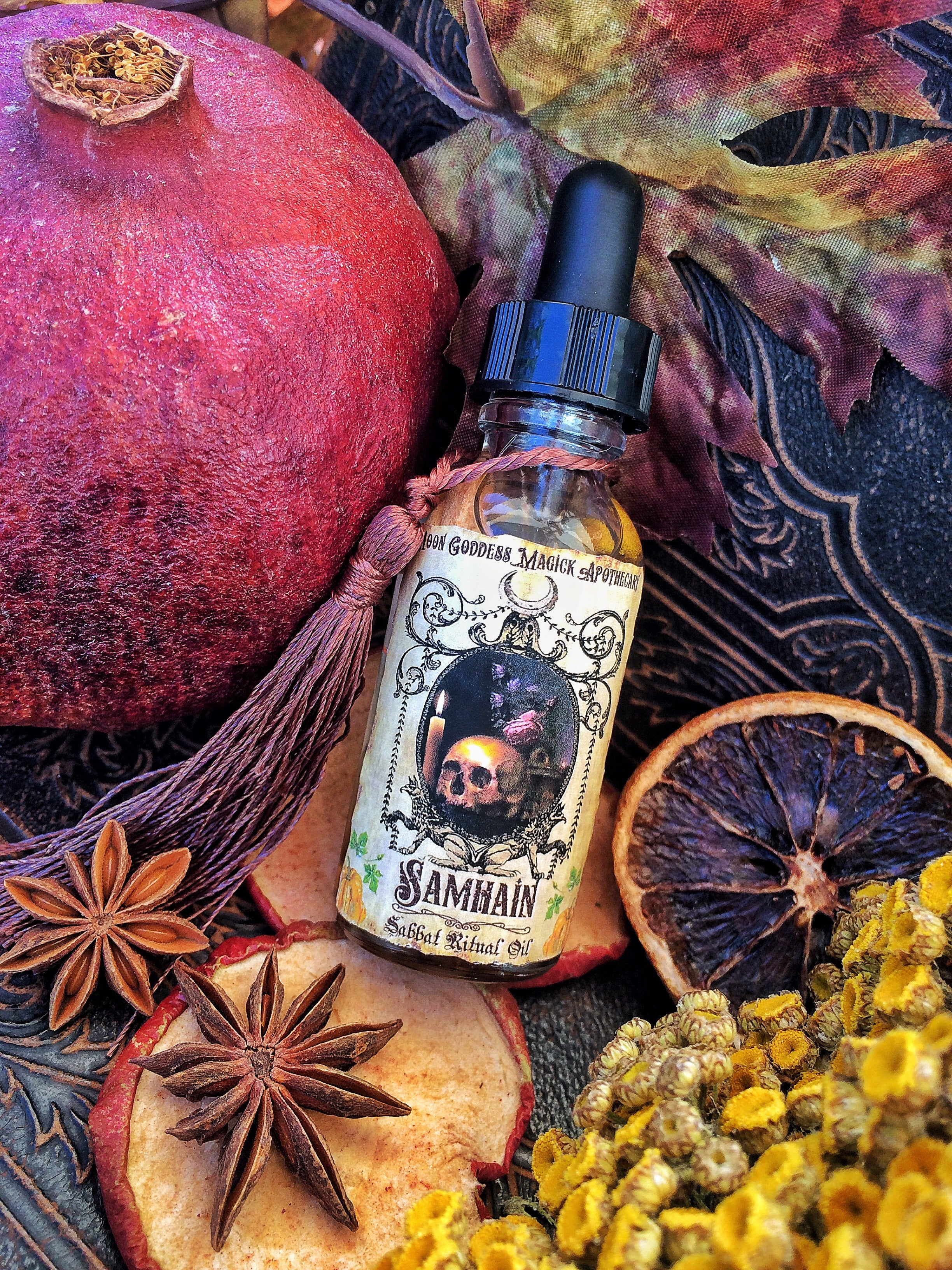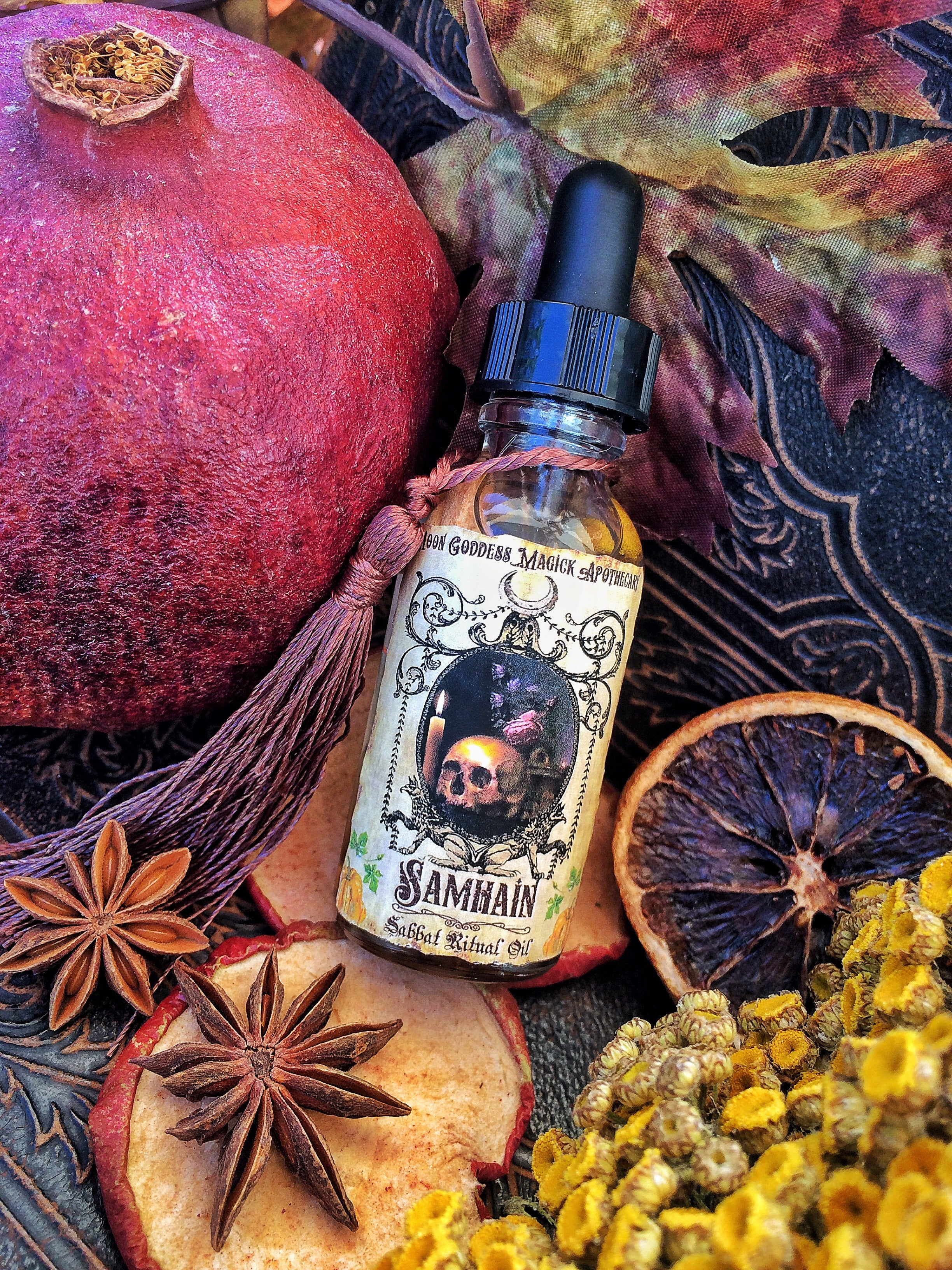 Samhain Oil ~ Ritual Oil ~ Sacred Sabbat ~ A Divinaton Oil for Spirit contact ~ Witchcraft ~ Pagan ~Hallowmas ~ Ban-Druidh ~ 1oz bottle
Samhain (Sow-en) October 31st or Gaelic samhuinn meaning  "summer's end" marks that halfway point between autumn equinox and winter solstice. We also call it All Hallows, or sometimes All Souls Night. This time of the Year also marks the Celtic New Year. The "veil between the worlds," or the barrier separating the world of the living from the world of the dead, begins to thin and allows us to commune with our beloved dead and ancestors once more. Time becomes still and the air more silent as we sink into this auspicious season.
The Thinning Veil begins to show itself just after Autumn Equinox and you can easily feel this shift.  This is the reason it brings a sense of comfort and sacredness to most who can feel it~ Samhain is and always has been a night to honor our ancestors and passed Loved ones. It is a night to ask them for another year of blessings and guidance as we leave out food and drink for them to dine upon. Some common offerings are their favorite foods and spirits~ It is also customary to leave out a pomegranate and eat 3 of the seeds for a bountiful New Year, but be advised that eating more than 3 will bring hardships in the coming year~
Many modern traditions of Halloween come from very ancient practices done on this night. A night to disguise and protect ourselves from the malicious spirits and beings that lurk around on this most auspicious night, but most importantly to remember our dead and the importance of life. We create fires, large or small, in times past we would dance around these great fires inviting our ancestors to join in on the festivities, invoking them, bringing them back to us once more to enjoy the realm of the living. We honor them, leave offerings for them, we share their stories around the fire, and we remember them.
Ancient ways of Divination were saved for this most magical night and answers were certain to be given if the homage was paid correctly. The practice of carrying out a dumb supper was a common thing in most households.  Families would dine together in silence and leave out a plate of food for the most recent deceased family members, once dinner was finished, the plate of food was placed outdoors for the various faeries and land spirits that dwell on the land.
This enchanting blend of Samhain in a bottle perfectly captures the essence of this sacred season. It's aroma brings us back to our roots and to a place of remembrance of those that have come before us, to those that have given us life, and to those that continue to guide us from the spirit realm. It invokes the Autumn and all of it haunts with sacred oils and herbs of the season, and of the dead. Containing the finest essential oils, absolutes, and botanicals of Rosemary, Oakmoss, Frankincense, Wormwood, Mugwort, Tansy, Apple, Orange Peel, Cinnamon, Allspice, Anise, and Birch.  Black Tourmaline and Clear Quartz rest in the bottle to offer their gifts of protection and keen insight for the nights many messages with the dead.
I love working with this blend in many different ways such as anointing candles and ritual objects. I anoint a piece of paper with messages to my deceased loved ones and burn it in the evening fire. The smoke carries my words to those that I have lost and to those that I have never known. I anoint myself and my loved ones for protection and guidance for the evening.
Trust your intuition when working with this oil and listen to how it guides you. The plant teachers within it have much to say.
For external uses only, please to not anoint pets or babies. If you anoint someone other than yourself, please ask them first.