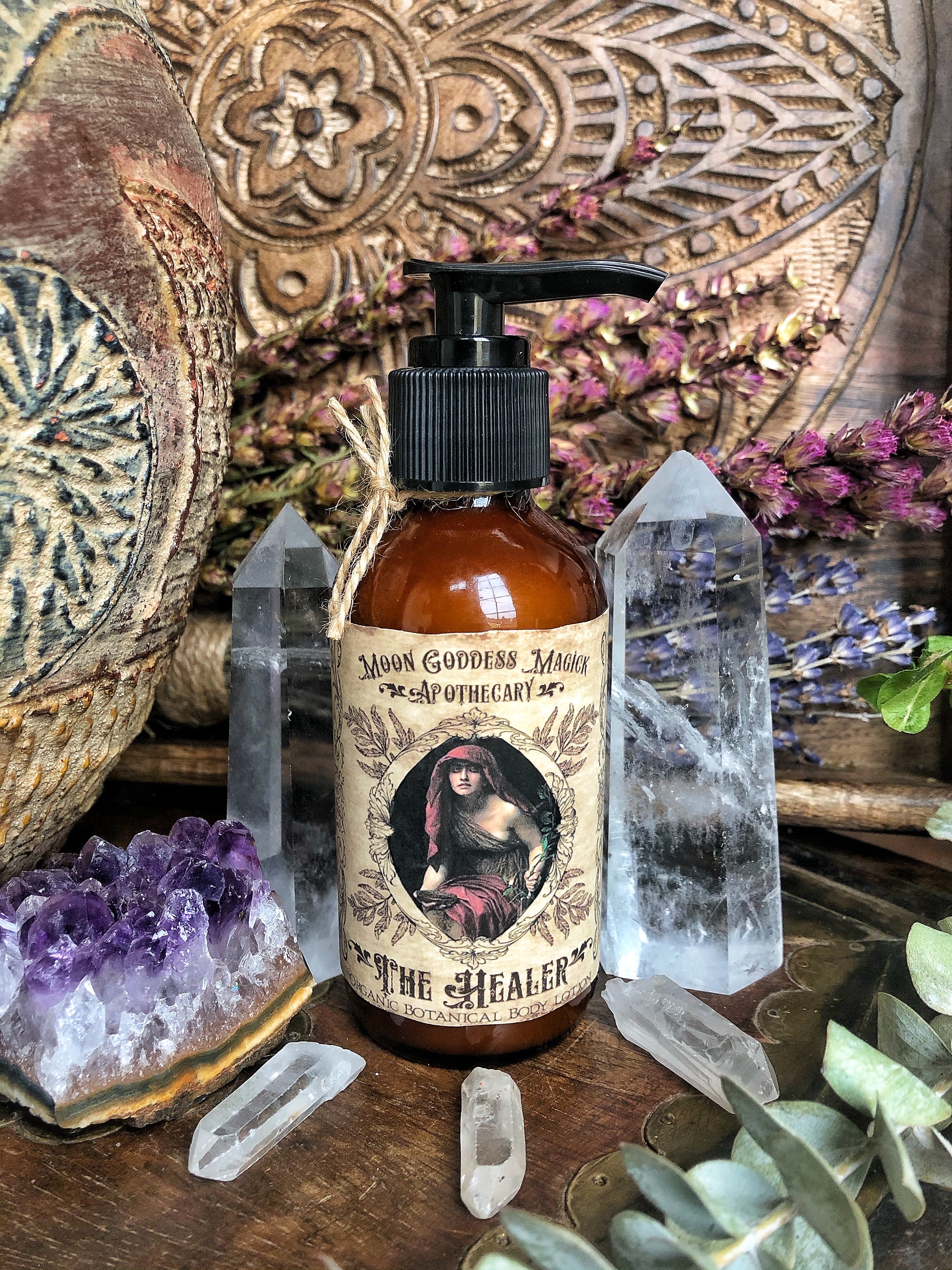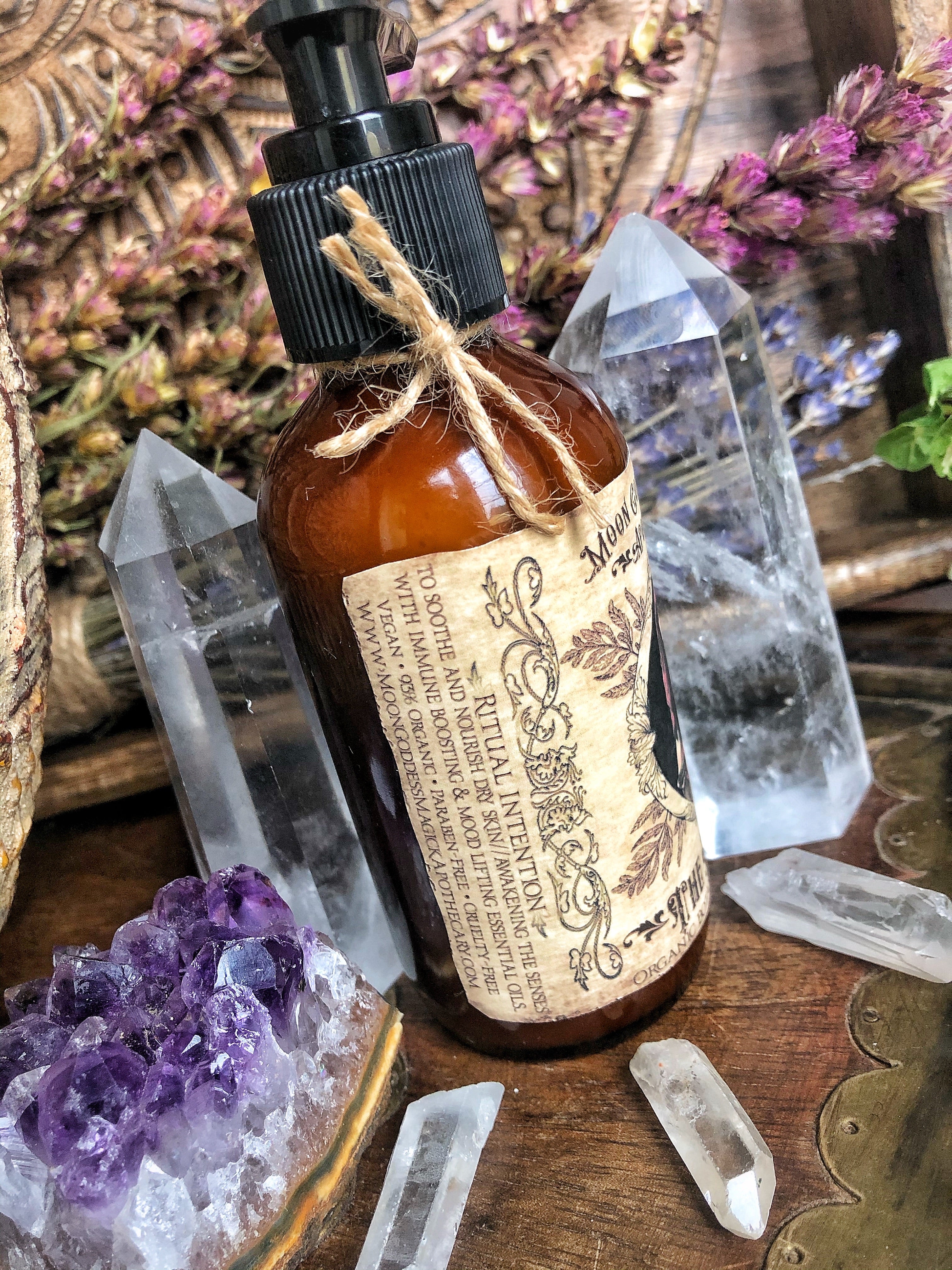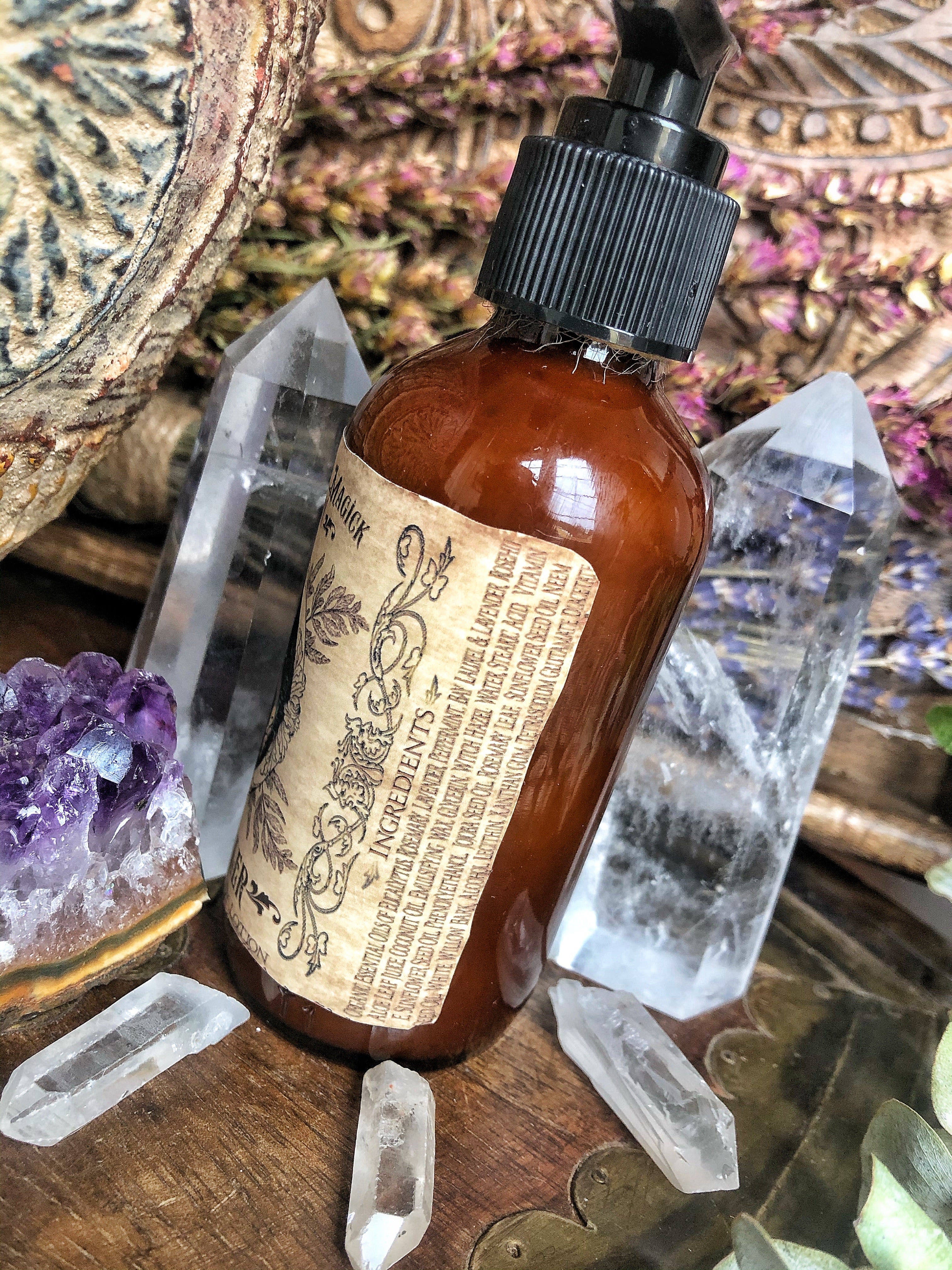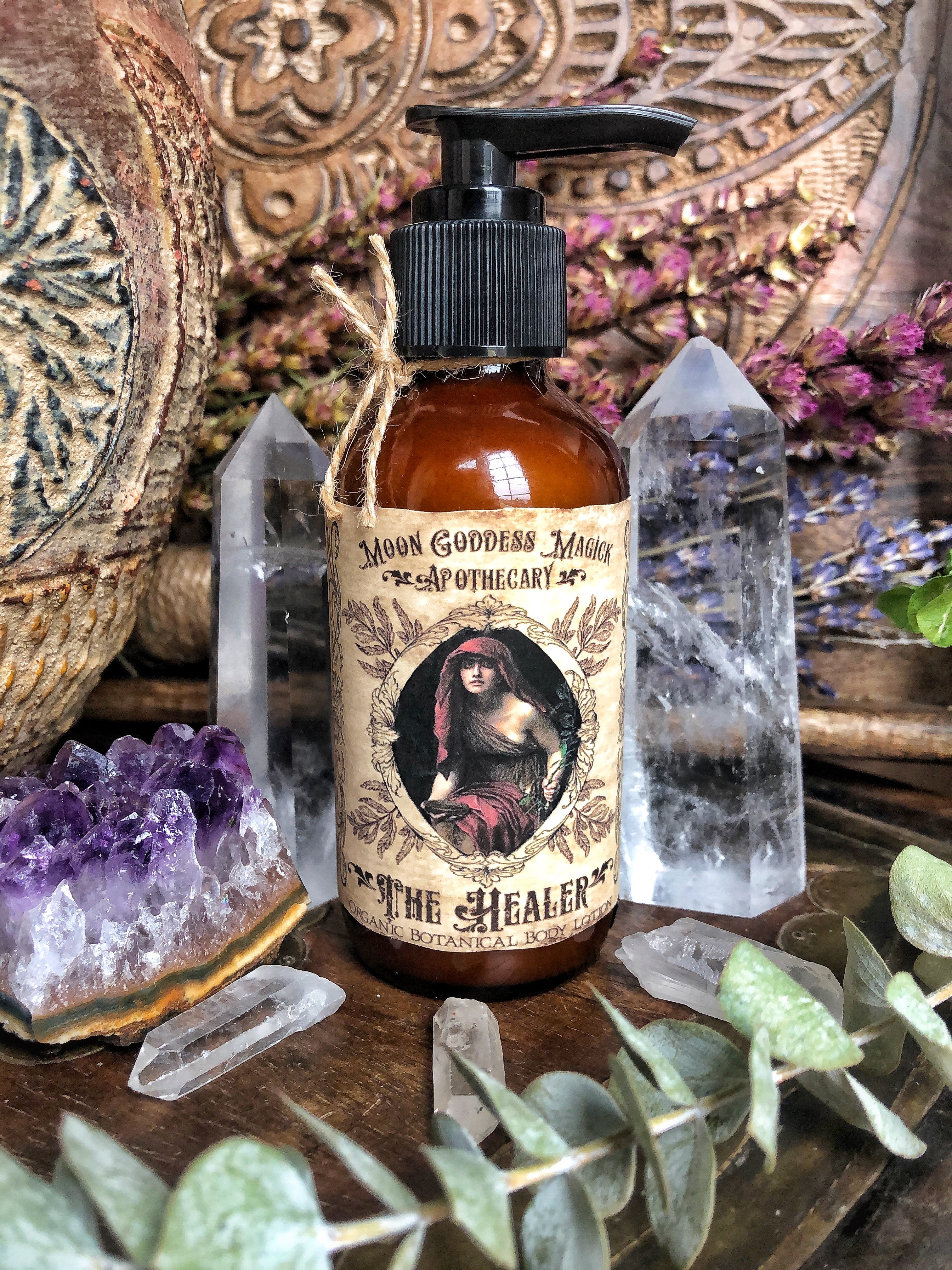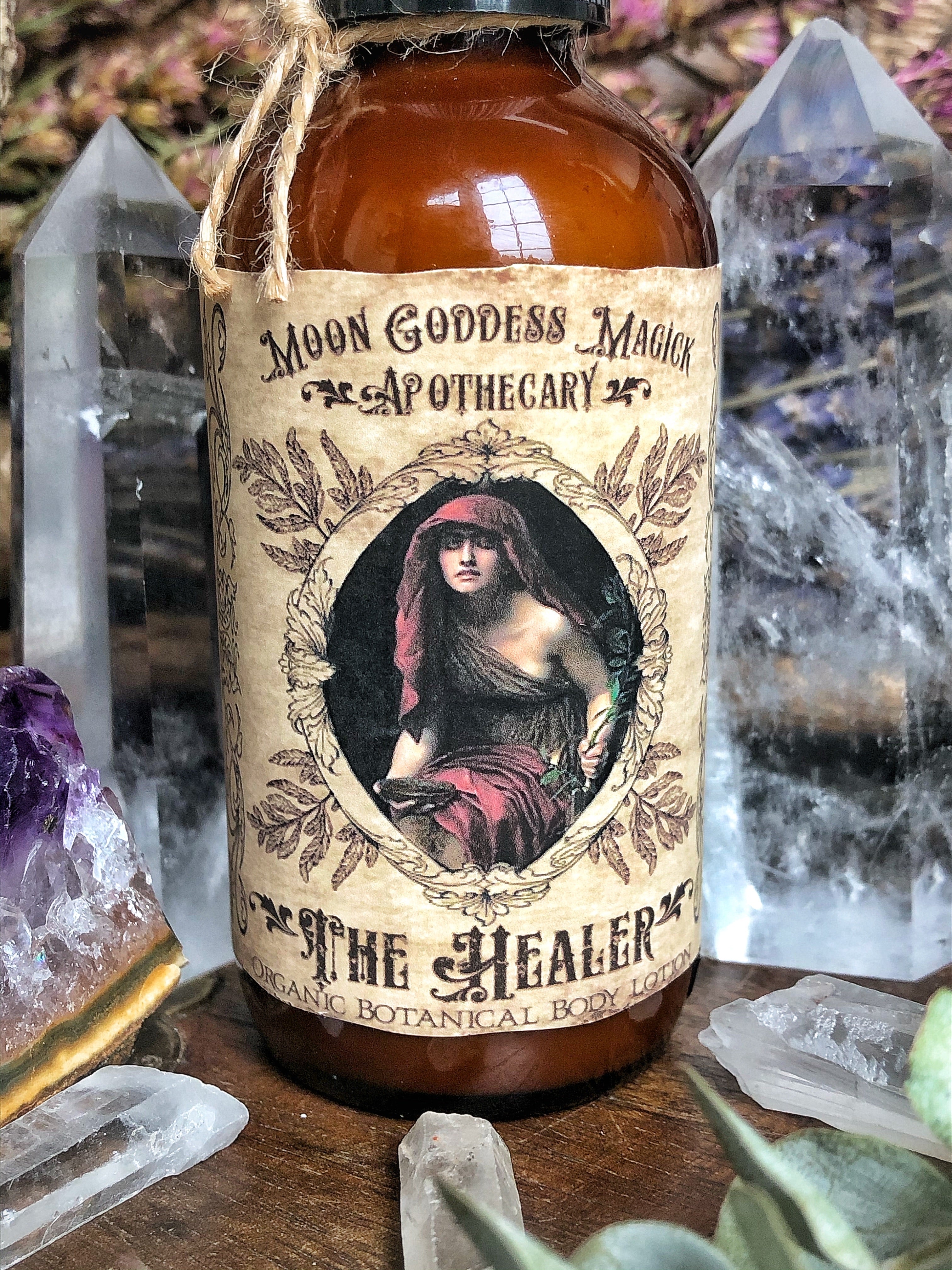 The Healer /// Organic Botanical Body Lotion /// 4oz /// Plant Extracts and Essential Oils /// Immune Boosting
The Healer Organic Botanical Body Lotion is meant to soothe and nourish skin and senses through the essence of nature and her aromatic beauty. 


Vegan • 93% Organic • Cruelty-Free • Paraben Free 
Mind, Body and Spirit healing essential oils and plant extracts blended with a 93% organic lotion base. The medicinal and magical properties within the plants employed for this lotion offer you a soothing spa like experience that guards your skin while keeping your energy uplifted. The aromatic essence invites your mind to journey through a lush herbal garden in the middle of summer, allowing each herb to offer its healing wisdom upon your skin. Witchcrafted on a waxing Moon, on a Sunday in the hour of the Sun to enhance the healing properties of the plants. Crystal blessed Quartz and Sunstone.
  Organic Essential Oils of Eucalyptus, Rosemary, Lavender, Peppermint, Bay Laurel & Lavender. Rosehip, Aloe Leaf Juice, Coconut Oil, Emulsifying Wax, Glycerin, Witch Hazel Water, Stearic Acid,  Vitamin E, Sunflower Seed Oil, Phenoxyethanol,  Jojoba Seed Oil, Rosemary Leaf Extract,  Sunflower Seed Oil, Neem Seed Oil, White Willow Bark Extract, Alcohol, Lecithin, Xanthan Gum, Tetrasodium Glutamate Diacetate, Love & Magick 
Important Information to read before purchasing. By making a purchase on this website, you agree to the statements below. Moon Goddess Magick Apothecary and its affiliates are not responsible for any adverse, ill effect or allergic reactions of its products.
If you are currently taking medications or have a serious health issue, please consult with your doctor before taking herbal supplements, some herbs can interfere with the efficacy of several medications and should be crossed referenced with your doctor.
These statements have not been evaluated by the Food and Drug Administration. This product, and all products on this website are not intended to diagnose, treat, cure or prevent any disease.
Please discontinue use if irritation occurs, if you are prone to sensitive skin, please do a test patch on your inner left arm.
With Gratitude, Love & Magick,
Sarah