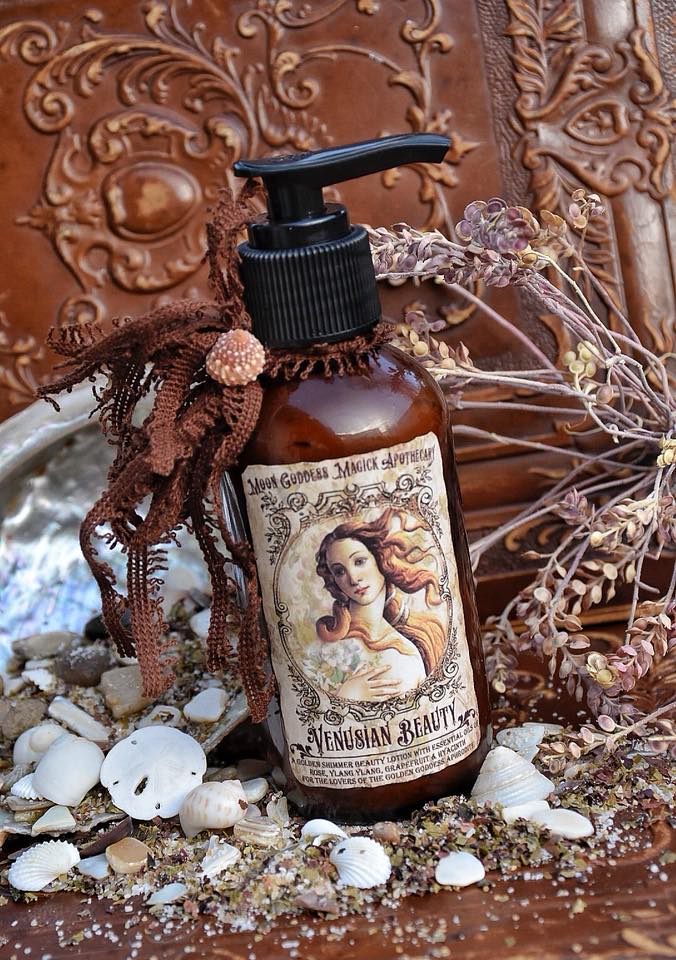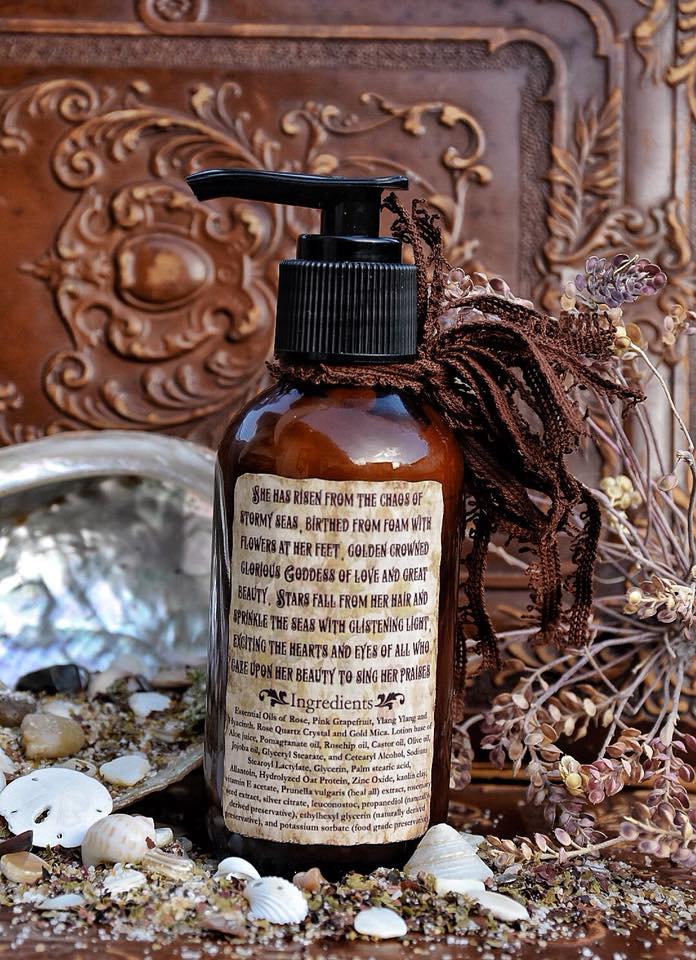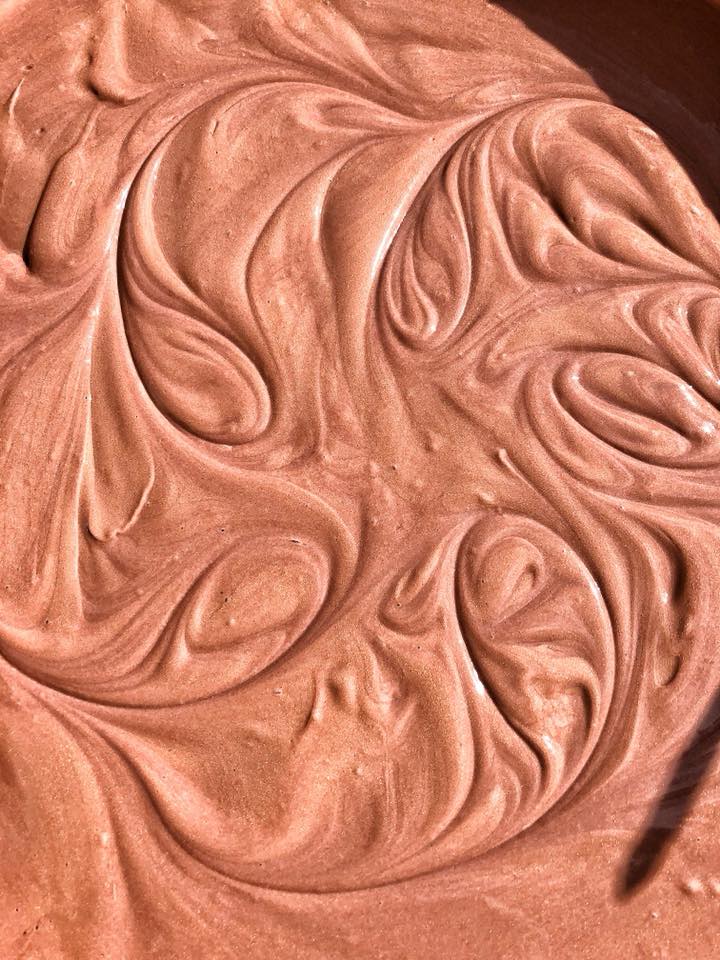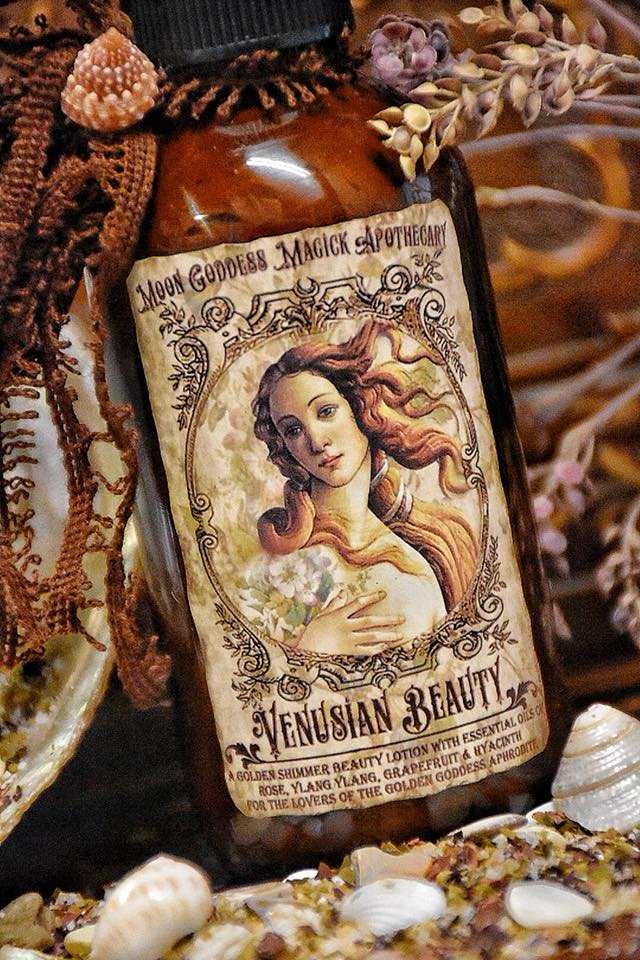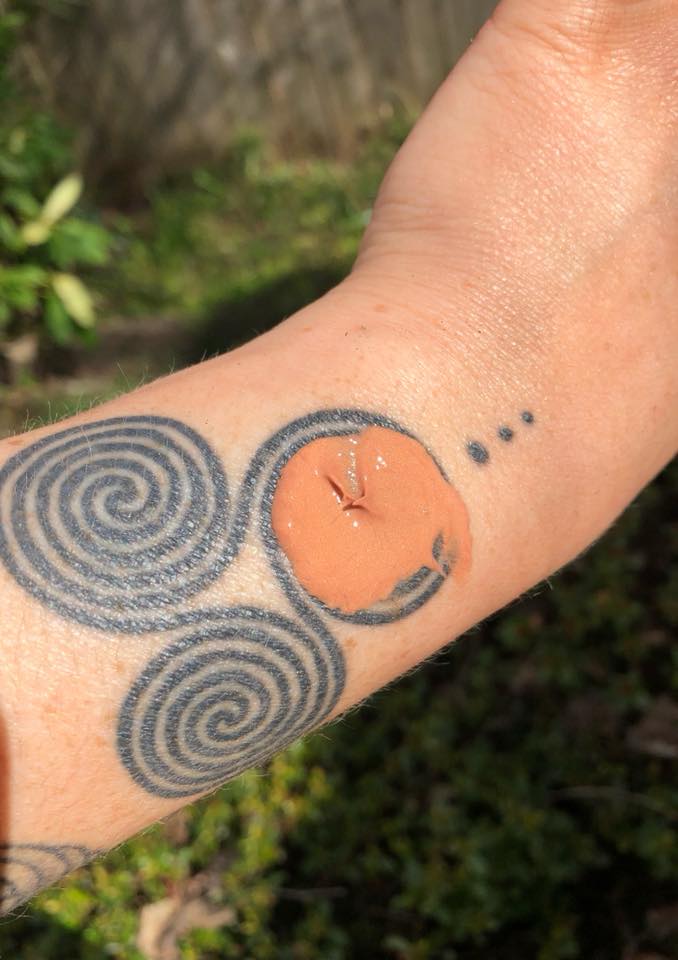 Venusian Beauty ~ Aphrodite Golden Shimmer Lotion ~ Venus ~ Aphrodite ~ Goddess of Love and Beauty~ 4oz ~ Scented with Essential Oils
•She has risen from the chaos of stormy seas, birthed from foam with flowers at her feet, golden crowned glorious Goddess of love and great beauty. Stars fall from her hair and sprinkle the seas with glistening light, exciting the hearts and eyes of all who gaze upon her beauty to sing her praises.
•This all-natural bronzing shimmer and fragrant blend of essential oils has been brought together in an all natural non-greasy, creamy lotion base enhanced with organic rosehip oil and organic pomegranate oil. The base oils chosen for this lush lotion are ultra-skin nourishing and softening, while adding a slight bronzing effect with a light gold shimmer so you can glisten in the sun like Aphrodite.
•Scented with essential oils of Rose, Organic Pink Grapefruit, Organic Ylang Ylang, and Hyacinth.
•This lotion easily shapeshifts dry skin into a soft and smooth golden glow. Inside each bottle resides one small rose quartz crystal to enhance the Venusian energy that this lotion has to offer. Witchcrafted on the day of Venus, in the hour of Venus to bring in the energy of this most beloved Goddess. I love the way this makes my skin feel and look, a must for any beauty ritual.
•A few things to mention. This lotion is a gorgeous rosy color that must be rubbed into the skin, once this is done, it blends in right in to every skin tone, leaving behind a beautiful glow that won't transfer onto your clothing. It would be a wise choice to keep this lotion away from light colored clothing until you have it all smoothed out on your skin.
•Ingredients: Essential Oils of Rose, Pink Grapefruit, Ylang Ylang and Hyacinth. Rose Quartz Crystal and Gold Mica. Lotion base of Aloe juice, pomegranate oil, Rosehip oil, Castor oil, Olive oil, Jojoba oil, Glyceryl Stearate, and Cetearyl Alcohol, Sodium Stearoyl Lactylate, Glycerin, Palm stearic acid, Allantoin, Hydrolyzed Oat Protein, Zinc Oxide, kaolin clay, vitamin E acetate, Prunella vulgaris (heal all) extract, rosemary seed extract, silver citrate, leuconostoc, propanediol (naturally derived preservative), ethylhexyl glycerin (naturally derived preservative), and potassium sorbate (food grade preservative)