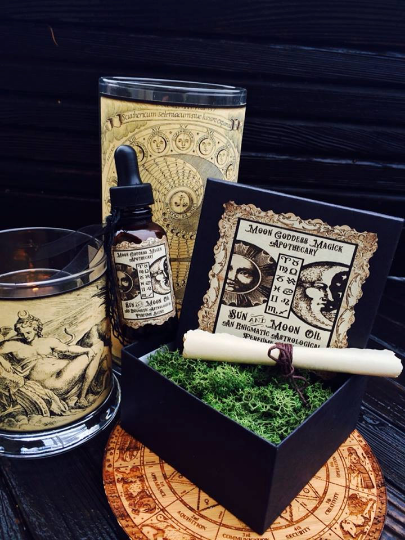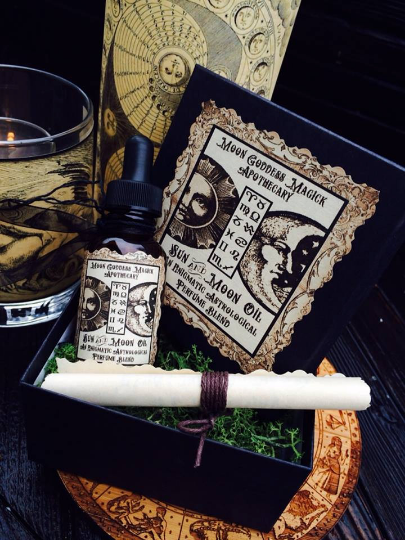 Your very Own Scent~ Sun, Moon and Ascendant Perfume Oil~ Based off of your Sun, Moon, and Rising Sign~ Astrological Perfume Oil~ Exclusive to Moon Goddess Magick~
♦This process and concept was created by me to bring you a unique blend that is the very essence of you and your fated stars. With this perfume and process, I peek into your natal chart to discover your Sun, Moon, and Ascendant sign combination. Then, with special attention to detail and my collected knowledge of plants magick, I decide which Oils, Herbs and Stones will best suit your trio of signs. The Moon cycles through each Zodiac sign every month and your blend is created when the Moon moves into your Moon sign. I also work with the energy of the Planetary Hours to incorporate into your blend. I then magically charge your blend under your Moon sign, drawing down the power of the Moon into your blend, thus enhancing the Magick of your special oil. This is a truly unique perfume process of Celestial Alchemy that you will treasure for many years to come.  With over one hundred oils in my collection, you will want to treat yourself to this unique perfuming experience. I also incorporate crystals and dried flowers into your blend. ♦You will receive your unique Celestial Blend in a beautiful black box that carries within it lush green moss, a scroll with your unique blend, and of course a large 1oz bottle of your perfume.♦Please keep your scroll or the email with your recipe for future refills. Refills for your scent are 45.00 for a large 1oz dropper bottle. This will last you a very very long time. ♦The info I need from you to create your very own scent that is uniquely yours is as follows♦ •Your Birth date and time ( If you don't know the exact time, try to find out if it was morning or evening)•Place of birth ( for time zone reasons) •Favorite scents, Scents that you dislike and any other info you think might help! • a small amount of info about yourself ( not required, but it helps) ♦This process requires good communication between us to ensure that you are satisfied with your blend~ I will need to know any known allergies as well~ Listing is for ~ 1 Black decorating Box filled with Moss~ 1 Scroll containing your Unique Recipe~ 1 One Ounce decorated bottle with dropper, containing your blend~ ♦Inspired by my Love for Astrology and the Cosmos, this creation process is unique and exclusive to Moon Goddess Magick. Designs and Concept may not be copied and is protected under the Copyright laws~ Please do not copy. ~~~~~~~~~~~~~~~~)O(~~~~~~~~~~~~~~~~~
This is Feedback that I received from the most Lovely Customer. It is so lovely that I have to share.
"******AMAZING SELLER!!!!! Every step of my order from Sarah at Moon Goddess Magick has been nothing short of MAGICKAL! You don't just order from Sarah, you embark on a wonderful adventure! Sarah is extremely sweet and professional. She answered all my questions and guided me through the whole process of creating my very own scent. Her knowledge of botanicals and herbs, the different zodiac signs, as well as the phases of the moon, resulted in the creation of a beautiful, gorgeous, magickal scent, specially created for me! She is also a teacher of "the Old Ways", sharing with me the magickal properties of different herbs, flowers, and crystals. I enjoyed the whole process and eagerly awaited my custom scent and I must say, smelling it takes me to this wonderful place - a beautiful forest with gorgeous flowers! And I must also mention everything she creates is natural - no synthetics to worry about! Wonderful seller, wonderful products, and wonderful experience! Will definitely order again!!!!! Thank you!!!!!
SmittenKytten"
~~~~~~~~~~~~~~~~~~~~~~~~~~~~~~~~~~~~~~
"******Sarah worked with me step by step, finding out what scents I liked and did not like, my specific needs for my current situation in life among other things and took that info and created a beautiful smelling oil that is wholly me! From birthstone to fire sign and a little of this for money and a little of that for creativity and so on... It is perfect. I love it!"
Shellina Hill (BlackBettyBoutique)
~~~~~~~~~~~~~~~~~~~~~~~~~~~~~~~~~~~~~~~
"LOVE this oil! Probably one of my best and favorite Etsy purchases. Sarah shows so much passion for making oils and truly has a gift of creating scents! This was a really fun gift to myself and I encourage anyone who is looking for their own scent to contact her :) Very happy with how mine turned out..thanks Sarah!"
becky seigh
~~~~~~~~~~~~~~~~~~~~~~~~~~~~~~~~~~~~~~~
"My very own scent is more than I could have hoped for. Apart from being absolutely delicious, it is deep acting and has had a profound impact on me in the 2 hours I've had it on. Sarah is so wonderful and caring, and definitely knows what she is doing. Couldn't recommend her and her oils more. Thank you ever so much, Sarah! <3"
grizli273
~~~~~~~~~~~~~~~~~~~~~~~~~~~~~~~~~~~~~~~
"Wow Sarah. You blew my mind away with this one! It's really obvious that the steps you took to create this scent specifically tailored for me were very carefully thought and greatly detailed. There are a whole lot of aspects and elements in this little bottle that has fulfilled my wishes and needs for a scent of my own. Each time I smell it I can almost see and feel it under a different light as well as a new perspective, further unveiling its true, enigmatic nature and becoming one with its core. The scent is initially very mysterious and unrevealing, but quickly lets you in through the mists if you're willing to understand and tame it while vibing back and forth. I am honored to have this lovely and personal scent be created for me, and me only - to wear. Thank you! Many (((moon))) blessings to you, beautiful soul~✲*•.¸¸☆ Senekiz"
~~~~~~~~~~~~~~~~~~~~~~~~~~~~~~~~~~~~~~~
"The fragrance that Sarah created for me is sublime!!! Very intriguing and truly warms my soul!!! It has the most amazing and wonderful ingredients, specifically for me!!! I can't say enough about this fragrance. Sarah herself is an amazing woman to work with. She is there throughout the whole process, letting you know what stage she is working on. Love my fragrance, love Sarah, love this shop!!! " CJDederick
~~~~~~~~~~~~~~~~~~~~~~~~~~~~~~~~~~~~~~~
"The scent created for me is divine beyond words. It suits me perfectly and each ingredient not only provides beautiful smell, but deep meaning that resonates with me. I look forward to wearing my scent and to using it in rituals. I cannot praise this shop enough!" rachelmcastro90