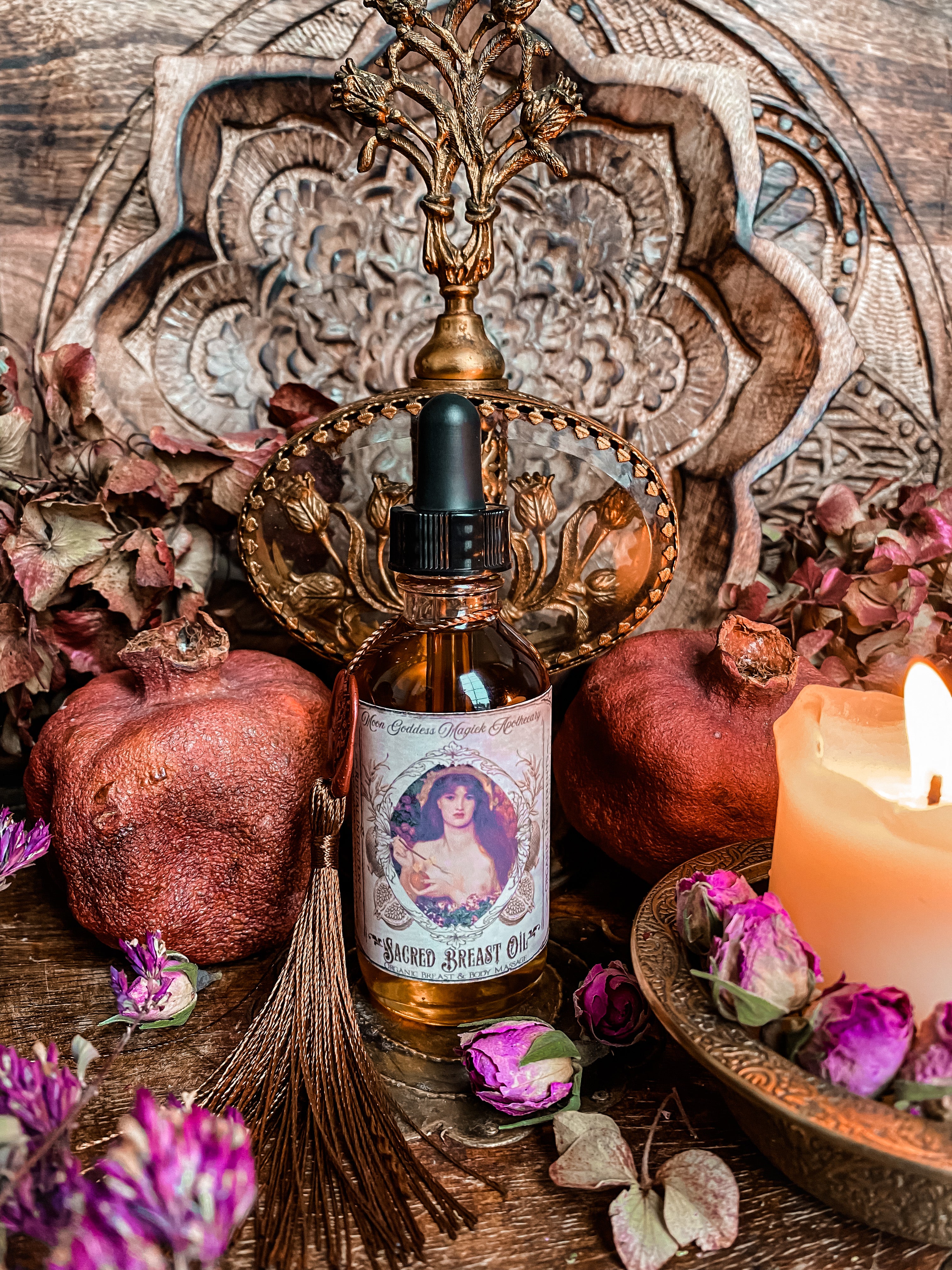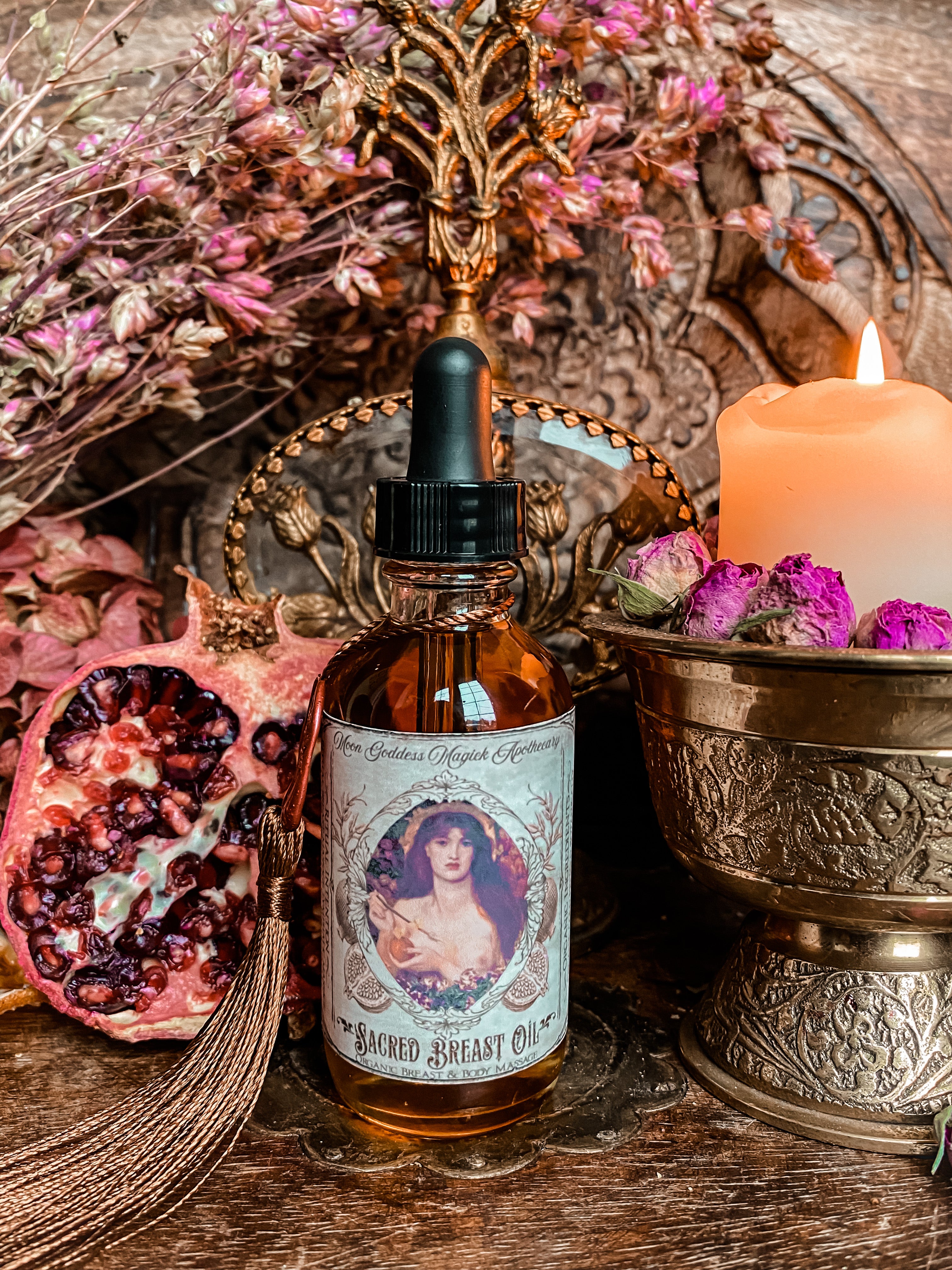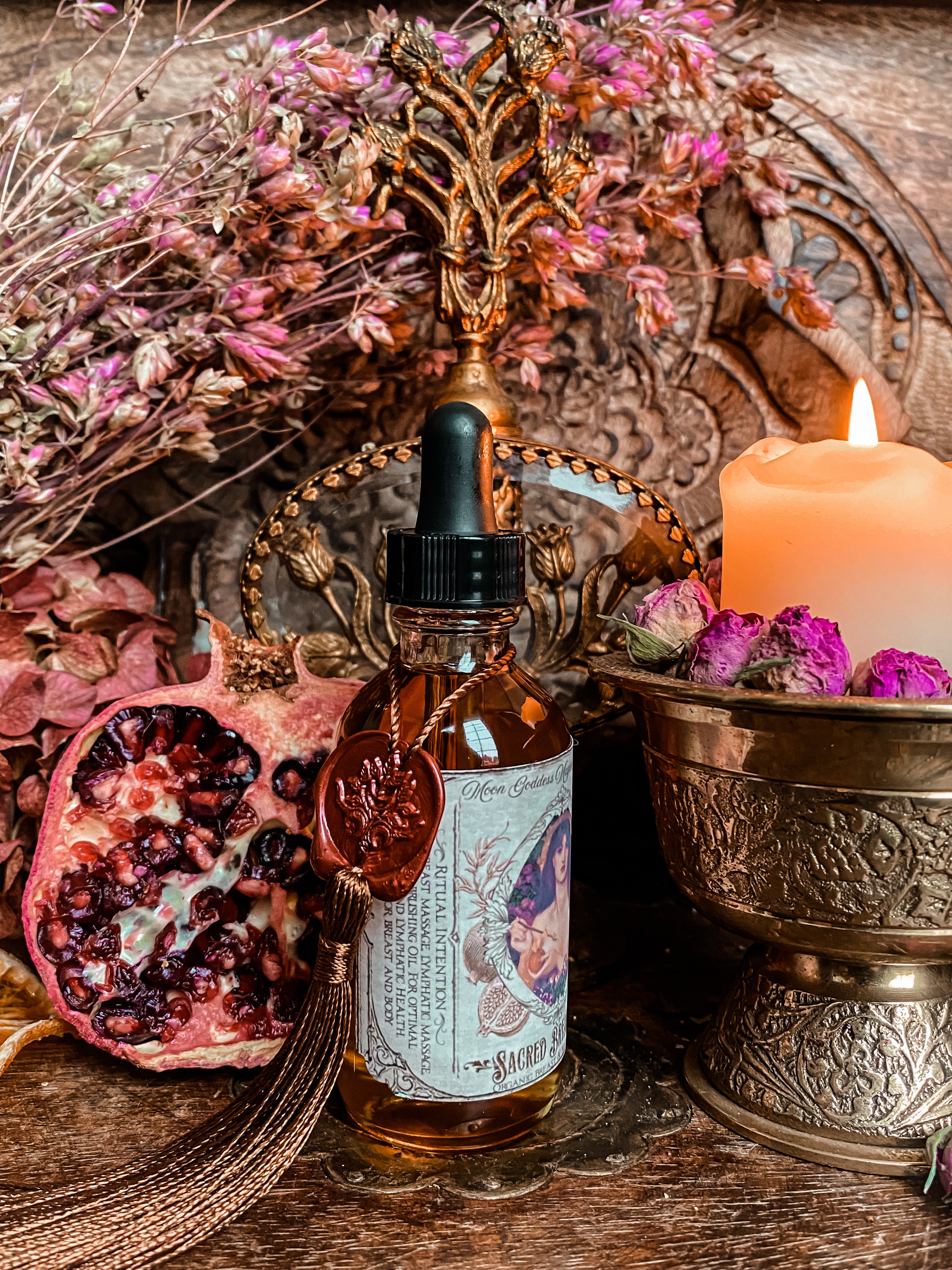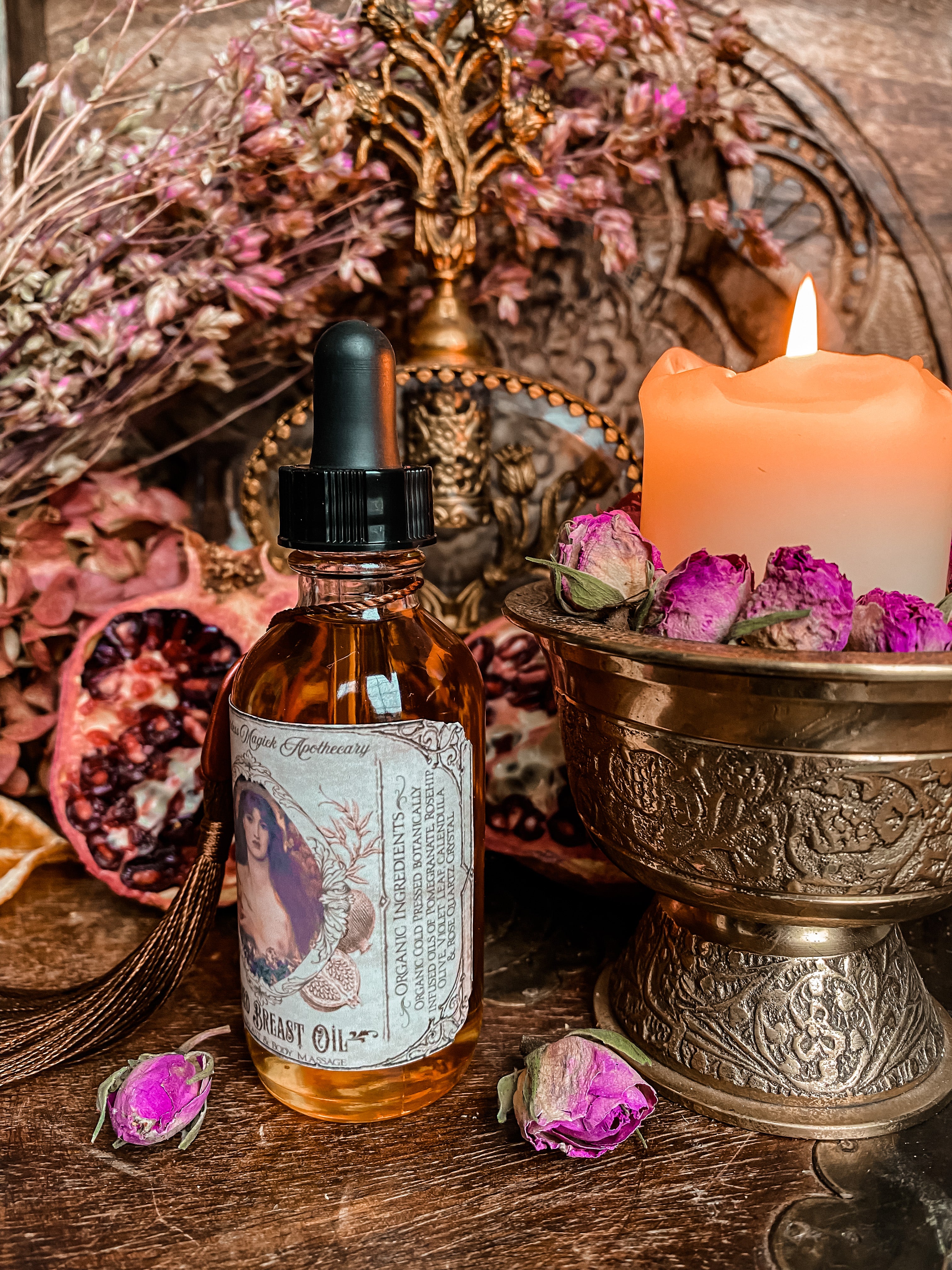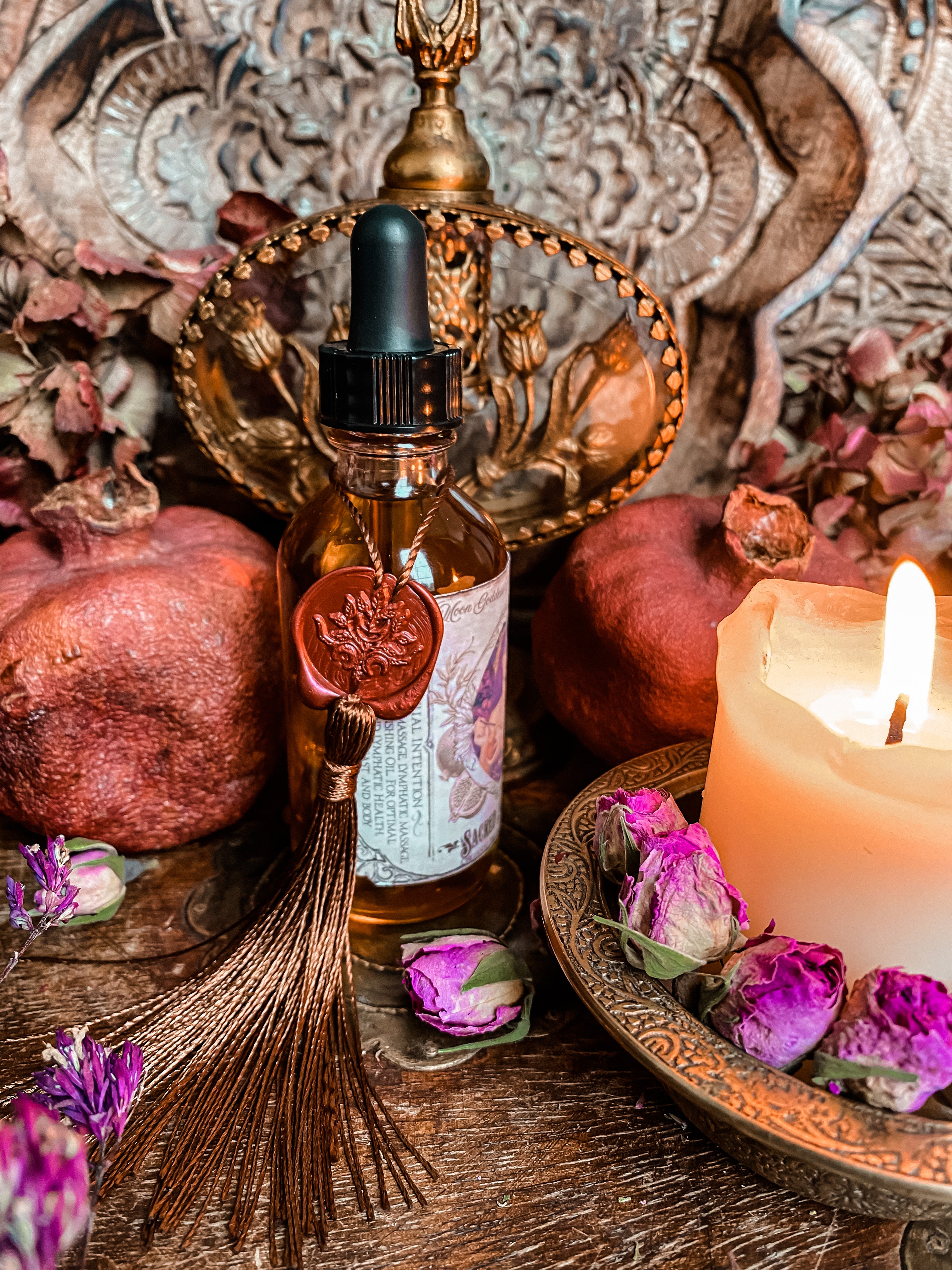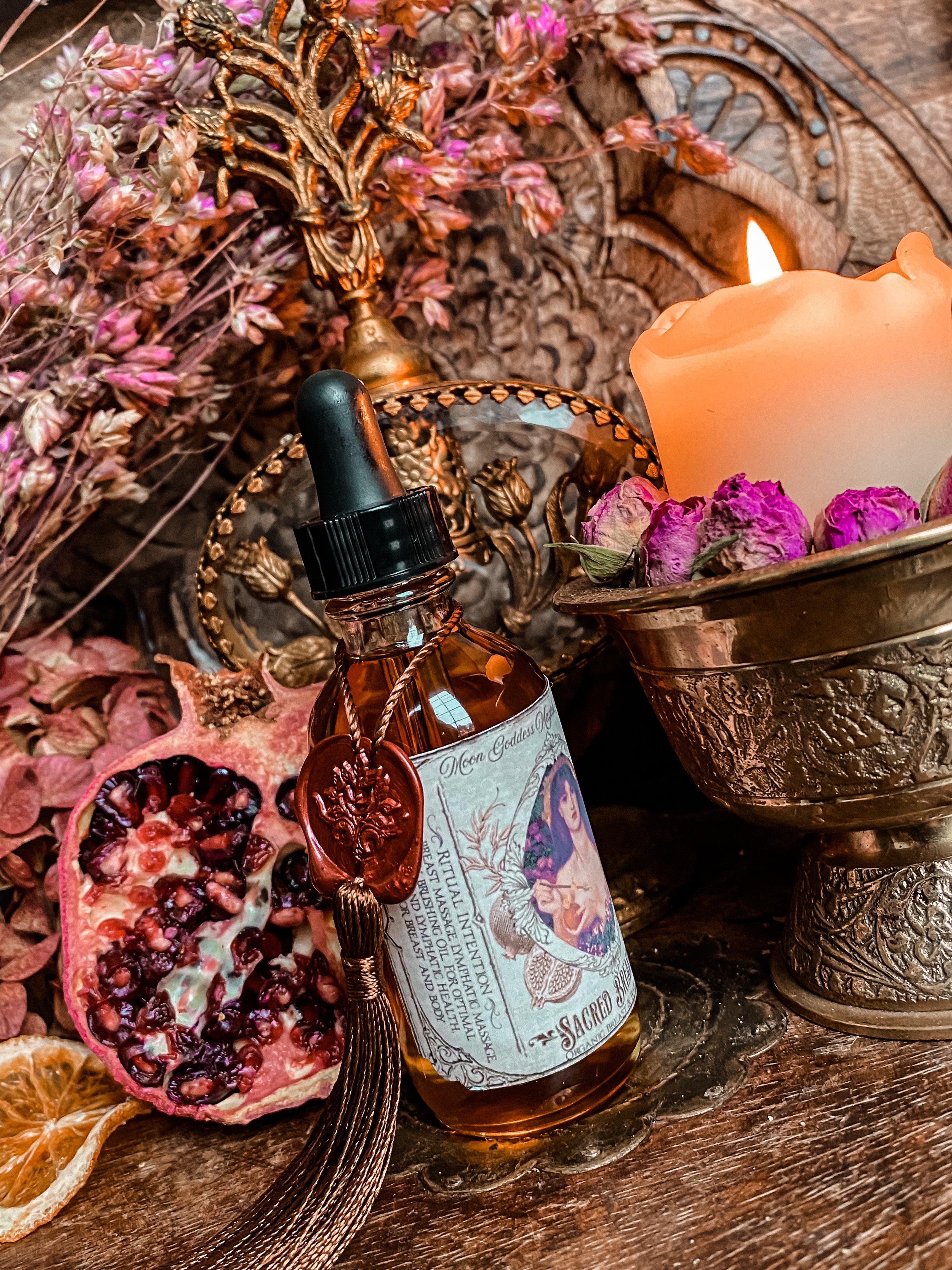 Breast and Body Oil /// Sacred Breast Oil /// Lymphatic Massage Oil /// Large 2oz Bottle or Small 1oz /// Organic /// With or Without Organic Essential Oils
Women have long created and worked with herbal soaked oils to anoint sacred breast and body, not only for health, but to connect daily with your sensual sacred feminine nature.  Beginning a daily self-care, self-love ritual of anointing your breasts and body is beneficial for your continued health and sovereign nature. A Goddess ritual, practiced by Women throughout the ages, and an experience that every Woman should including in their self-love rituals for wellness and beauty. This is not just a practice for women and may also be enjoyed by men.
When this heart opening devotional practice is done at least once a week, it stimulates lymphatic flow with the lymph nodes in your breasts and under your armpits releasing toxins and encouraging release of stagnant energy. This practice also releases oxytocin which evokes a state of euphoria, contributing to overall good mental health and happiness. It soothes and nourishes achy swelling breasts that can occur before menstruation. The benefits are many when taking up this ancient practice. It invites sensuality back into your routine, awakening your sacred feminine spirit each day. This will become a practice that you will adore, and so will your breasts. Over consistent use, you will see your breasts slightly lifted, slightly fuller, your skin ever so nourished, and your Spirit also nourished by this simple and forgotten self-love Ritual.  Over time you will notice improved breast, mind, and spirit health.
You can practice this ritual anytime during the night or day, solo or with a lover. I recommend both. I find that after a shower feels the best.  Massage each Breast in circular Clockwise motion starting at the nipple, following an expanding spiral pattern, stop then continue again in a circular counterclockwise motion from the outside breasts back to the nipple, Do this at 6 times on each breast. be sure to get under your armpits to really get the blood flowing in your lymph nodes. You can even work with this oil under your chin, down your neck and into your breast area.
The potent botanical oils chosen for this blend have a very long and ancient history of being allies to the breasts and lymphatic system.
Lovingly witchcrafted with organic botanically infused, cold-pressed, and unrefined oils of Pomegranate, Rosehip, Olive, Violet Leaf, Calendula, and Rose Quartz Crystal.

This is a very pleasing subtle herbal scent. Essential oil free.

There is also a second option with the use of organic essentials oils of Rosemary, Frankincense, Thyme, and Clary Sage
They detox by encouraging lymphatic drainage, they soothe with their soft gentle energy, they lessen inflammation, they assist in breaking up lumps and cysts within the breast and in the remaining lymphatic system, they encourage regeneration of healthy cells, reduce breast pain and swelling, and they offer a harmonious vibe to add to your self-love rituals. 

Blessed be my breasts,
And the heart that beats beneath,
Health and love flow freely within,
Please enjoy your oil within 8 months of the purchase date. Comes in large 2oz bottle with a dropper lid for convenient use.