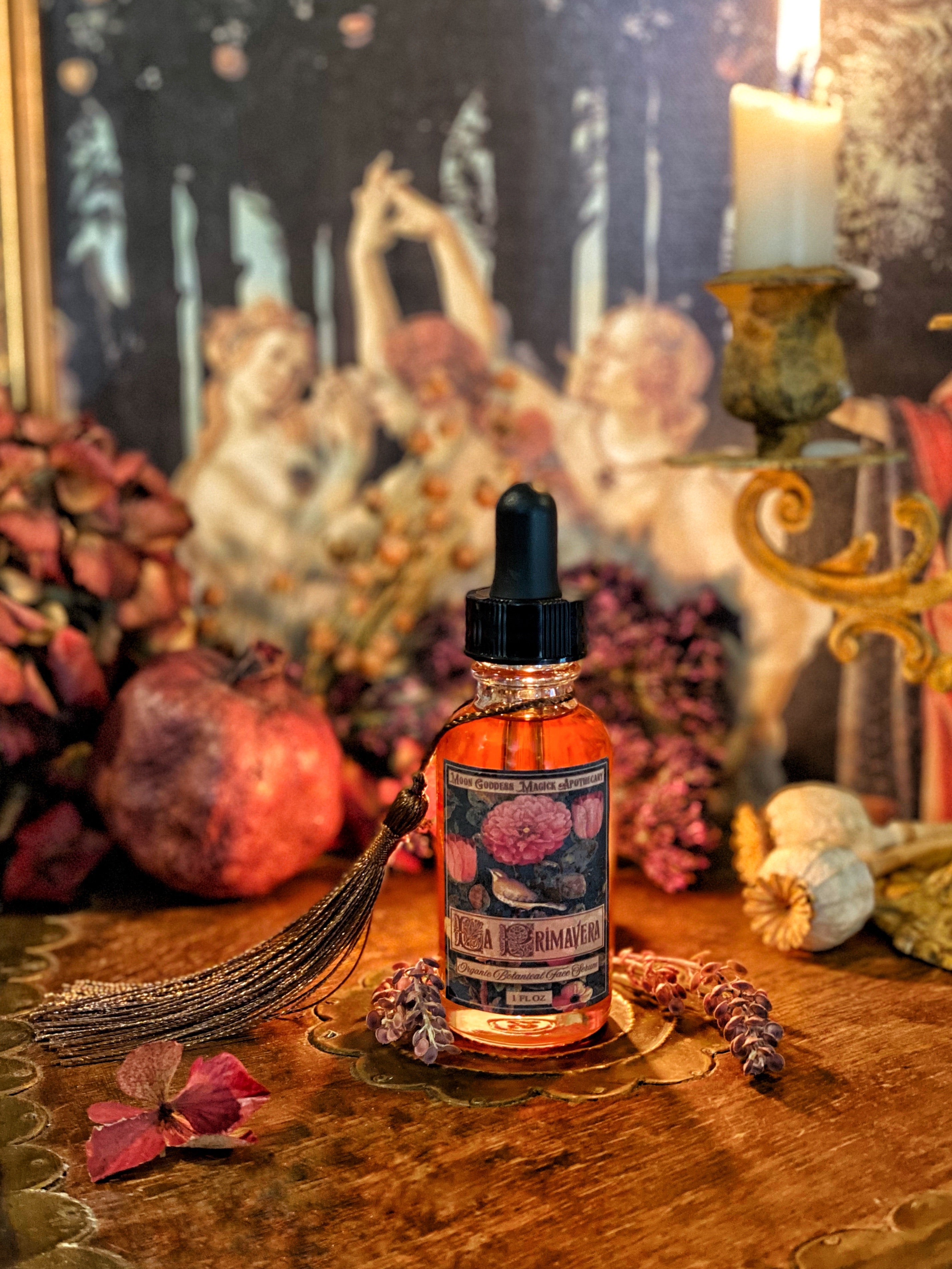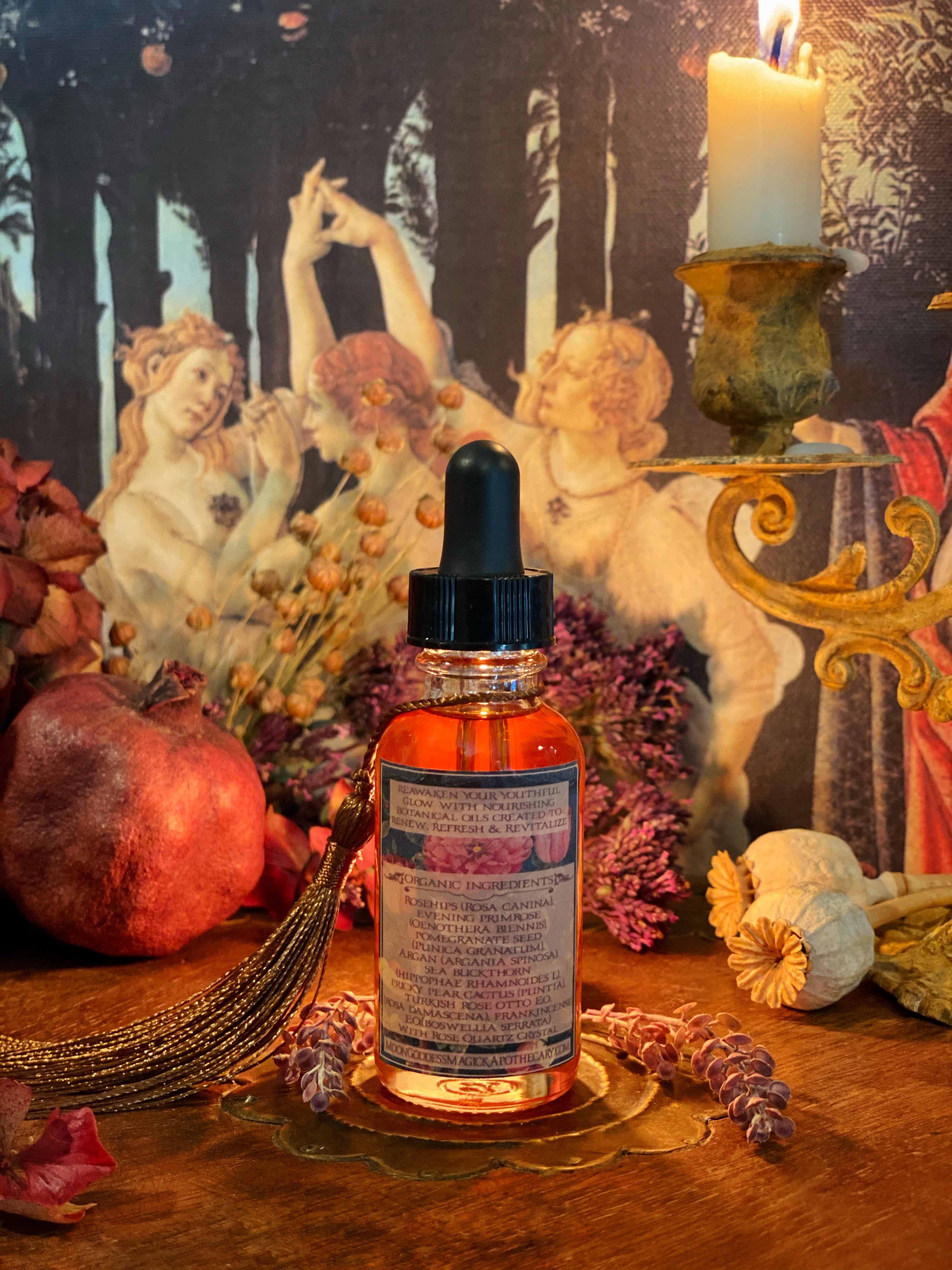 La Primavera Organic Face Serum // Skin Nourishing Beauty Ritual Serum // 1oz with Dropper // Organic Skin Care
•••La Primavera Organic Face Serum•••

Liquid Gold for your beautiful face ♥️
The spring renews, refreshes, and revitalizes the natural world, bringing forth new life into a
once barren winter. This all organic facial serum is age defying, awakening the skin with nourishing botanical oils that are highly prized for their ability to maintain a youthful glow.

•Nourishing plant-based oils have been an essential beauty ritual for centuries, they have been revered as sacred offerings from nature to enhance the way we feel and live with their rejuvenating properties. La Primavera takes your beauty routine back to the origins of natural beauty by offering you clean, ethically sourced, natural plant-based serum for your beautifying skin ceremonies.

•This intensely nourishing facial serum is suitable for every skin type. It absorbs into the skin with ease, leaving no greasy residue, only pure radiance. This is a sacred skin ceremony in a bottle that every Goddess needs in their daily routine. Created with the finest selection of plant-based oils that are revered in the natural skin care world for their regenerative qualities. Each oil chosen, was done so with extensive research to bring together a luscious, organic, high quality blend of nourishing oils that will revive your skin and offer new life, while reducing and reversing the signs of aging. A ritual communion of nature's most prized skin oils.

•You'll see results after the first night, and with continued use, this opulent serum will soothe, moisturize, and clarify your skin, reducing sun damage, and promote new cell regeneration and overall elasticity. I will never be without this oil now that I am seeing the amazing results. It keeps my skin supple, smooth and soft, and as a woman approaching 40, I need all the skin nourishment that I can get. This serum will quickly become your favorite beauty indulgence.

=Organic Ingredients=

•All Organic ingredients- Rosehips ( Rosa canina), Evening Primrose (Oenothera biennis), Pomegranate seed (Punica granatum), Argan (argania spinosa), Sea Buckthorn (hippophae rhamnoides L), Prickly Pear Cactus (puntia), Turkish Rose Otto oil (rosa damascena), Frankincense essential oil (boswellia serrata)
•Each bottle lasts an average of 2 months and because this is a chemically preservative free serum, it is recommended that you use it within the first 6 months and store in a cool dark space avoiding direct sunlight.


=Benefits=

•Rosehips (Rosa canina)•
-Rich in essential fatty acids, beta carotene (a form of vitamin A), vitamin C and vitamin E which are all antioxidants that help fight free radicals and restore skin with its regenerative properties.


• Evening Primrose (Oenothera biennis)•

- Vitamin A it soothes inflamed skin and gently tightens your pores while reducing the redness of under eye dark circles.


•Pomegranate seed (Punica granatum)•

- Pomegranate seeds are loaded with omega 5 fatty acids that reduce skin inflammation and aid in skin repair and fending off free radicals. It's high antioxidant levels contribute to the healthy glow it offers your under nourished skin.

•Argan (argania spinosa)•

A high-end beauty oil that is ultra-moisturizing, skin smoothing and highly nourishing with its natural fatty acids and oleic acids.


• Sea Buckthorn (hippophae rhamnoides L)•

-An amazing natural cleanser and exfoliant, Sea Buckthorn is another highly prized oil that contains over 190 nutrients and phytonutrients, including vitamin C, which is 12 times higher than that of an orange. It brightens, nourishes promotes a healthy glow.


•Prickly Pear Cactus (puntia)•

- Prickly pear It contains skin-softening vitamins E and K. These vitamins are the grail of reducing the signs of premature skin aging. It promotes elasticity, skin hydration, and skin regeneration. It even helps clear out breakouts and halt new breakouts from occurring.


•Turkish Rose Otto oil (rosa damascena)•

-This beautifully fragrant flower has graced the senses of those unable to pass by her glorious scent without inhaling her beauty. Since the first interaction with humankind, this "queen of the flowers" has been worshiped for her soothing qualities. I have chosen the highly priced Rose Otto for the skin, it contains NO solvent residue that can be found in the absolute. This is pure rose witchery for your sacred beauty ritual.
Rose reduces redness, fine lines, and wrinkles. Rose otto slowly repairs broken capillaries on the face with consistent use, and also clears up acne. She is deeply nourishing and moisturizing to young and aging skin.


• Frankincense essential oil (boswellia serrata)•

-Frankincense is another oil that is highly revered and treasured for its incredible properties. It supports healthy cellular function, increases blood flow and circulation, while reducing redness. It gently tightens the skin and assists with cell regeneration. Its aromatherapy qualities are deeply spiritual and soul reviving. Combined with rose, it's a soothing spiritual spa experience.


• Promotes a radiant glow with Vitamins E, K, and C.
• Clarifying and soothing while reducing redness and inflammation.
• Tones, tightens and smooths skin.
• Naturally regenerates new cell growth.
• All Organic and ethically sourced botanical ingredients with nature in mind.
• Cruelty free and no animal testing.
• No synthetic ingredients or unnatural preservatives.


=Directions/Beauty Ritual=

-Apply 11 drops to clean face in the morning and/or evening, working in circular motions to blend into face and neck. You'll instantly feel the magic of these sacred oils blessing your skin. Shine Goddess!


*Moon Goddess Magick Apothecary is not responsible to misuse or adverse effects that may come from allergic reactions. You agree to this statement upon purchase of this product. If you have a reaction, please see your doctor. If you think you may be sensitive to the ingredients in this product, please do a test patch on your inner left arm and wait 3 hours. If redness or irritation occurs, do not use this product.