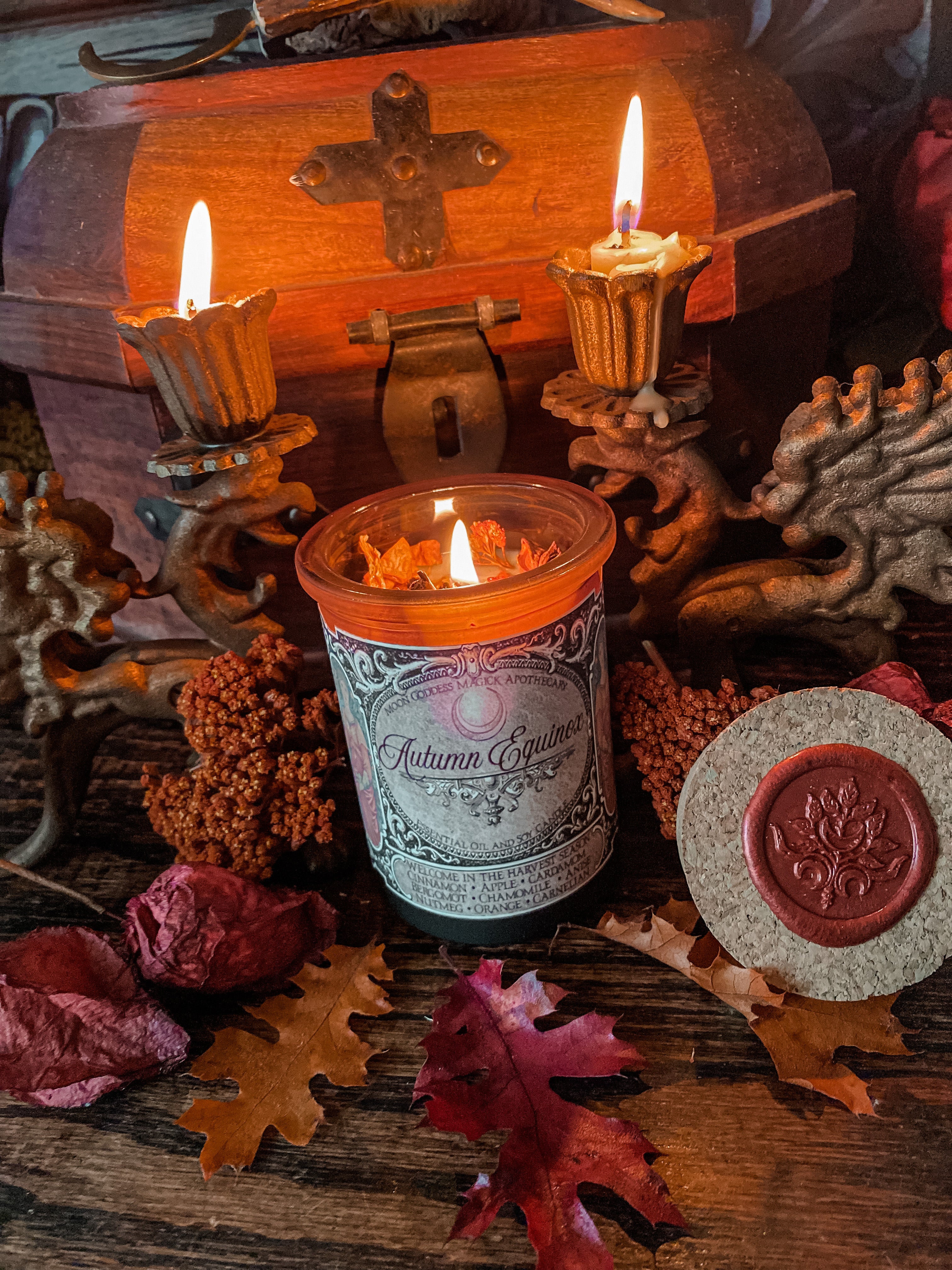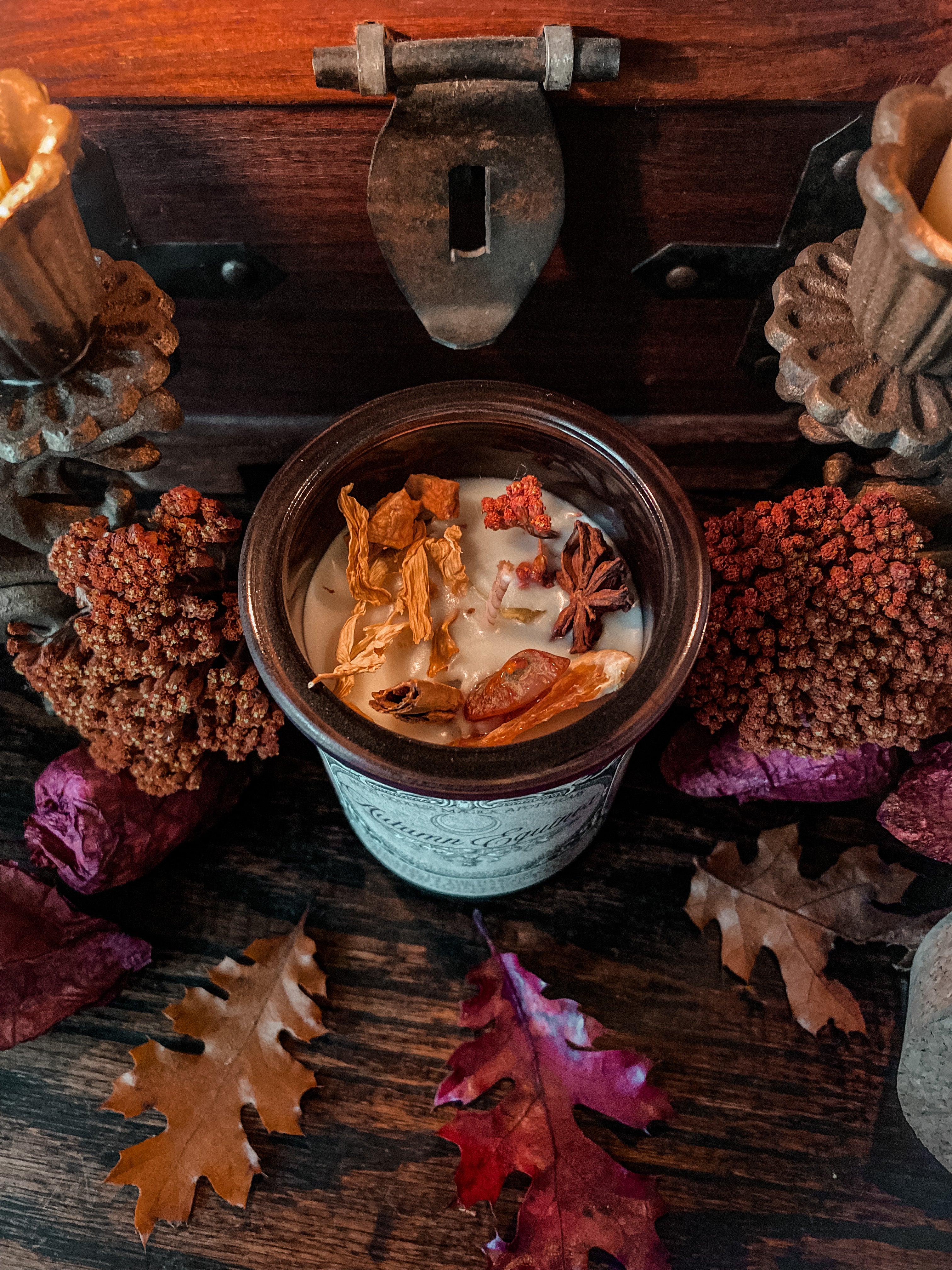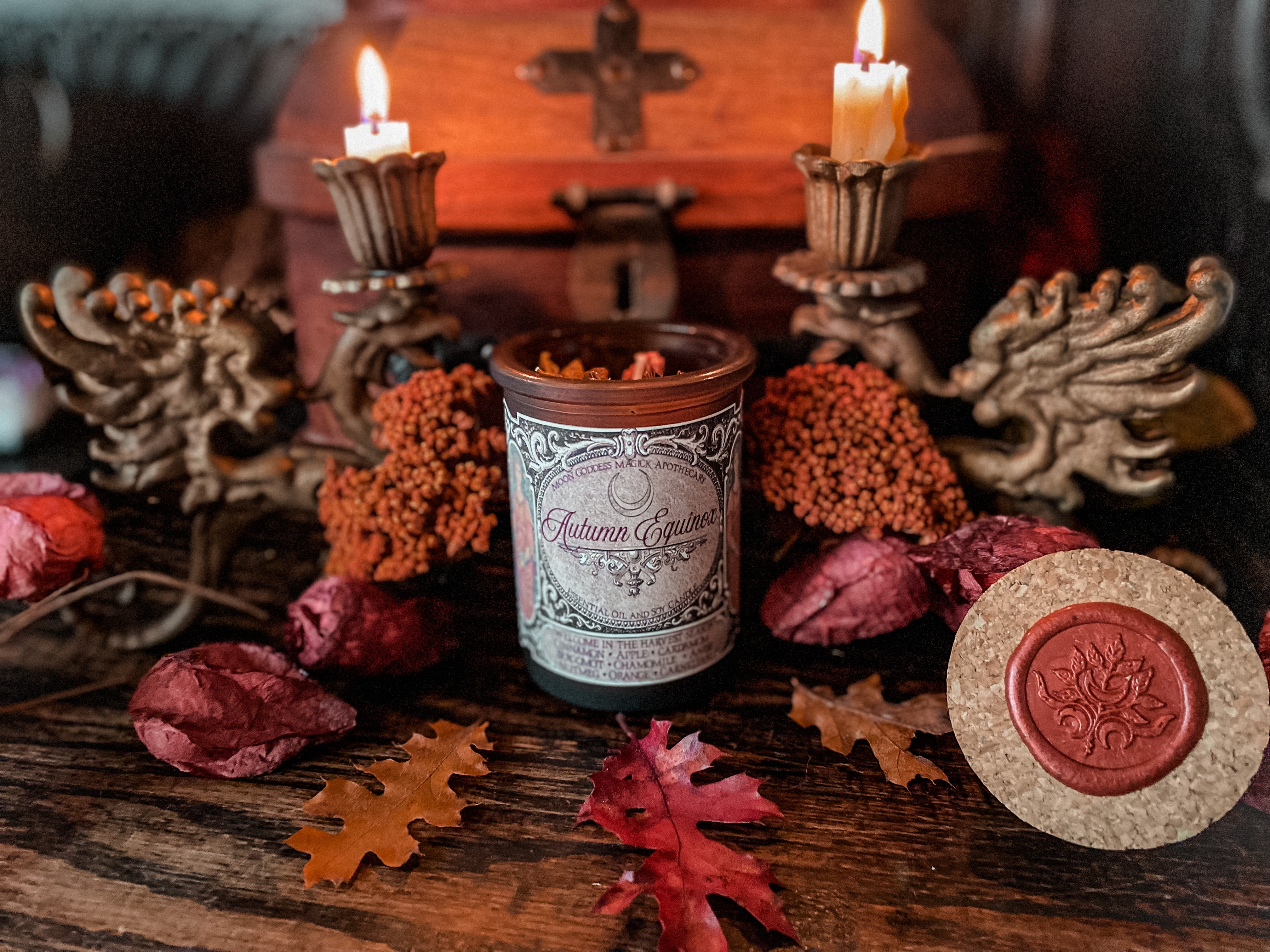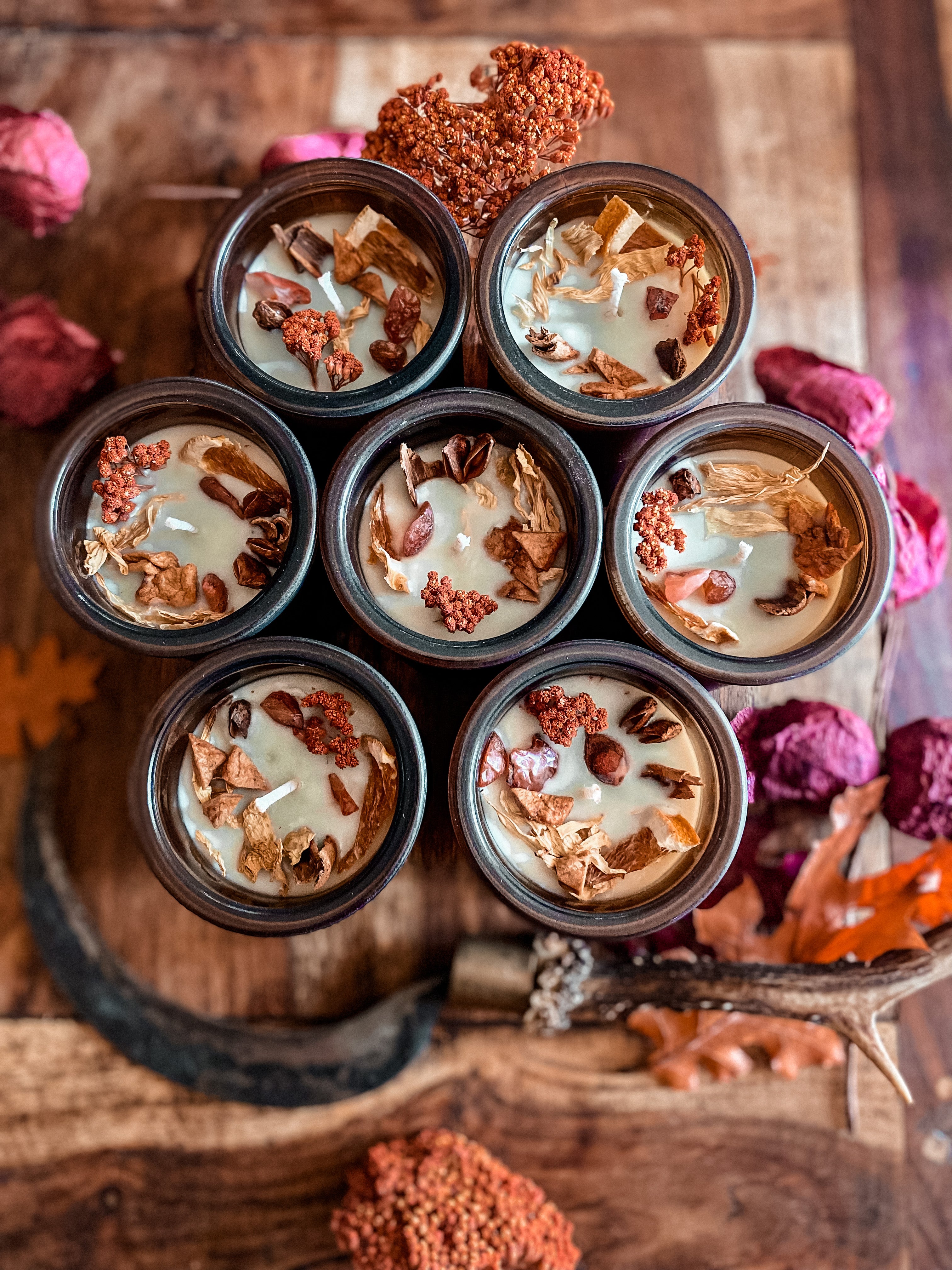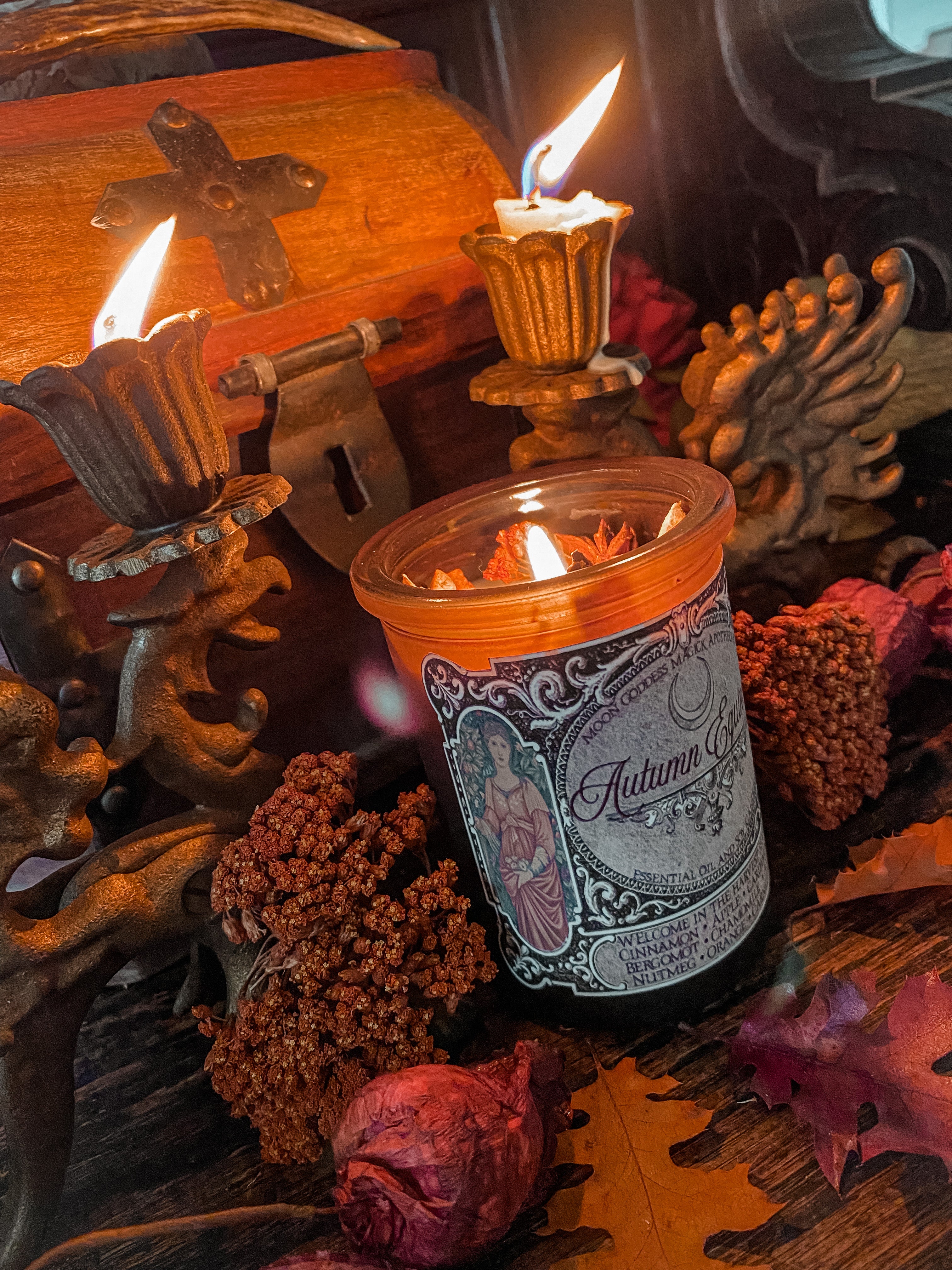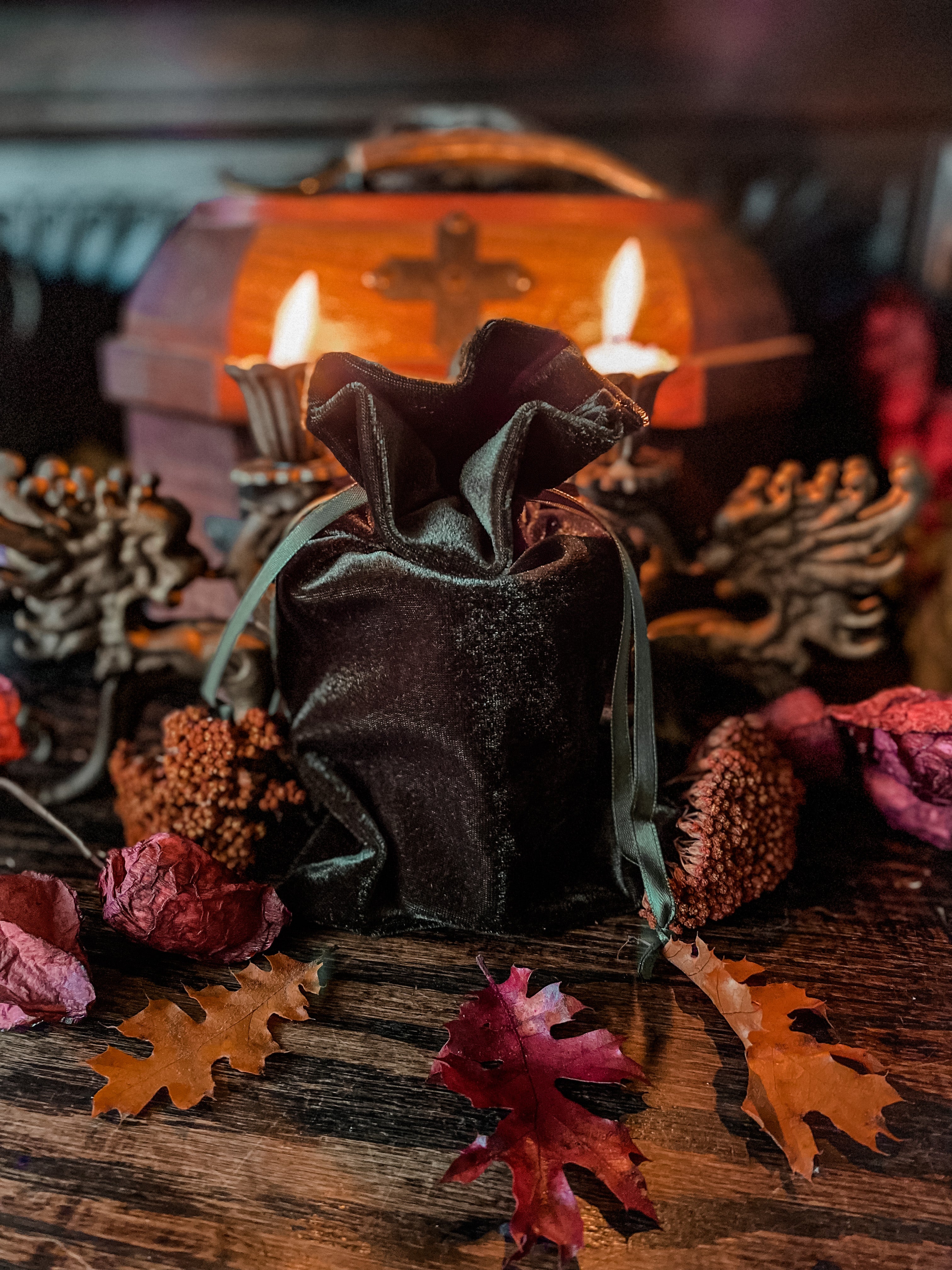 Autumn Equinox Ritual Candle // Mabon Candle // 6oz with Velvet Bag
Autumn Equinox Ritual Candle
"Season of mists and mellow fruitfulness,
Close bosom-friend of the maturing sun;
Conspiring with him how to load and bless
With fruit the vines that round the thatch-eves run;
To bend with apples the moss'd cottage-trees,
And fill all fruit with ripeness to the core;
To swell the gourd, and plump the hazel shells
With a sweet kernel; to set budding more,
And still more, later flowers for the bees,
Until they think warm days will never cease,
For Summer has o'er-brimm'd their clammy cells."
-   John Keats,  To Autumn
A stunning candle that awakens the very Essence of the Autumn Equinox, that great shift of energy that we feel beneath our feet and within our souls. The cooling of the Earth as she begins to fall deep into her slumber. It is the beckoning breeze that runs through us, calling us back to remember lives past, pulling us closer to the magick of the Otherworld and into the wisdom of our Ancestors. Some attribute the magick of autumn to the comfort of our cozy sweaters, boots and hot pumpkin drinks, which is partly true….. but you see, it is the Veil between the Spirit world and our own that creates the true comfort, gently shedding its layers to prepare us for the brief and effortless moment at Samhain when we are able to walk between worlds and commune with our Ancestors.
It brings us closer to those we have lost and to those that are in our lives today. When we really stop and listen to this shift with all senses, to the nature around us, to the voice of our Ancestors, and observe it all with a new sight, then we begin to understand the nostalgia of this sacred season, we begin to see that it is the power of gathering with family and friends that comforts us. It is the power of seeing the trees shed their dying leaves to be reborn in the Spring. As we see the Earth prepare for her seasonal death, we must see ourselves as a reflection of nature and honor the sacred cycle of Life, Death and Rebirth that is happening around us and also within us.
This beautifully scented candle is all natural and smells of spiced autumnal apples. Witchcrafted with the finest organic essential oils and organic botanicals of Cinnamon, Apple, Cardamom, Bergamot, Chamomile, Anise, Orange, Nutmeg, Yarrow, and Carnelian Crystal, blended into ethically sourced Soy wax and a cotton wick. Housed in a reusable amber glass jar with corked lid. Your candle comes to you in a lovely velvet green bag.