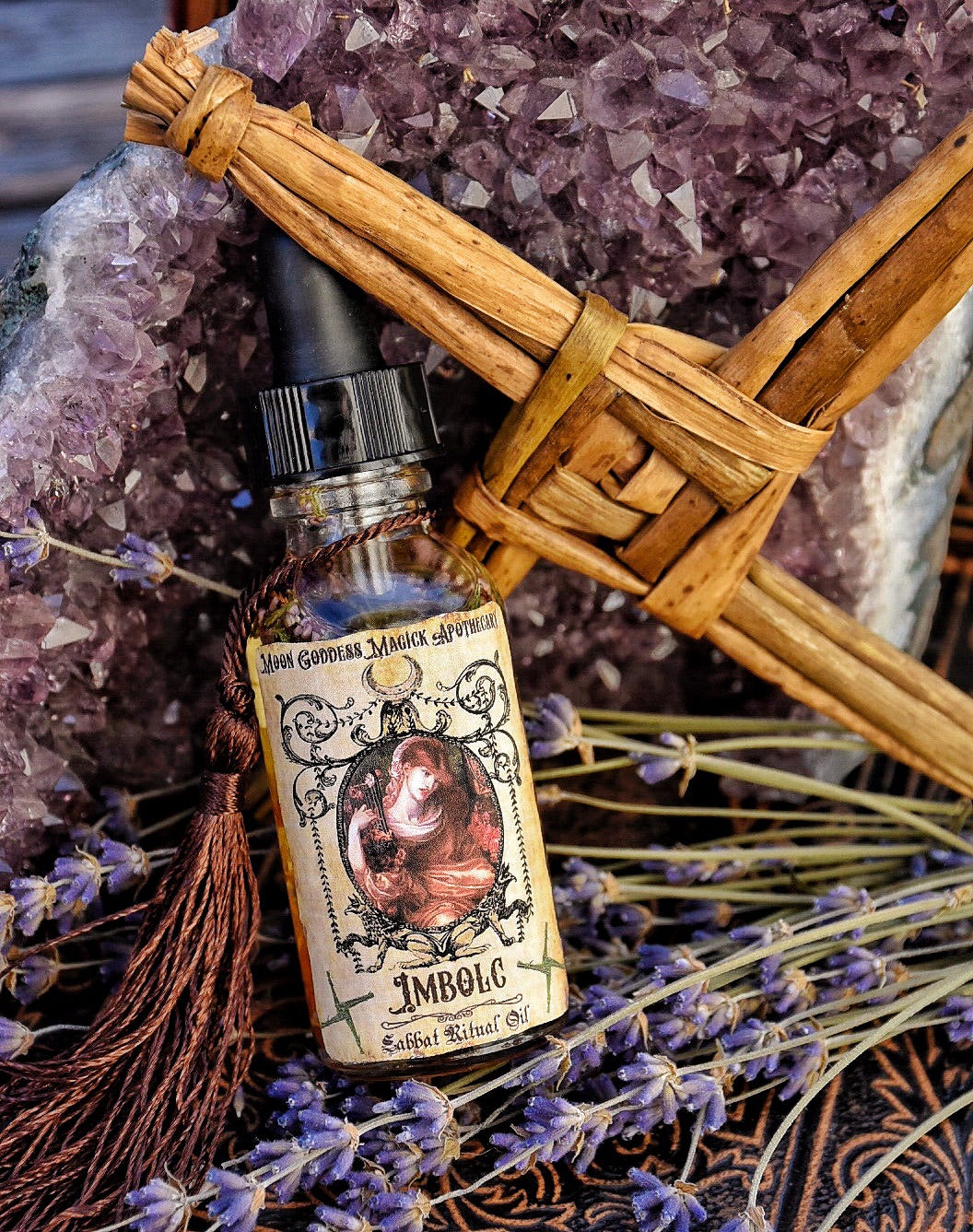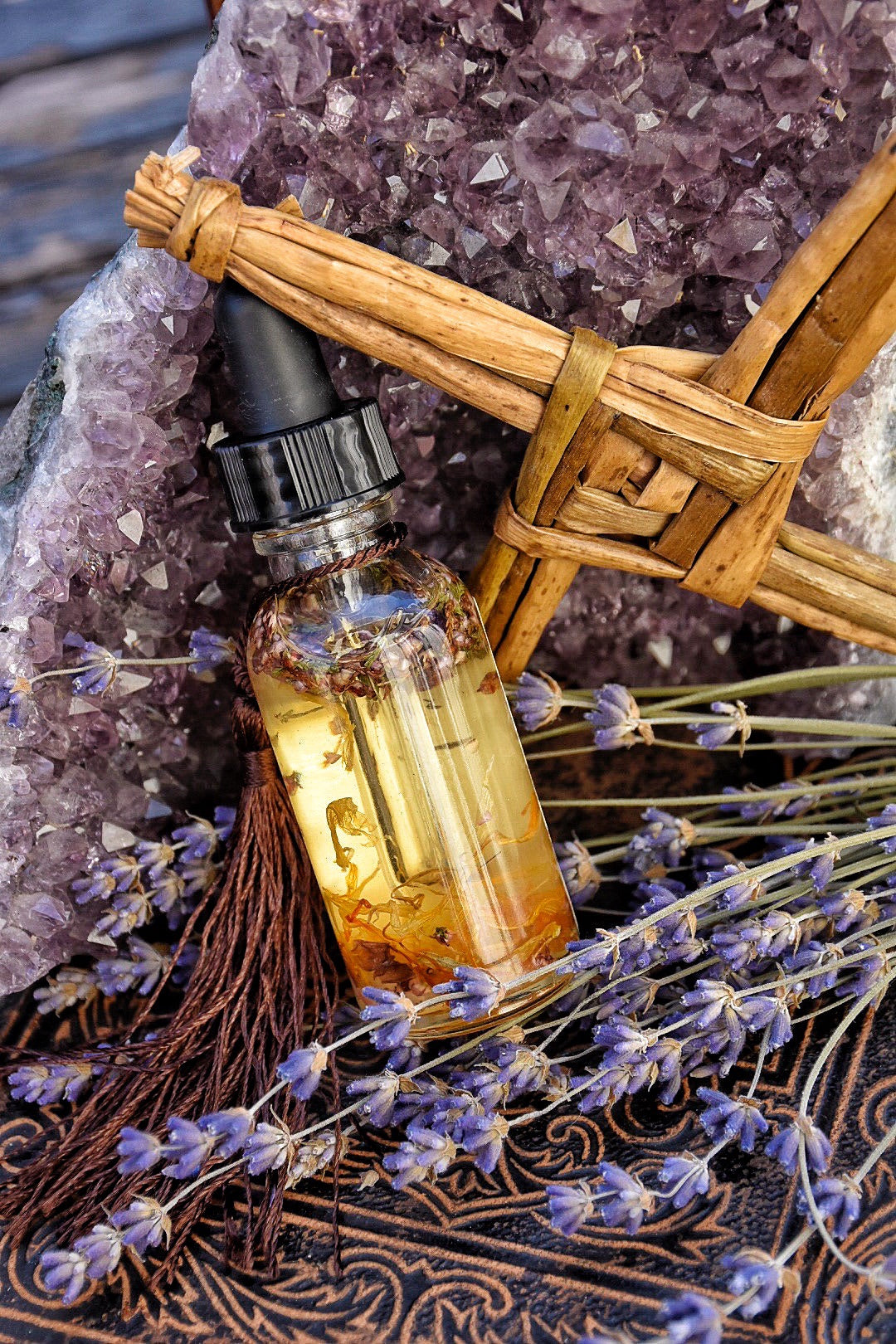 Imbolc Ritual Oil~ Sacred Sabbat Oil~ Brighid Oil ~Huge 1oz bottle w/Dropper ~ Witchcraft~ Wicca~ Pagan ~ Candlemas
♦Imbolc ~Feb 1~Candlemas, Imbolg, Brighid's Day

~This Lovely blend captures the sacred essence of the Goddess Brighid of Imbolc~ Containing the Finest essential oils of Jasmine, Davana, Neroli and Lavender~ Infused with Heather, Calendula and Lilac Flowers along with a Sunstone Crystal (Gemstones are in the bottle)

~Uses for Ritual Oil~
♦Anoint Candles~
♦Anoint Ritual Objects~
♦Anoint Yourself and Others~
♦Pour a little in your wax warmer
♦Pour a little into your Ritual bath
♦Use in all ways that are EXTERNAL only

♦Imbolc is sacred to the Goddess Brighid, she who is the bridge between the old world and the new. Honored in both Pagan and Christian traditions. She was, and still is, honored all over Ireland as either a Saint and/or a Goddess. Her name has many meanings such as the "exalted one" , "the bright one", "bright arrow" and so on, all of names honor her bright flame that begins the rebirth of Spring. She symbolizes new beginnings, purification, healing, power, strength and wisdom. She is a Poetess, a Smith and a keeper of the symbolic sacred flame, one that burns bright and is tended to in the hearts of those who honor her. Being a Healer, she rules over water, thus giving birth to many Sacred Wells in Ireland where folks travel to petition her wisdom and healing ways.

•During this time of the year we begin to feel the first energy shifts from the cold dark winter of Cailleach move into the warmth of Brighid's flame and we are inspired to relight her flame within our own hearts. Her flame ignites our creativity and our passion to keep reinventing and renewing ourselves just as Nature does...and so the cycle continues.


~MOON GODDESS MAGICK APOTHECARY is not responsible for misuse or adverse reactions~ DO NOT use Oils on Babies or Pets, DO NOT use Essential Oils while Pregnant or nursing unless otherwise posted on one of my listings. ~ Also ask your Family Practitioner FIRST! If you have any questions about your product please convo me~

~When using Essential Oils please remember to do a test patch on a small area of your skin.

THE ALL IMPORTANT SAFETY INFO:
FOR EXTERNAL USE ONLY, KEEP OUT OF YOUR LITTLE PEOPLE'S REACH, KEEP OUT OF YOUR EYES (OUCH). ALWAYS DO A TEST PATCH ON SKIN BEFORE USE. IF YOU HAVE A SERIOUS MEDICAL CONDITION, PLEASE CONSULT WITH YOUR DOCTOR BEFORE USING ESSENTIAL OILS...IF IRRITATION OCCURS PLEASE STOP APPLYING IT TO YOUR SKIN.