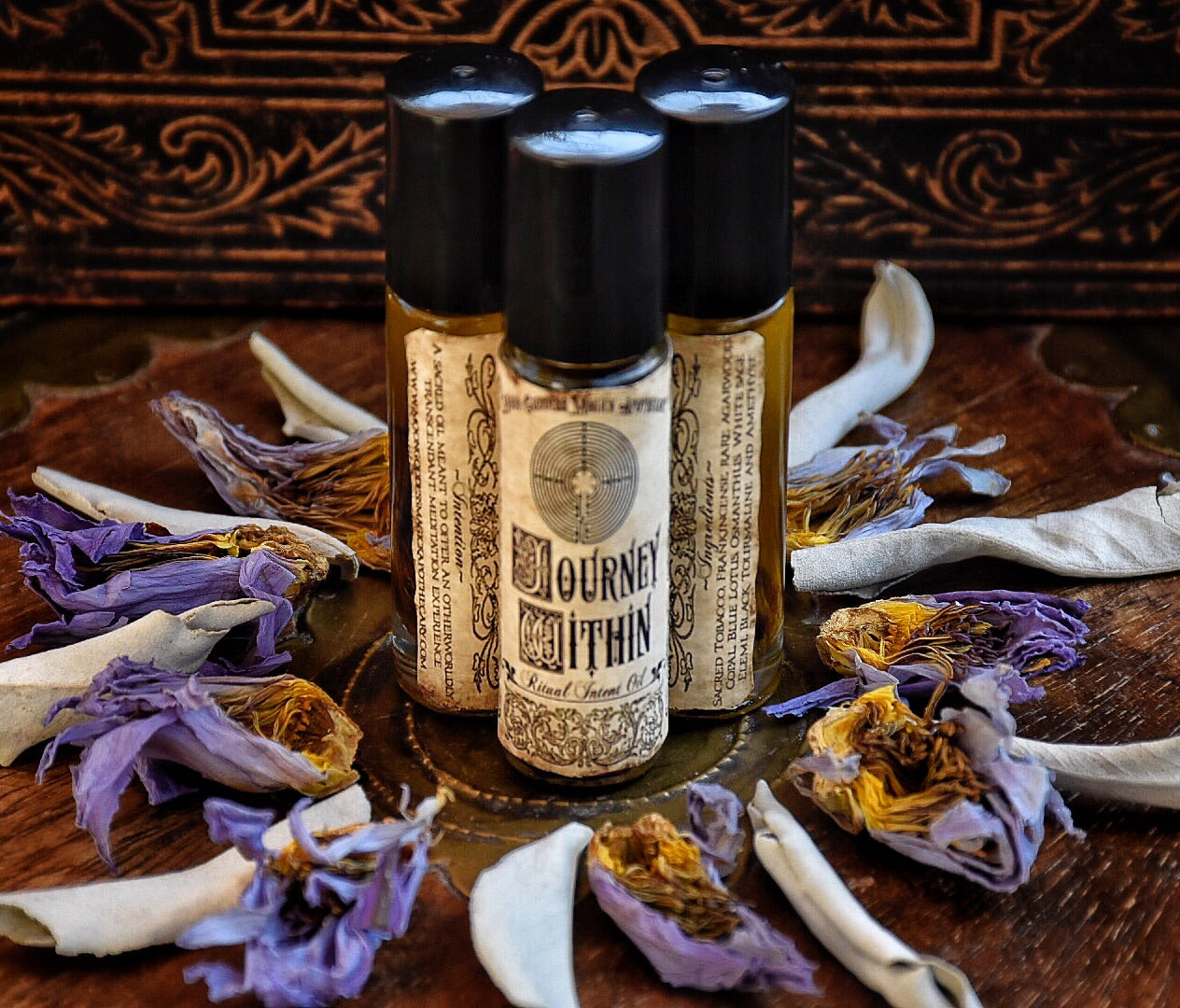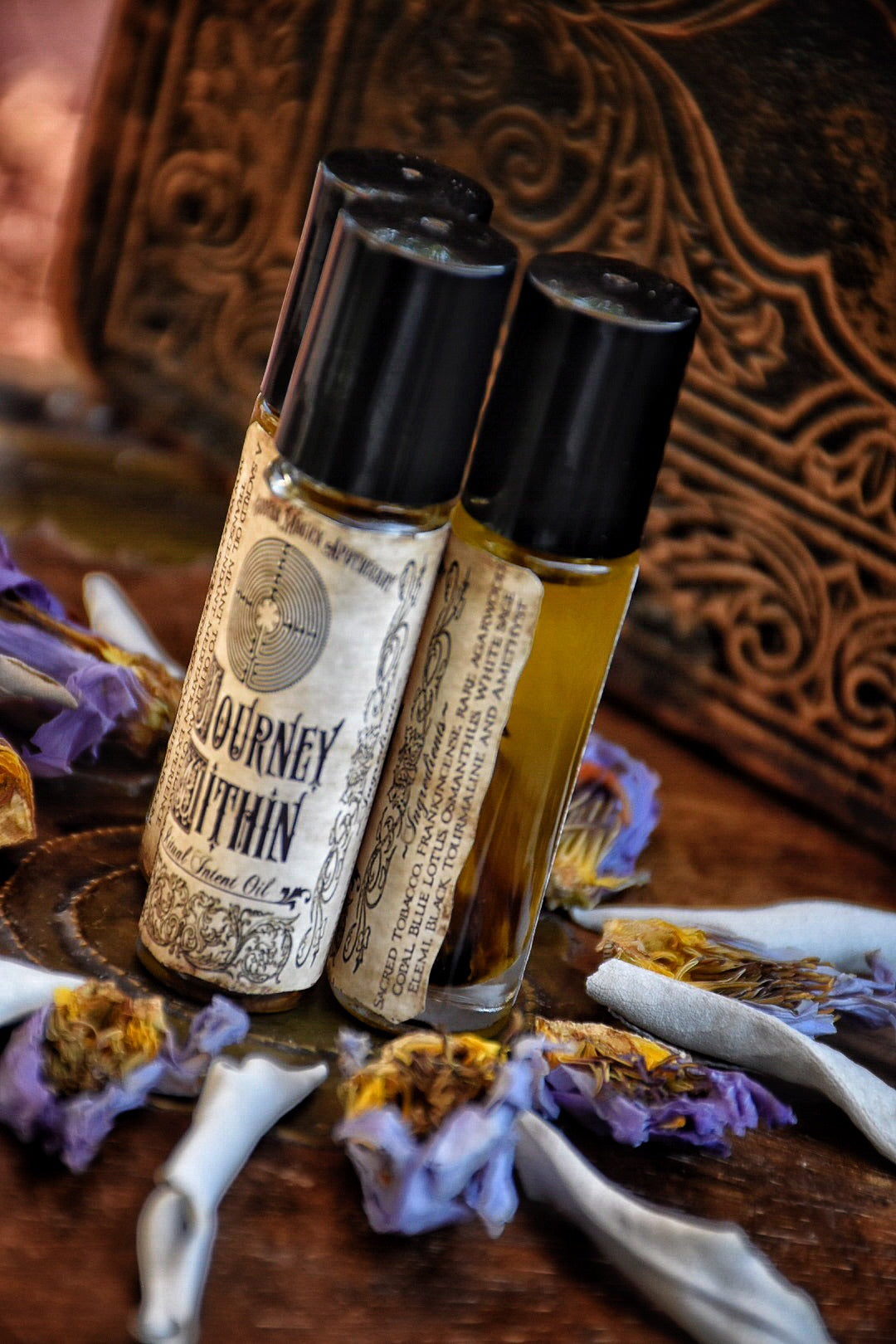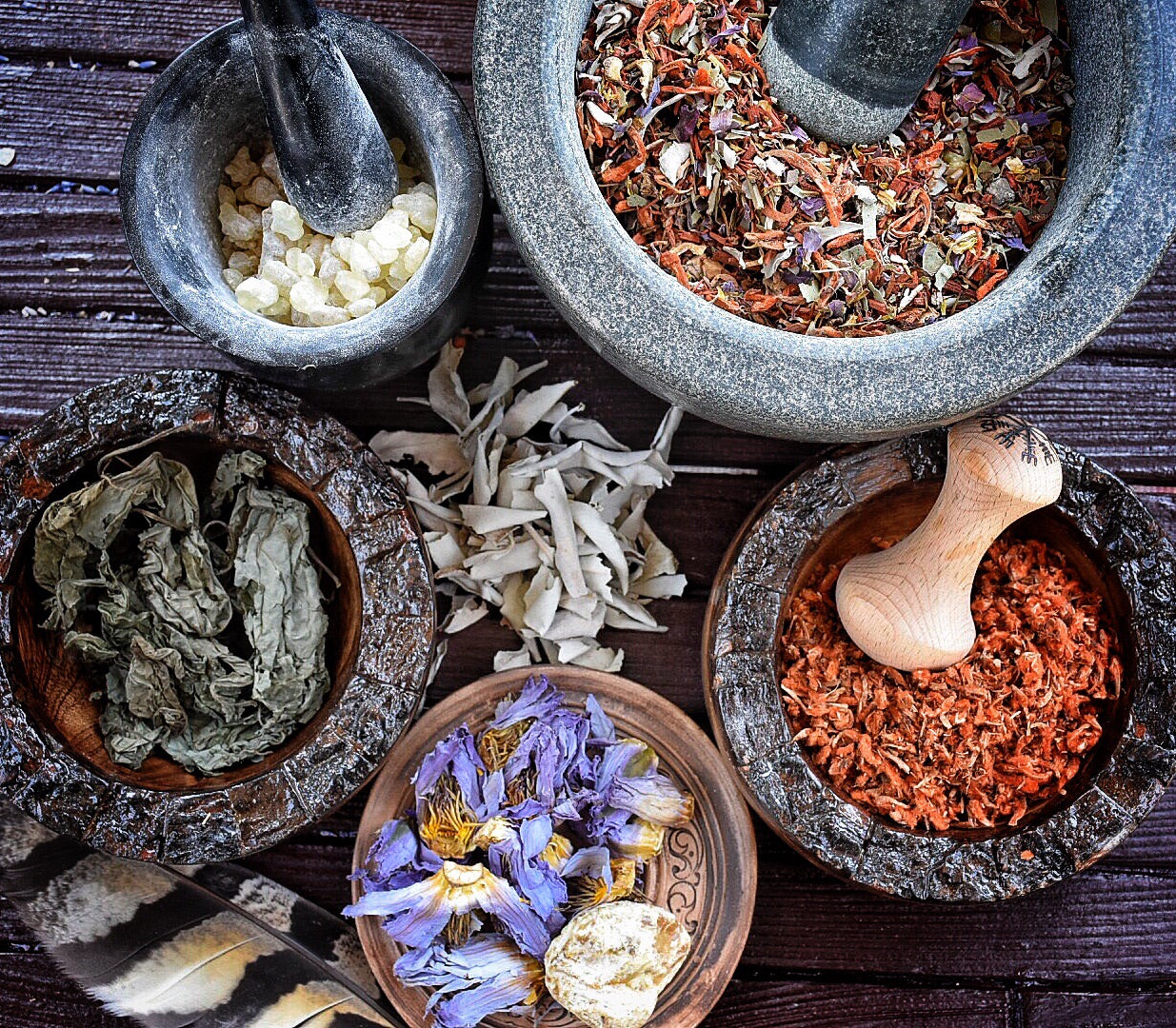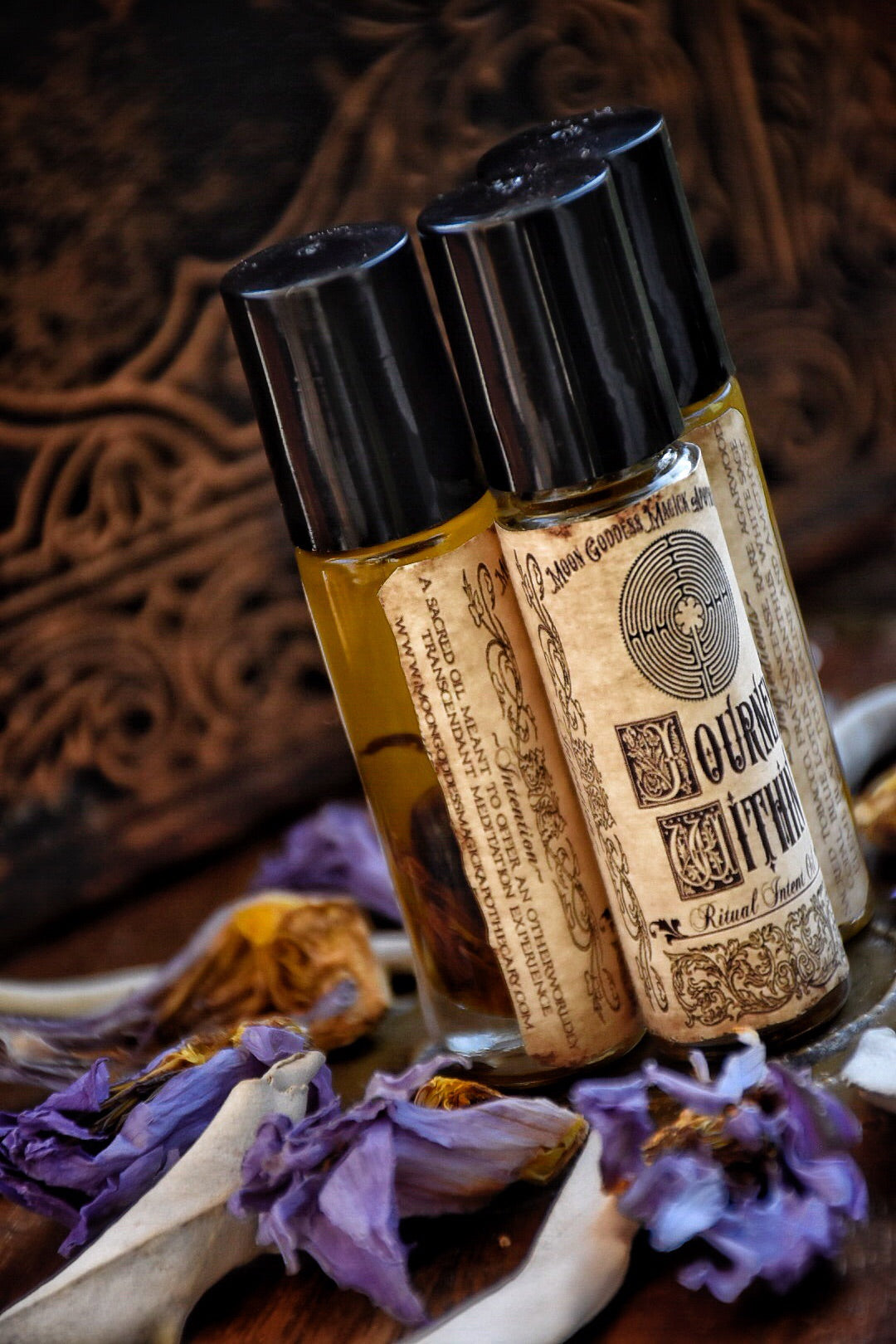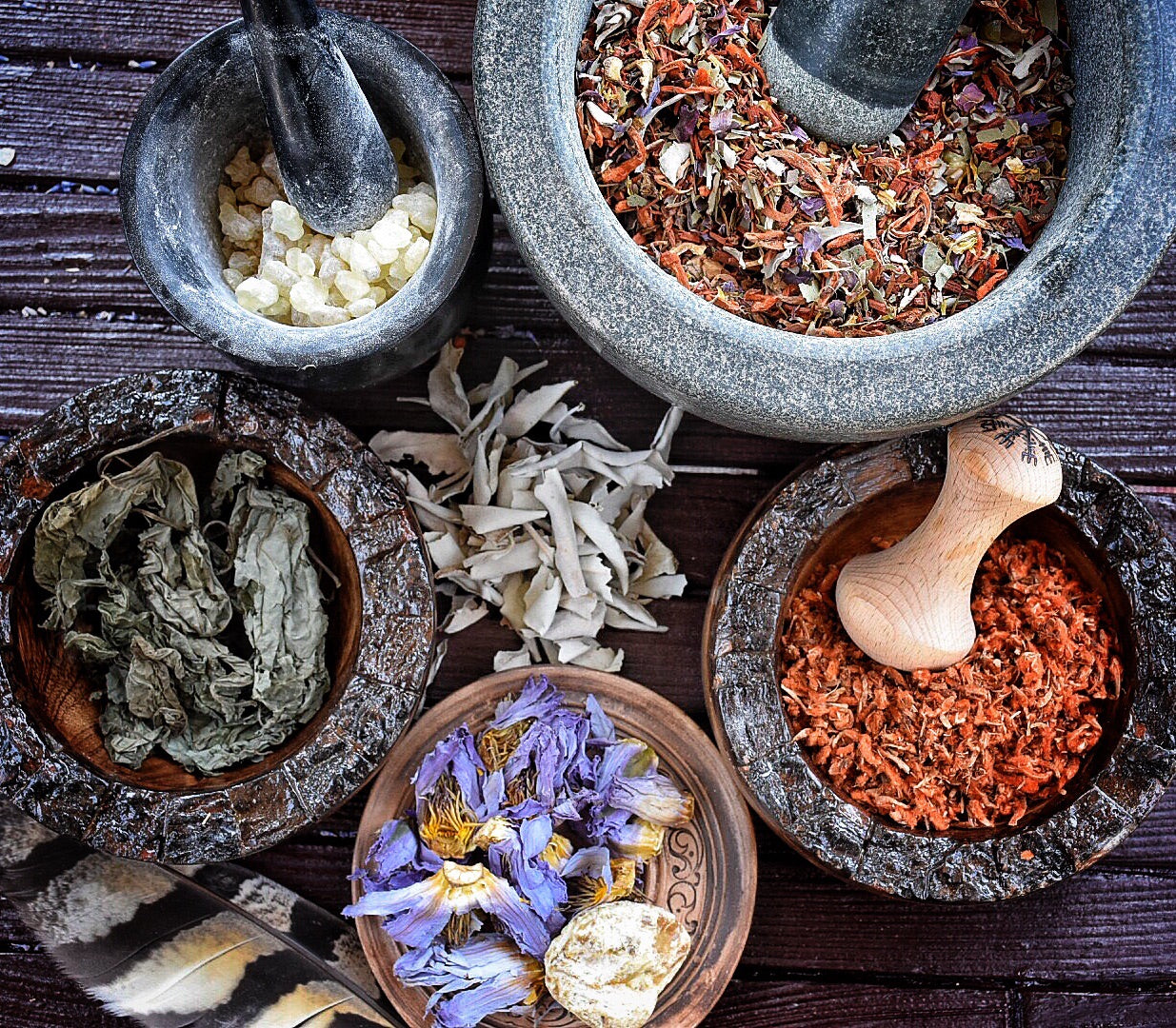 Journey Within~ A Potent Meditation Oil for the Journey Within ~ 10ml Roll On Bottle ~ Meditation ~ Shamanic Journey ~
Journey Within
A potent ritual oil for an otherworldly transcendent meditation experience. Gently shifting consciousness inward to awaken the divine self. 
The Labyrinth is a sacred path that leads you to the "Journey Within" self, one that expands the mind past constricting thoughts, offering an intricate and effective way into your journey of transformation and rebirth. Introspection is key to spiritual metamorphosis, reaching into the center of self, the seat of the soul, to awaken the divine self, thus revealing new perspectives to approach waking life and divine messages. 
Know Thyself, these two words are the corner stone for discovering your true spiritual and physical potential, your purpose and your path. Two words so valuable to the expansion of human consciousness, that they were inscribed on the entrance to the Temple of Apollo at Delphi. Just like the Labyrinth, we should endeavor to navigate through the dark and light corridors of our own mind until we reach the center where our higher consciousness exists. To get there is not always an easy journey, and parts of us my die for others to reemerge. We must weave our way in and out of past traumas, mistakes, triumphs, trials and tribulations to finally arrive at a place of acceptance. To allow all of the experiences that have shaped us to where we now stand, at the center of self, shapeshifted into a new form. Then, navigating our way back out of this sacred space of thought, we reemerge with a deeper understanding of our path and our purpose. 
This sacred oil is made up of ritual herbs, extracts and essential oils of Tobacco, Frankincense Serrata, Agarwood, Copal, Blue Lotus, Osmanthus, Ceremonial Sage, and Elemi. With crystal empowerments of Black Tourmaline, to keep your body grounded and protected and Amethyst to awaken your crown chakra for deep mediation. 
These holy oils and herbs were chosen for their rich history of working with the conscious and subconscious mind. 
While making this blend I intimately work with the planetary days and hours of all 7 planets during a waxing and waning moons to embody the journey, in and out, of the labyrinth of self. I chose to work with the energy of all planets, as each one relates to the layers of self when taking the Journey Within. The price of this blend reflects the time, attention and high-quality ingredients employed to bring this blend to life.  
This oil is meant to be used sparingly, upon the wrists, and a dab on the back of the neck. Allow its essence and aroma to weave its way into your own essence. The aroma is deeply resinous, evoking a calm state of being for deep mediation and inward travel. 
Find a place of peace and comfort where you will not be distracted for at least an hour. Have a journal nearby to document the symbols and signs that you are shown during your journey, it's also a good idea to have it next to your bed after waking up the next morning to document dreams.
As you begin your mediation, allow your mind to take you through the labyrinth. On the label, I have placed a labyrinth for visual reference for those that are unable to walk an actual labyrinth, I find this very helpful. There is also a labradorite crystal on the top of the bottle that can be worked with as a mediation tool as labradorite is known to help with deep meditations, divine self and spiritual endeavors.  As you begin trace the unicursal pattern with your eyes and allow the fumes of the incense to work their way in to your senses, allow thoughts to come in naturally without forcing or suppressing the messages that come through. As you journey deeper and deeper into self, take notice of your thought patterns, comforts and discomforts. If you find yourself processing an uneasy emotion, you can begin to deepen your breath with a long inhale and exhale. Each layer of the Labyrinth will guide you through a series of releases and reflections until you finally come to the comfort of your most authentic self.
No matter where your Journey takes you, be open to it. You may have intense visions and you may just reach a deep state of Nirvana~ Whatever it may be, don't try to change or sway your journey in any direction. Be open and aware to all that surrounds you and take comfort in knowing that whatever happens, you will experience the benefits of your Journey Within.