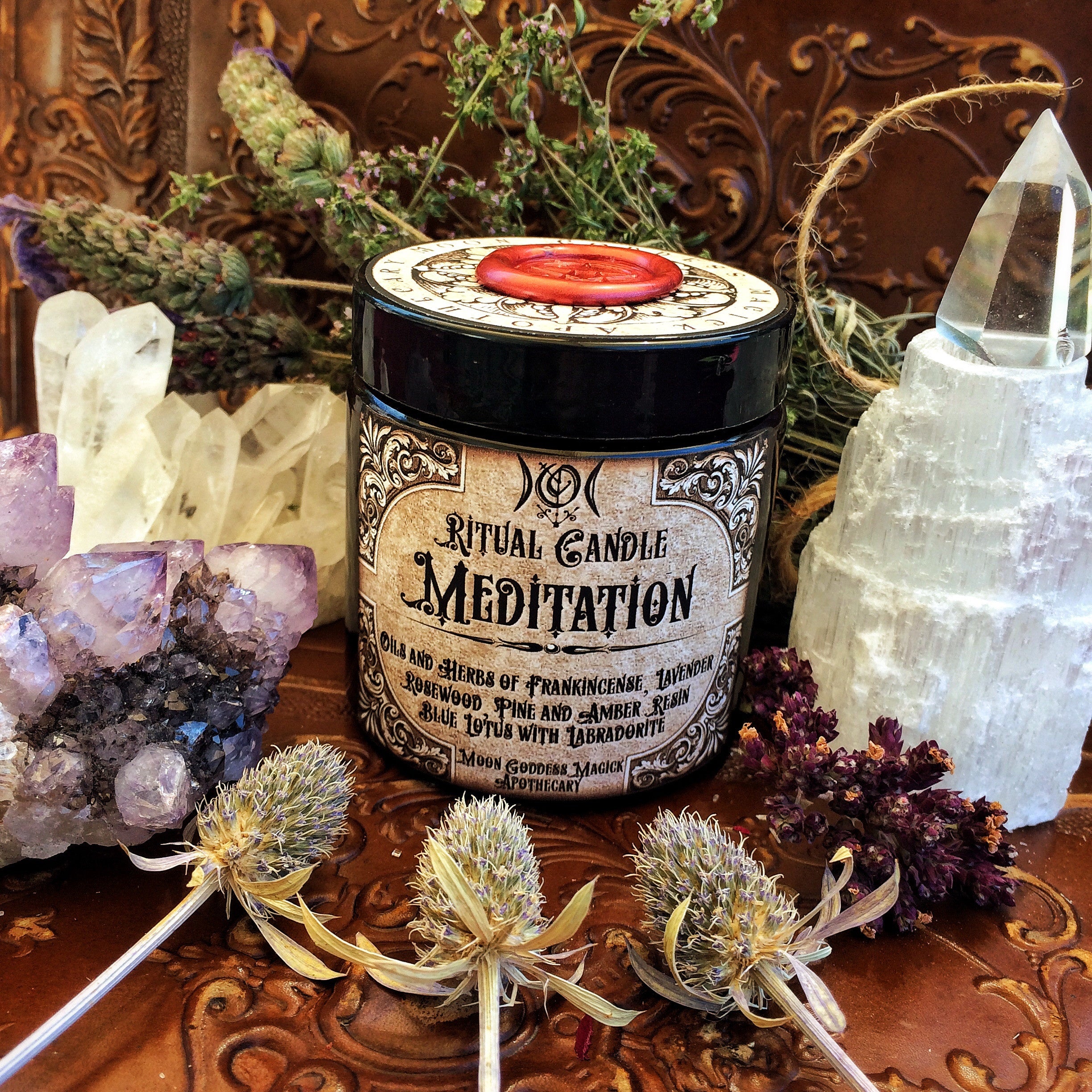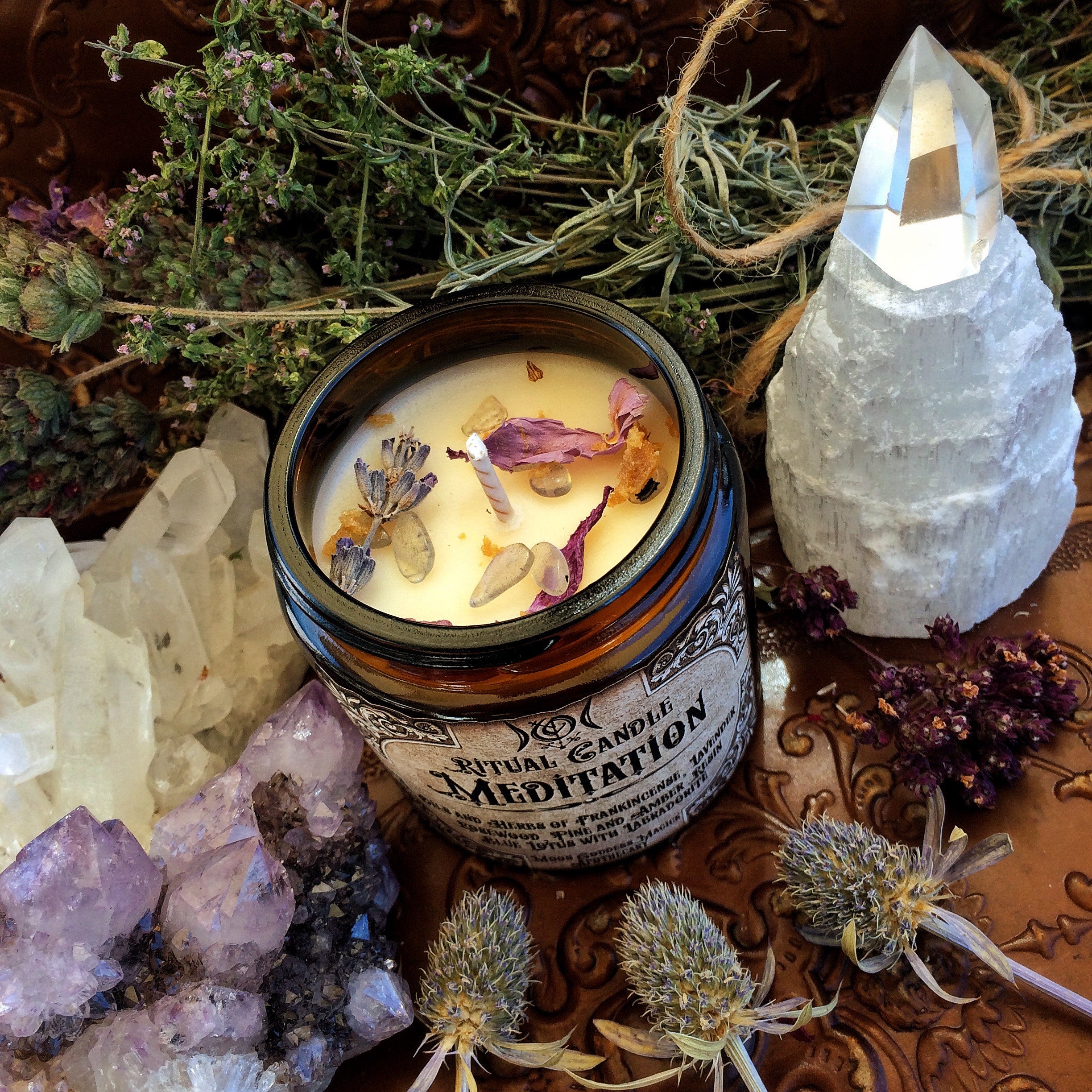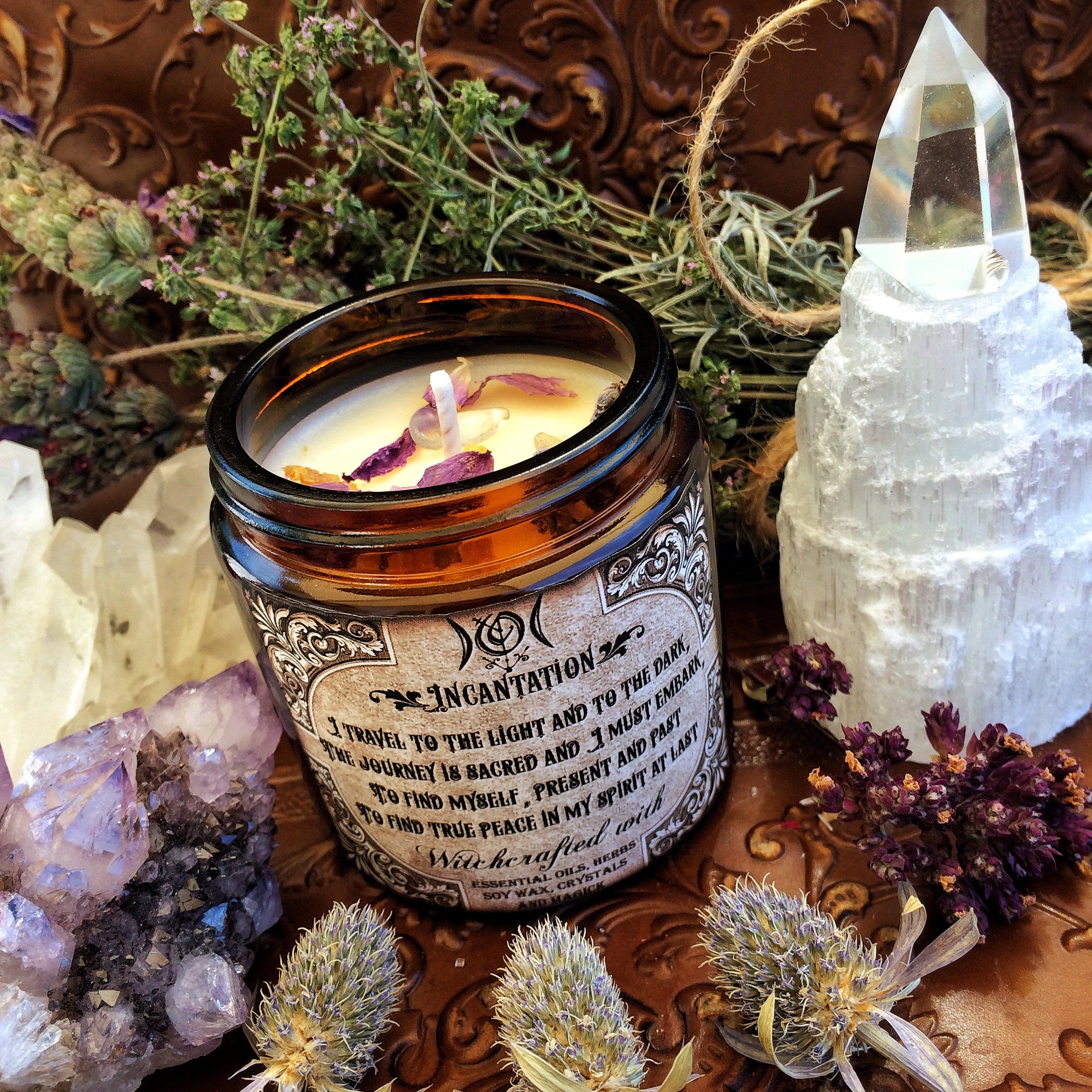 Meditation Candle ~ WitchCrafted and Blessed by the Moon ~ Blue Lotus ~ Frankincense~ Meditation ~ Spiritual Journey ~ 4oz ~30 hour
Meditation is the backbone of spirituality and a journey that will increase your spiritual experiences and awareness~
Meditation exercises help in increasing focus and awareness in our earth and light bodies, It helps us to connect our soul with the physical body and mind, thus opening the doors to knowledge, wisdom, and wellness~
Your Meditation candle is Witchcrafted from Natural Soy Wax, a Cotton wick and blended with Natural Essential Oils, Resins and Herbs of Lavender, Frankincense, Blue Lotus, Rosewood, Pine and Amber Resin, It has a deeply rich warm scent and smells good even when not lit~ Your Candle has been Charged with Labradorite Stone which still resides within your candle~ You may chose to take these out and hold them in your palm as your Meditate~ this will enhance your experience~ Your Candle offers you up to 30 hours of Magical burn time~ Adored with a dreamy wax seal for that old world look~
On the back of your candle is an incantation that I wrote to assist you in your ritual.
Labradorite offers you help communicating your intentions more clearly to the Universe, by which magic begins to emerge~ Labradorite is the gemstone of magic, and it awakens in those who carry or wear it the awareness of one's innate magical powers~ This iridescent stone is highly mystical and protective, a bringer of light. It raises consciousness and connects with universal energies~ Labradorite deflects unwanted energies from the aura, and prevents energy leakage~ It can take you into another world or into other lives, making it a great Mediation stone~ This stone stimulates intuition and psychic gifts, including the art of right timing, bringing messages from the unconscious mind to the surface and facilitating their understanding~
Your Candle can also be used as an ultra soft and beautifully scented Solid Perfume~ After extinguishing your candle, allow the wax to cool a bit, gently dip your fingers into the soft wax, and rub on your skin~ No need to worry about harmful chemicals getting into your skin. No Dyes and Fragrances to irritate your beautiful Aura~ This will enhance the Aromatherapy benefits for you~ Go ahead, you won't regret it~
••Some Great Meditation Practices••
Breathing slowly and smoothly allows for your mind and body to go into a deep state of relaxation~ The Warm Smooth scent of the Meditation candle will aid you in reaching a state of Nirvana for your Mediation~ The rest is up to you and your breathing~
Breathing is often left out of meditation and yet it is the most important part. Start by sitting in a quiet area~ away from all distractions. Some enjoy relaxing music, while others enjoy complete silence. I find it helpful to listen to singing bowls, flute or drumming music. Make sure it's a long playlist with plenty of time for you to slip into deep Meditation~
Light your candle and begin to control your breathing~ to control and concentrate of just your breathing try the Diaphragmatic Technique ~ This requires you to Continuously breath in and out without pausing between breaths~ This needs to be done SLOWLY~ Doing it fast will make you pass out~ So, Slow continuous breathing, focusing on the in and out, slow deep breaths ~ As you do this let the scent of the candle into your senses slowly, soothing and calming your body and spirit~ continue as long as you wish~
This is best done everyday or at least 3 times per week~ Making it a daily ritual of the same time and area is of the highest importance to achieve that Deep Mediation and If you have children like me, you can do this after they go to bed, this makes it easy and routine~ In this day and age that we live in, most of us are on the go, constantly running, working and rushing around~ we are not only wearing ourselves out but our higher selves are put into hiding~ taking the time to Meditate and reconnect with your spiritual self should be just as important as our daily mundane routines~ It refreshes us and gives us a deeper connection to the divine. So, please take time and Meditate for your greater good.
Please always take care while working with the element of Fire~ Keep candles out of the reach of children and pets that may be curious~
)O(
Love and Light Blessings~
Sarah