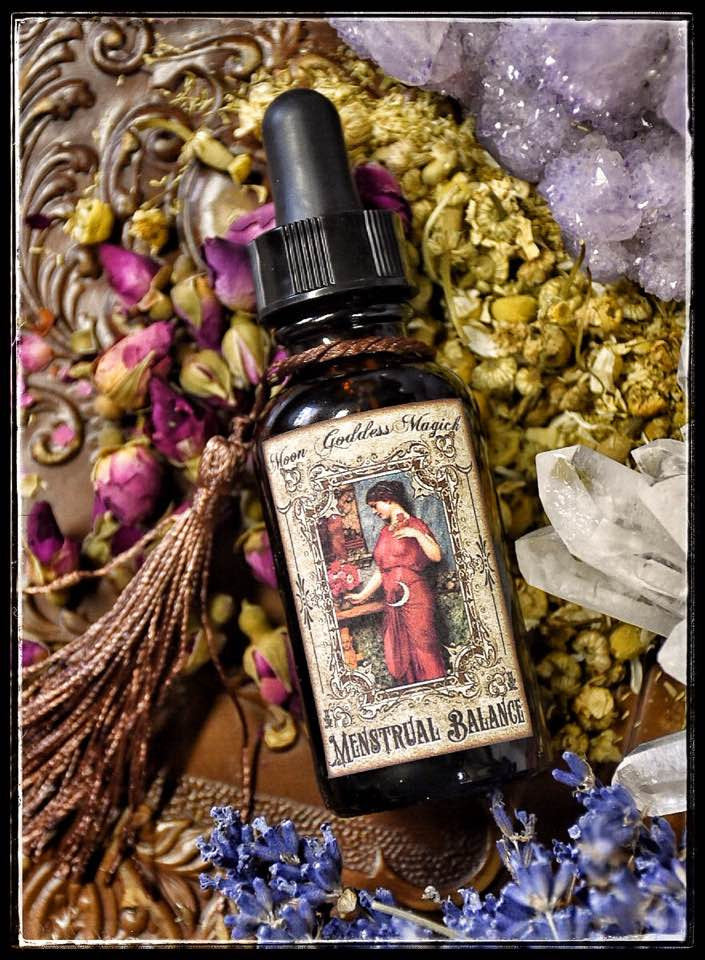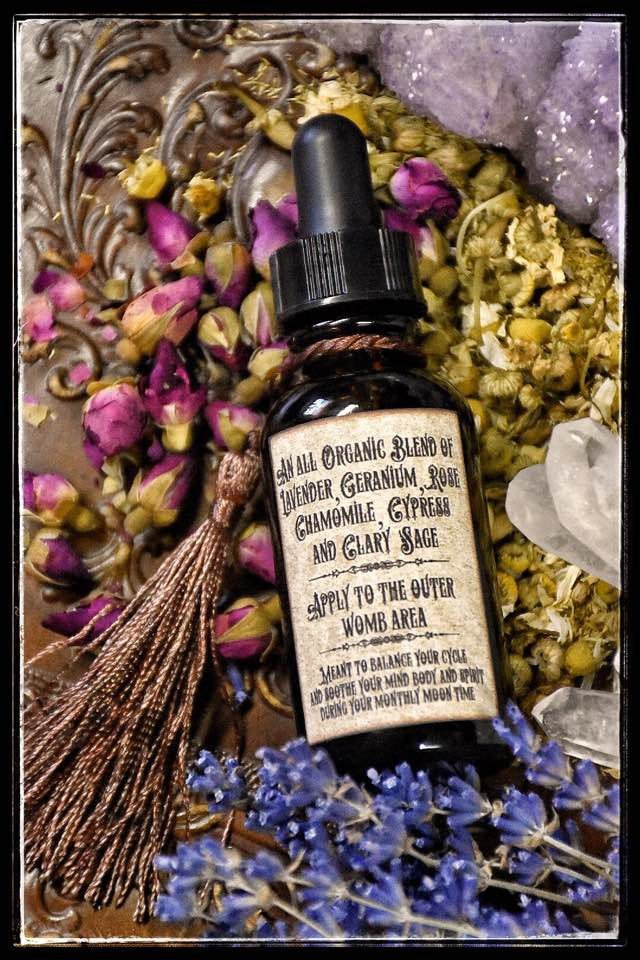 Menstrual Balance~ Regulate your Cycle~ Align with your True Cycle~ Organic Essential Oils and Carrier~ Moon Cycle~ One oz bottle with dropper
Realign with your natural cycle and smell divine in the process. This Blend will set the tone for womb healing bliss with its calming aroma.  Witchcrafted with Organic Infused Oils and Organic Essential oils of Cypress, Clary Sage, Rose, Geranium, Chamomile and Lavender.  All known to soothe your body during your blood Moon and stimulate your cycle to get you back to your intended cycle. 

~Directions~
Rub on the bottom of Feet and Lower Abdomen for the best results~ Why the Feet? Because the pores on our feet are much larger, making it easy for the Essential oils to get into your body and work their Magick!

These powerful oils work together in ways that will create a serene atmosphere for you and your Mind, Body and Spirit during your sensitive moon time. Lavender, Rose and Chamomile lesson mood fluctuations and offer relaxation while soothing your Psyche.  Clary Sage, Cypress and Geranium help to regulate your hormones and your Moon cycle. When we become unbalanced from our original cycles, it creates pain and discomfort, we bleed when we are not meant to with pain~ this can be caused by many different discomforts that throw our cycle off balance but, when we realign our Moon time to its intended state, we begin to align with the Moon and see the sacredness that is our Moon Cycle.  It becomes a more ritual like experience with less pain and more self honoring during this time of the month.



~Comes in a large amber glass 1oz bottle with dropper~


DO NOT USE WHILE PREGNANT
*************************************

GENERAL SAFETY INFORMATION: DO NOT take Essential oils internally. Do not apply undiluted essential oils, absolutes, CO2s or other concentrated essences onto the skin. If you are pregnant, epileptic, have liver damage, have cancer, or have any other medical problem, use essential oils only under the proper guidance of your healthcare professional.  DO NOT USE THESE BLENDS ON BABIES, CHILDREN or PETS. Only use Oils on your Children or Pets that are listed safe for them. A skin patch test should be conducted prior to using an essential oil that you've never used before.

Moon Goddess Magick Apothecary LLC is NOT responsible for misuse or adverse reactions of its products IF YOU HAVE ANY QUESTIONS ON HOW YOUR OIL SHOULD OR SHOULD NOT BE USED PLEASE EMAIL ME.