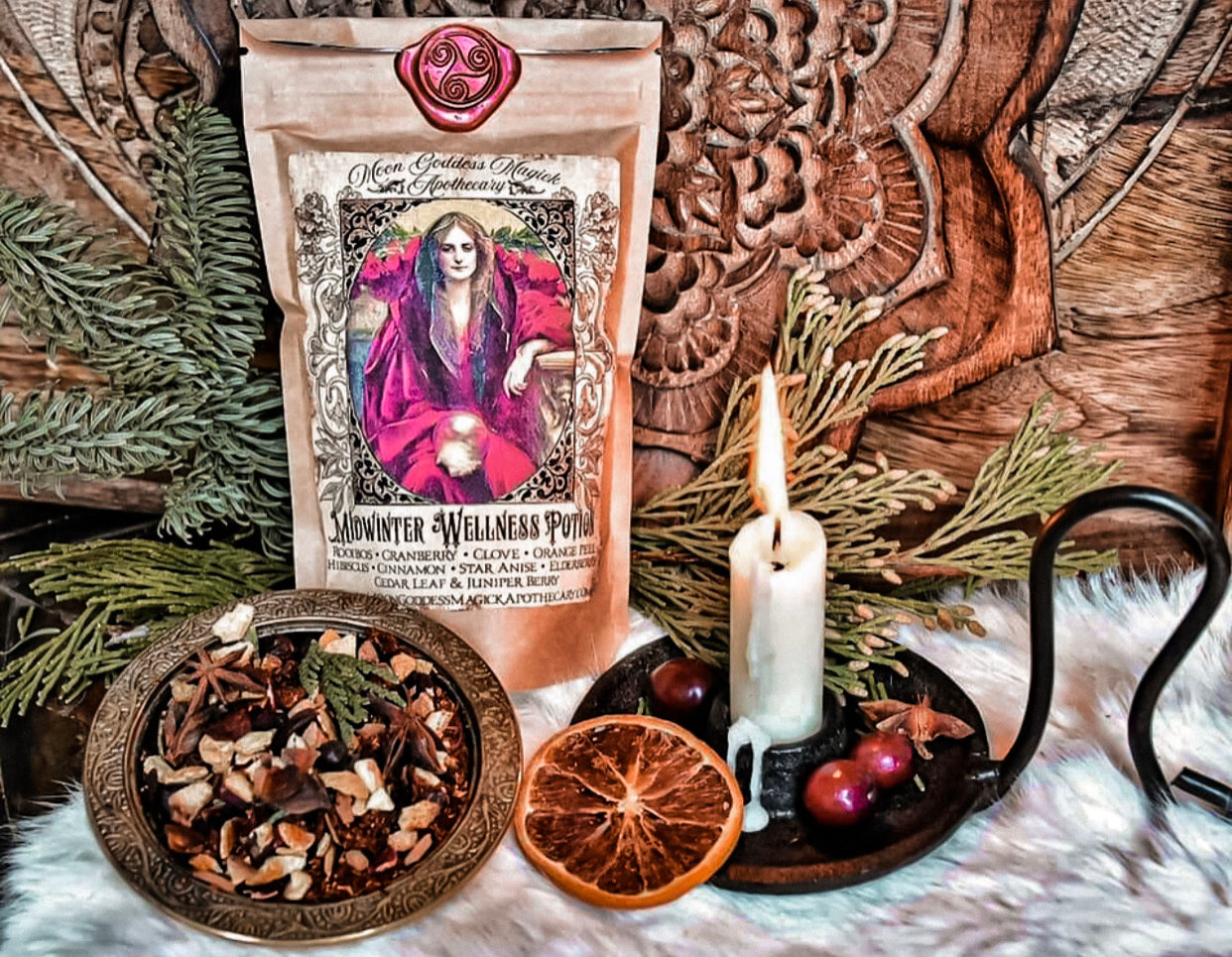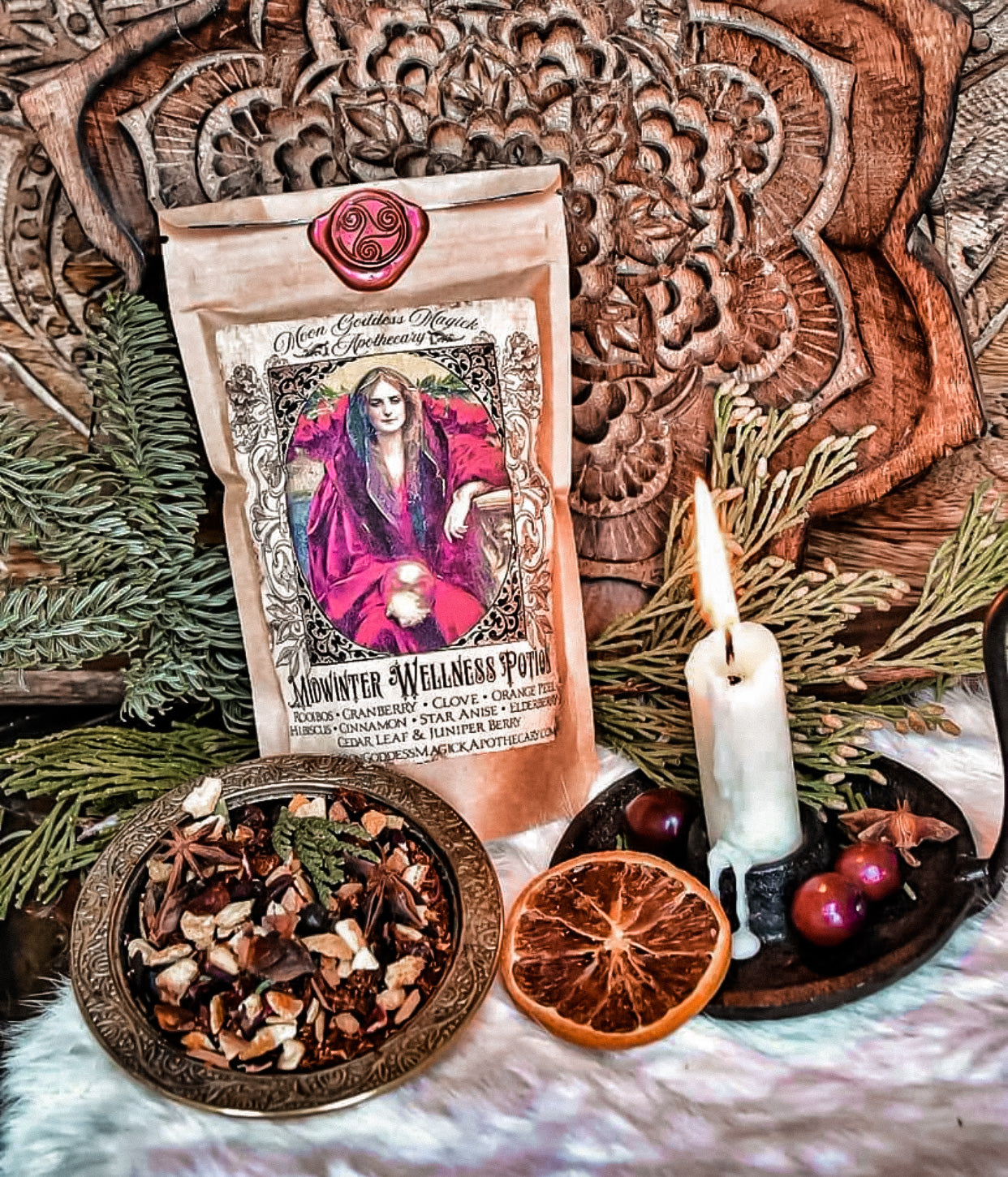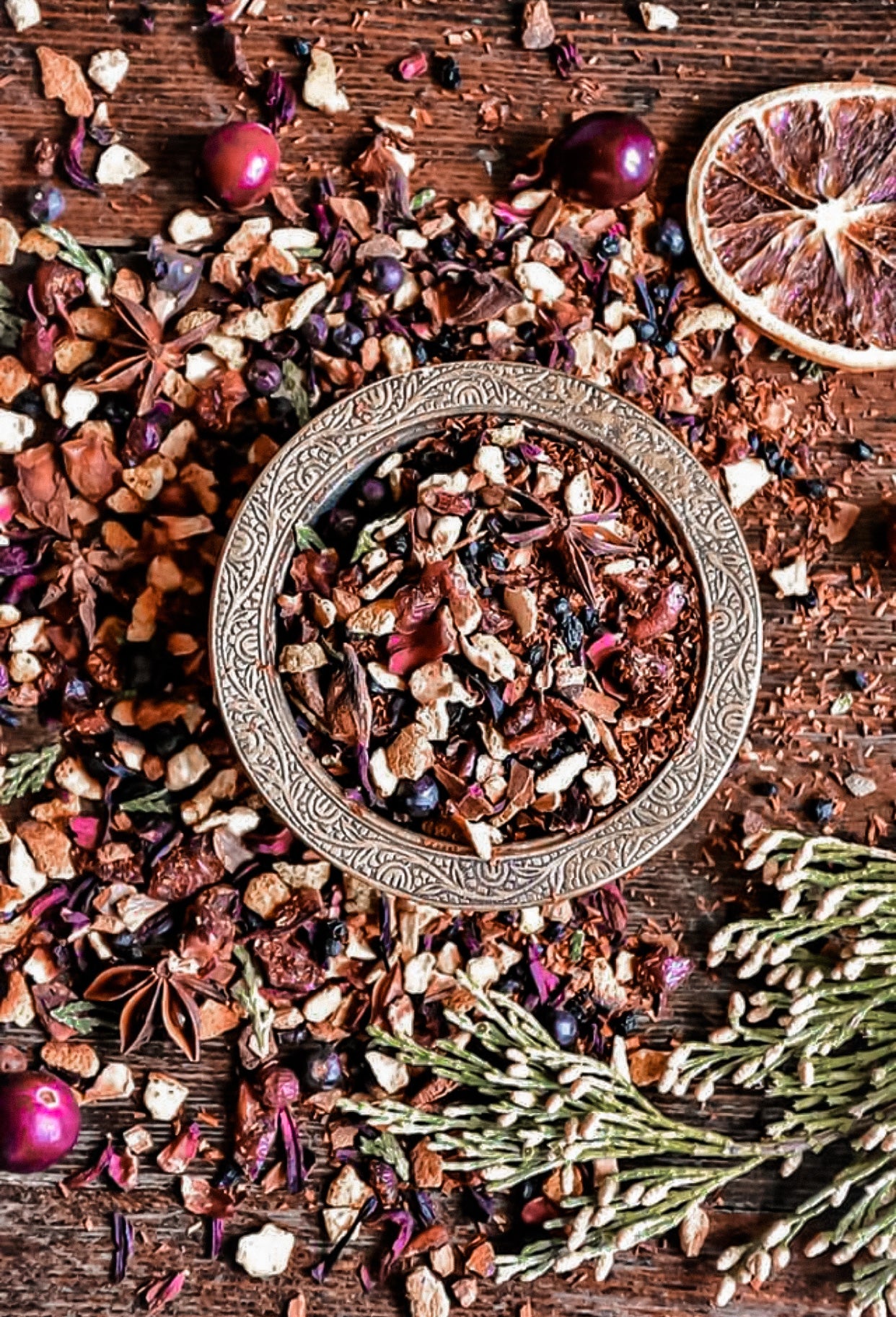 Midwinter Wellness Potion /// Organic Herbal Tea /// Winter Solstice Tea /// Yule Ritual Tea /// Immunity Booster Tea /// Wassailing Tea~ 2oz
Midwinter~ Yule~ Jul~ December 21st
"One must have a mind of winter
To regard the frost and the boughs
Of the pine-trees crusted with snow;
And have been cold a long time
To behold the junipers shagged with ice,
The spruces rough in the distant glitter
Of the January sun; and not to think
Of any misery in the sound of the wind,
In the sound of a few leaves,
Which is the sound of the land
Full of the same wind
That is blowing in the same bare place
For the listener, who listens in the snow,
And, nothing himself, beholds
Nothing that is not there and the nothing that is."
W.S.~
As the Sun begins to stand still, and the Earth coils deeper into her slumber, gather around your warm fires, whether they be large or a tiny candle flame. Set your wishes on fire and throw them into the flames while warming your spirit with a luscious Midwinter Tea.  Tea brings us together in magical ways, sharing the bounty of nature in a tiny cup that warms our hands and our spirits in the dark winter months. Embrace the magick that comes from the darker days, they beckon us to put away our work and spend time with family or within. Reflection is key during these times~ This Witchcrafted Tea offers you warm solace after a long laboring day, curl up with your favorite book and let the fragrance take you to another place and time.

Working with Organic Ingredients of Rooibos, Star Anise, Clove, Orange Peel, Hibiscus, Cranberry, Cinnamon, Elderberry, Juniper Berry, and a small amount of Cedar Leaf~ This is an incredibly fragrant mind transporting tea. Smelling of the warmth and comfort of Winter to give you a mild energy boost when you need it~ Not just for pleasure but also for good health.  Many of the ingredients chosen are powerful immune boosters, keeping your mind, body and spirit sharp during the cold winter days.

There are many ways to enjoy your Midwinter Tea~
•Share with Friends around the Yule Log~
•Drink on Yule and all Winter~
•Add a Tea Ritual to your Yule and Winter Gatherings~
•Gift the Tea for your Yule and Holiday Celebrations~
•Drink your tea at night while getting cozy with a good book~
How will you enjoy your tea?
A higher priced tea due to the Organic Vanilla Bean and Cranberries~ Many fine and lush ingredients are added to this tea.

May your Winter bring you Love and Magick~
This bag will brew you about 12 cups of tea if you measure 1 heaping teaspoon per cup~ Brew your tea for at least 15 minutes for a full bodied flavor~ If you would like to get the most out of your tea pour 1 heaping teaspoon into 2 cups of boiling water for 1 minute and then let sit and brew in a cup for 10 minutes~ This really brings out the flavors and the medicinal properties