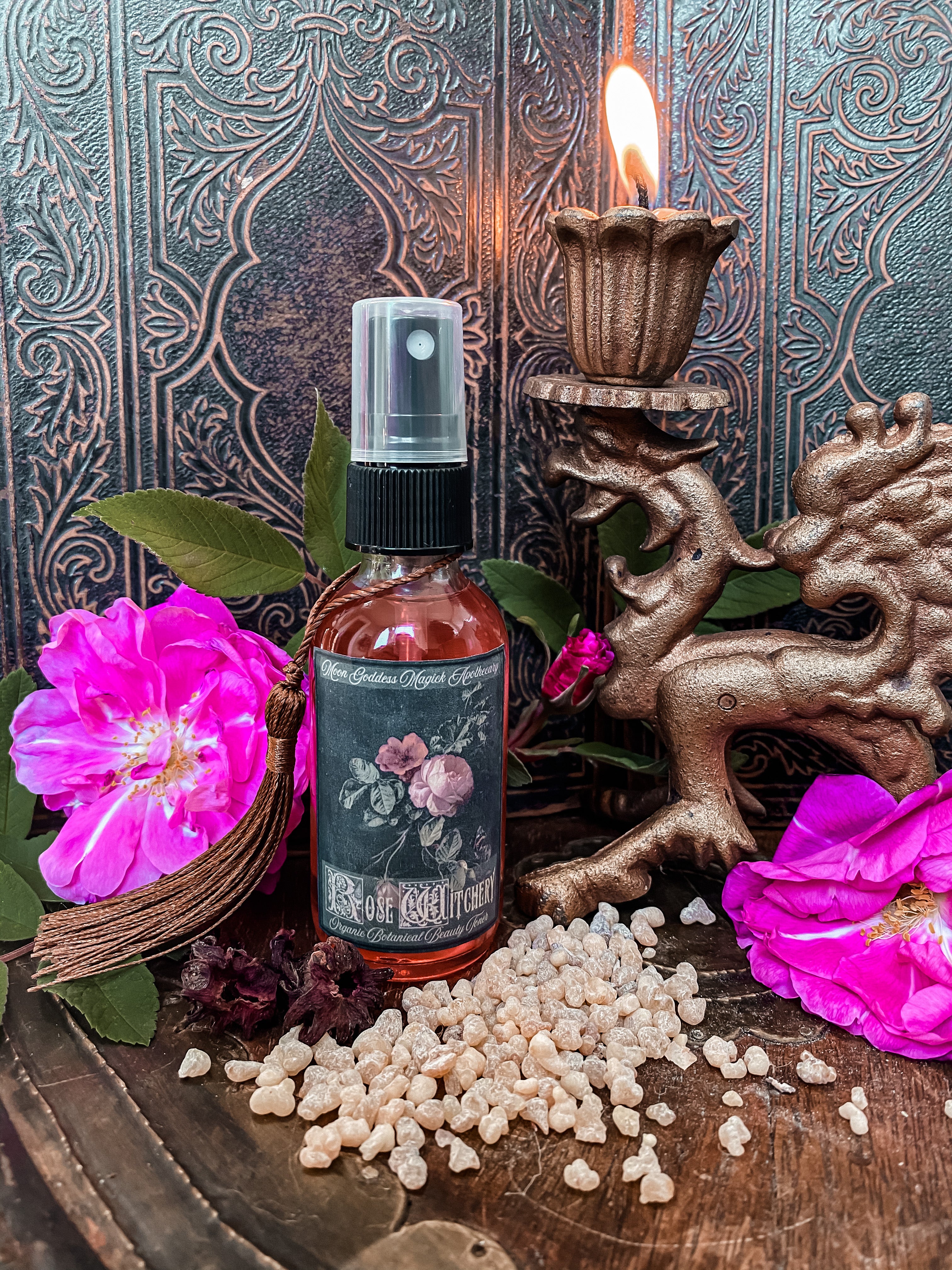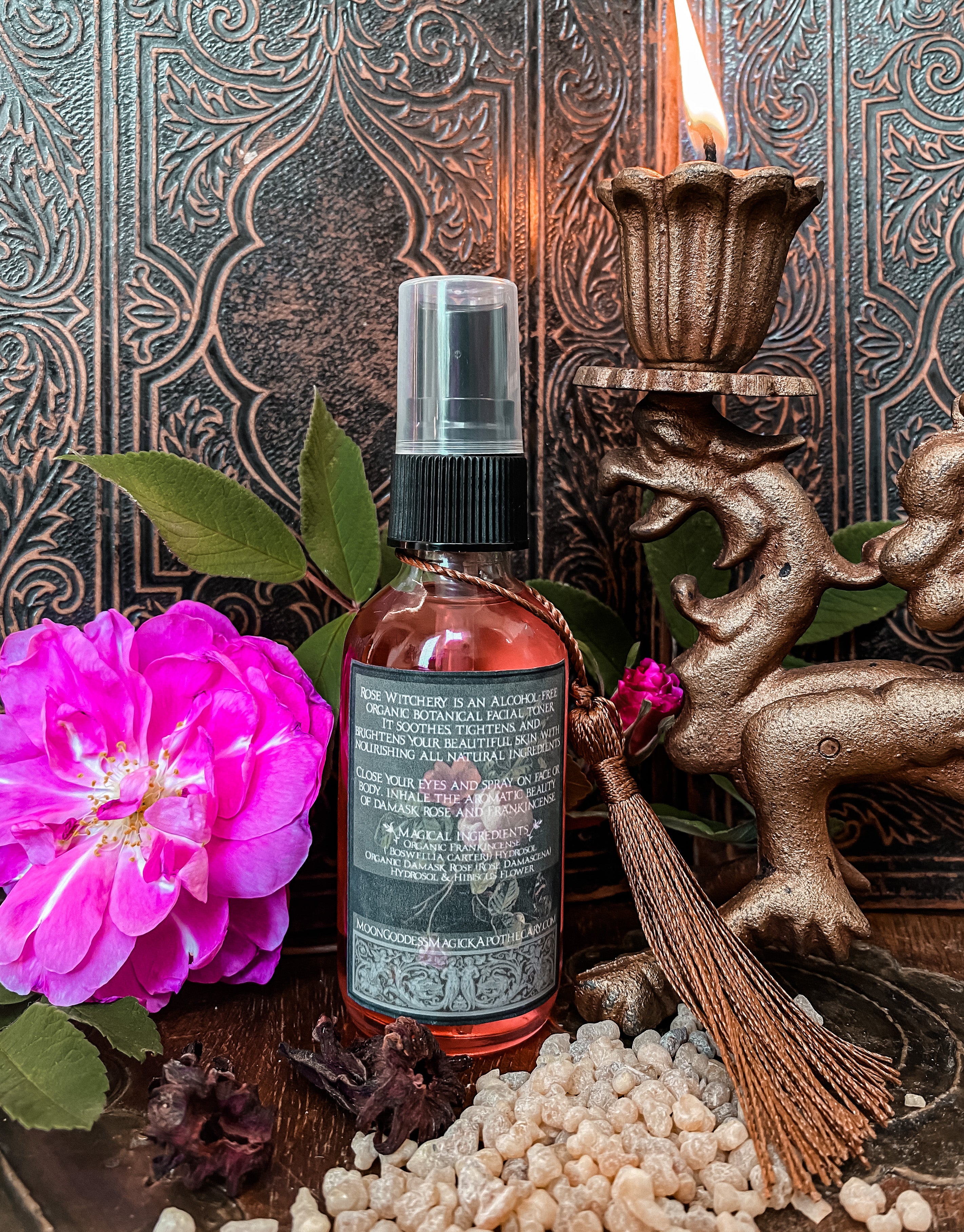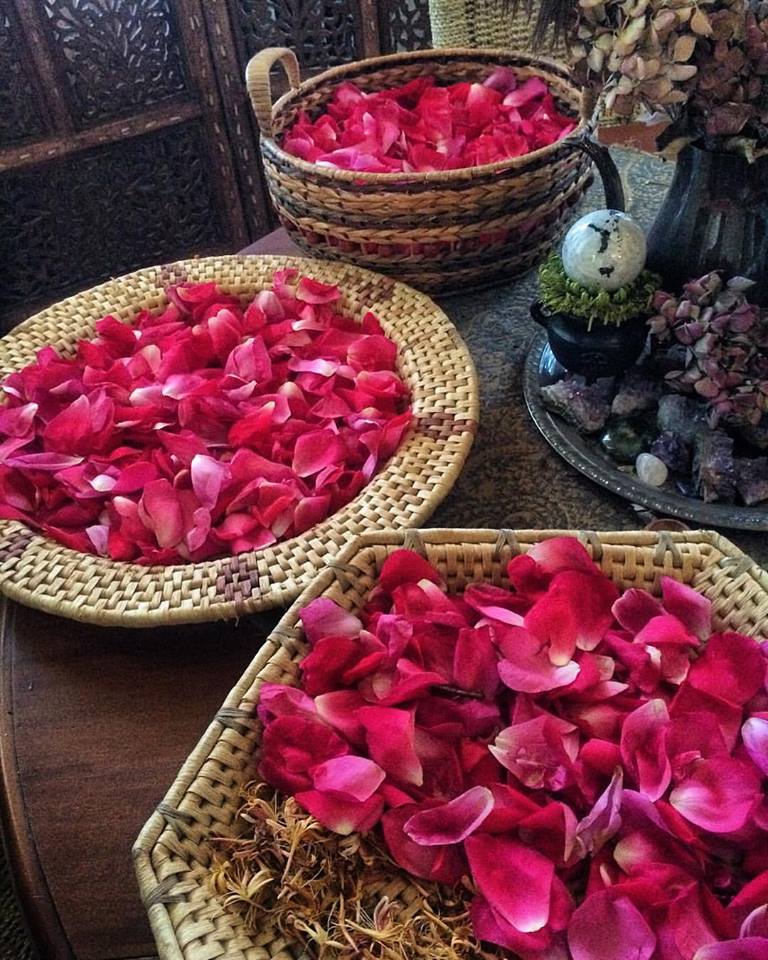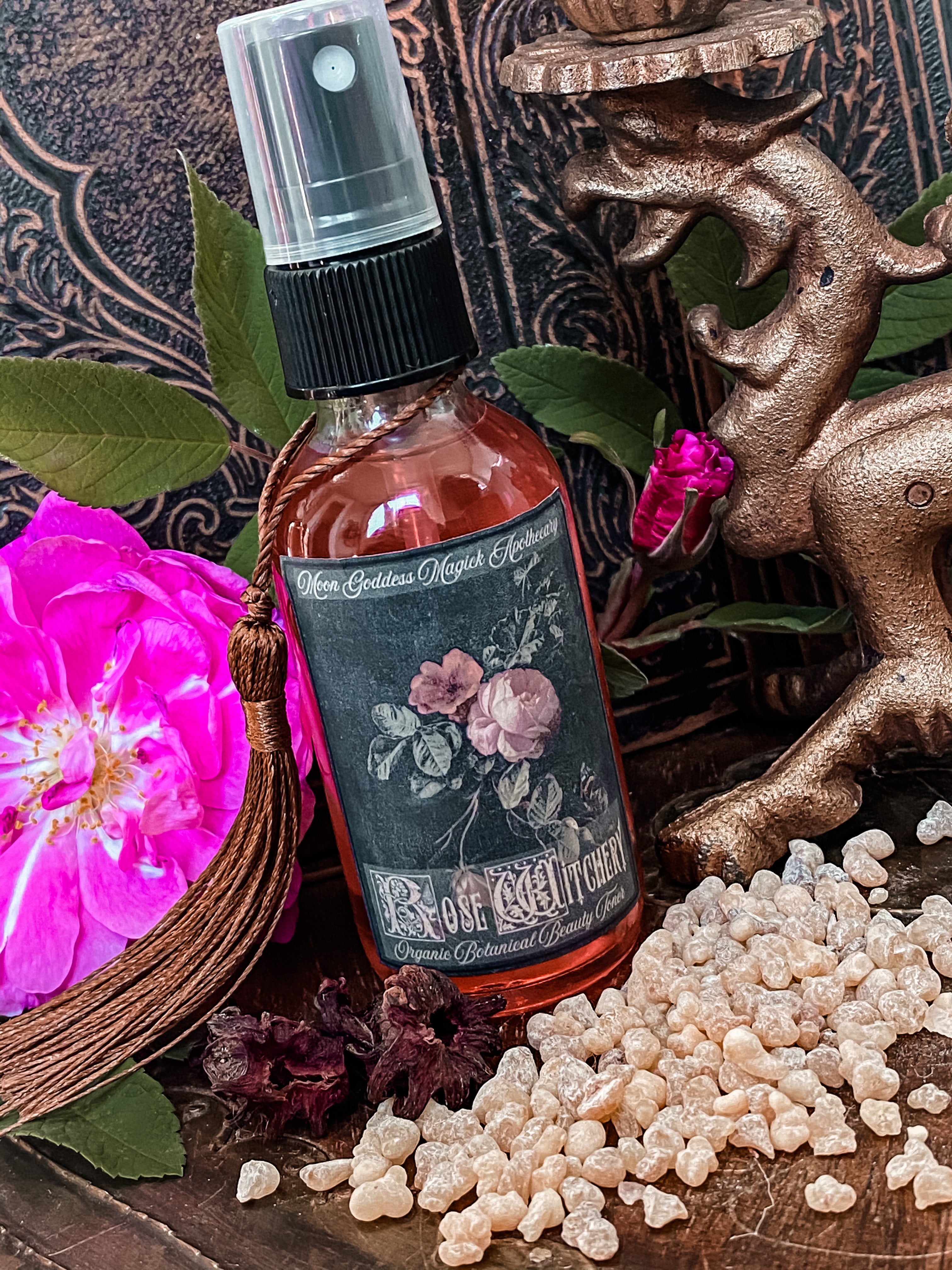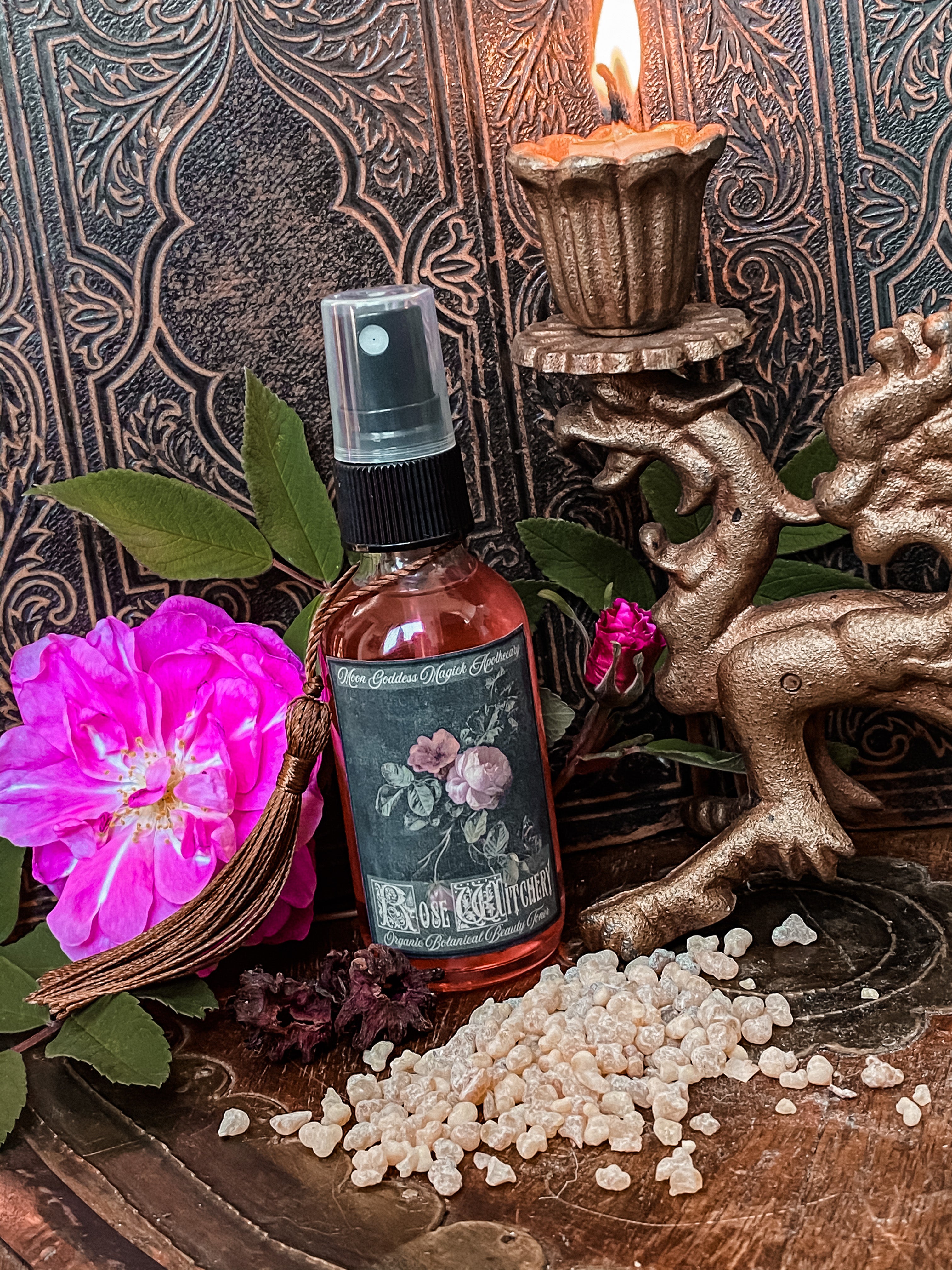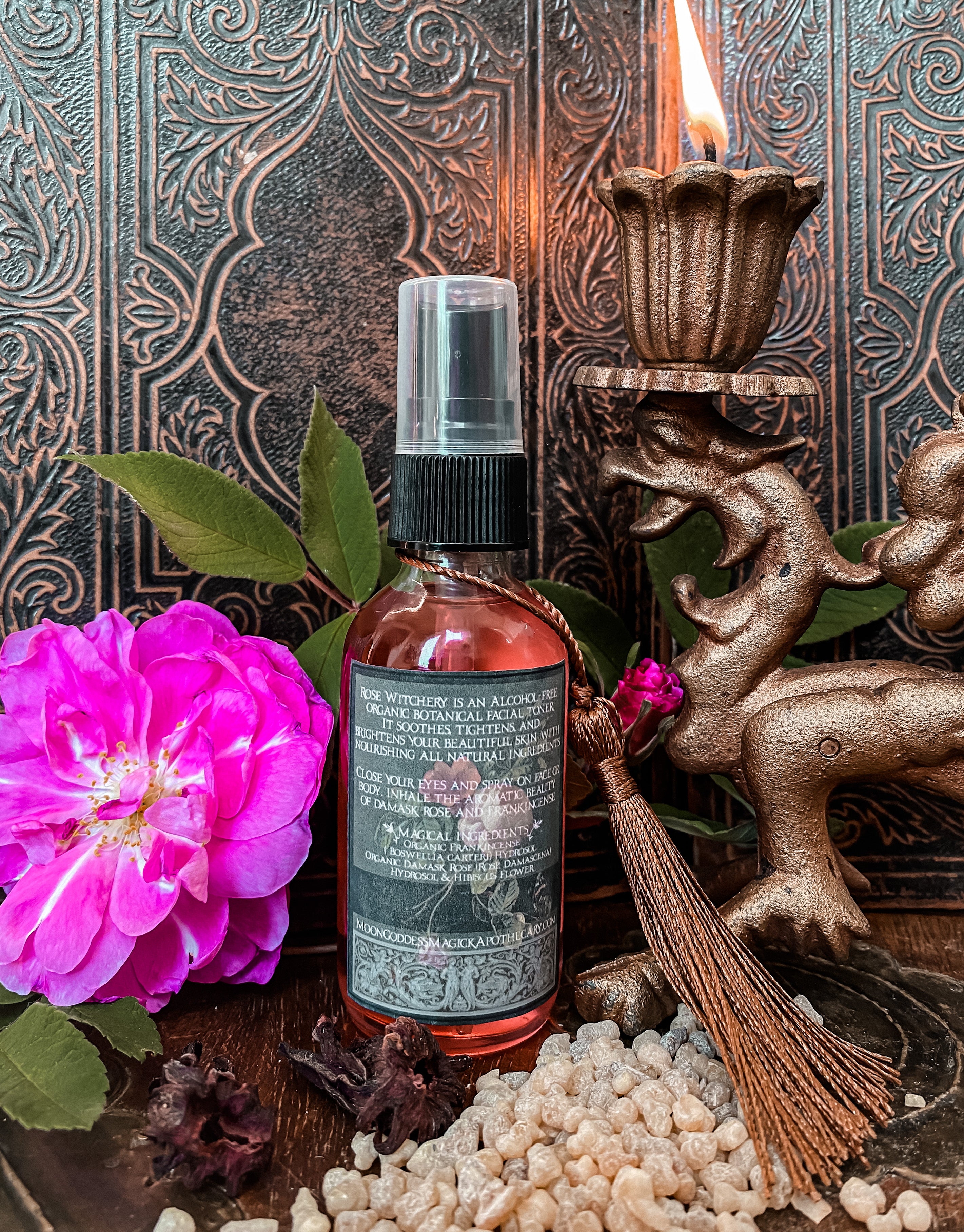 Organic Facial Toner /// Rose Witchery /// Organic Rose Hydrosol + Organic Frankincense Hydrosol + Organic Witch Hazel Extract
•••ROSE WITCHERY•••

•Roses have always captivated me so. The Rose; a noble beauty with her body of thorns to shield her sweet fragrant bloom. It takes a delicate touch to approach her and take in her graceful sweetness. She is sacred through her entire life cycle, a muse for poets and a timeless momento of love. Even as she fades, she remains eternally beautiful upon her death.

•Turn everyday facial care into a relaxing spa experience with this all organic botanical facial toner. Allow the scent to nourish your face, while soothing your spirit. Bask in the beauty of these ancient healers and their natural ability to heal and nourish the skin and spirit.

•Created without essential oils, with gentle, yet incredibly soothing Organic Damask Rose Hydrosol (Rosa damascena), Organic Frankincense (Boswellia carteri), Organic Witch Hazel Extract, and naturally dyed with Organic Hibiscus (Hibiscus rosa-sinensis). This beautiful combination of soothing and toning botanical ingredients that are extremely nourishing for young and aging skin. One mist upon skin and you're transported to an ancient garden of beauty.

•Lovingly crafted from the distillation of Damask Roses and Frankincense Carteri, born into a beautiful floral spirit water to grace your sacred body temple. This is such a gentle way to enjoy the benefits of this sacred flower and ancient resin. Rose Hydrosol lends the skin a toned, hydrated and radiant glow. Not to mention the scent of rose and its intoxicating way with the senses. This is a day spa experience within your own home. The Frankincense offers anti-inflammatory, anti-bacterial, skin soothing, skin regenerating, and an all over healthy radiant glow. It also connects heart and spirit, the spiritual and the physical realms.


•Consistent use of this toner will keep your skin feeling its best and even allow your makeup to stay in place longer, especially if you struggle with oily skin. Over time you will see a smoother complexion and more hydrated looking skin. This is best paired up with my "La Primavera" Organic Botanical Face Serum and will be the only beauty go to combo that you will ever need for radiant healthy skin.

==Directions==

•After you wash and dry your face, close your eye and spray on your face. Allow the beautiful scent of rose to enchant your senses, while gently patting the toner into your face. Follow up with a good moisturizer or serum. I recommend my "La Primavera" Organic Botanical Face Serum which can be found in the link below.

https://moongoddessmagickapothecary.com/collections/new-offerings/products/la-primavera-organic-face-serum-age-defying-ultra-nourishing-beauty-ritual-serum-1oz-with-dropper-organic-skin-care


•This Botanical Facial toner should be stored in a cool place away from direct sunlight. It is best refrigerated. Due to the natural ingredients, please use within 3 Months. It is natural for the hibiscus color to fade over time.


•Moon Goddess Magick Apothecary LLC is not responsible to misuse or adverse effects that may come from allergic reactions. You agree to this statement upon purchase of this product. If you have a reaction, please see your doctor. If you think you may be sensitive to the ingredients in this product, please do a test patch on your inner left arm and wait 3 hours. If redness or irritation occurs, do not use this product.