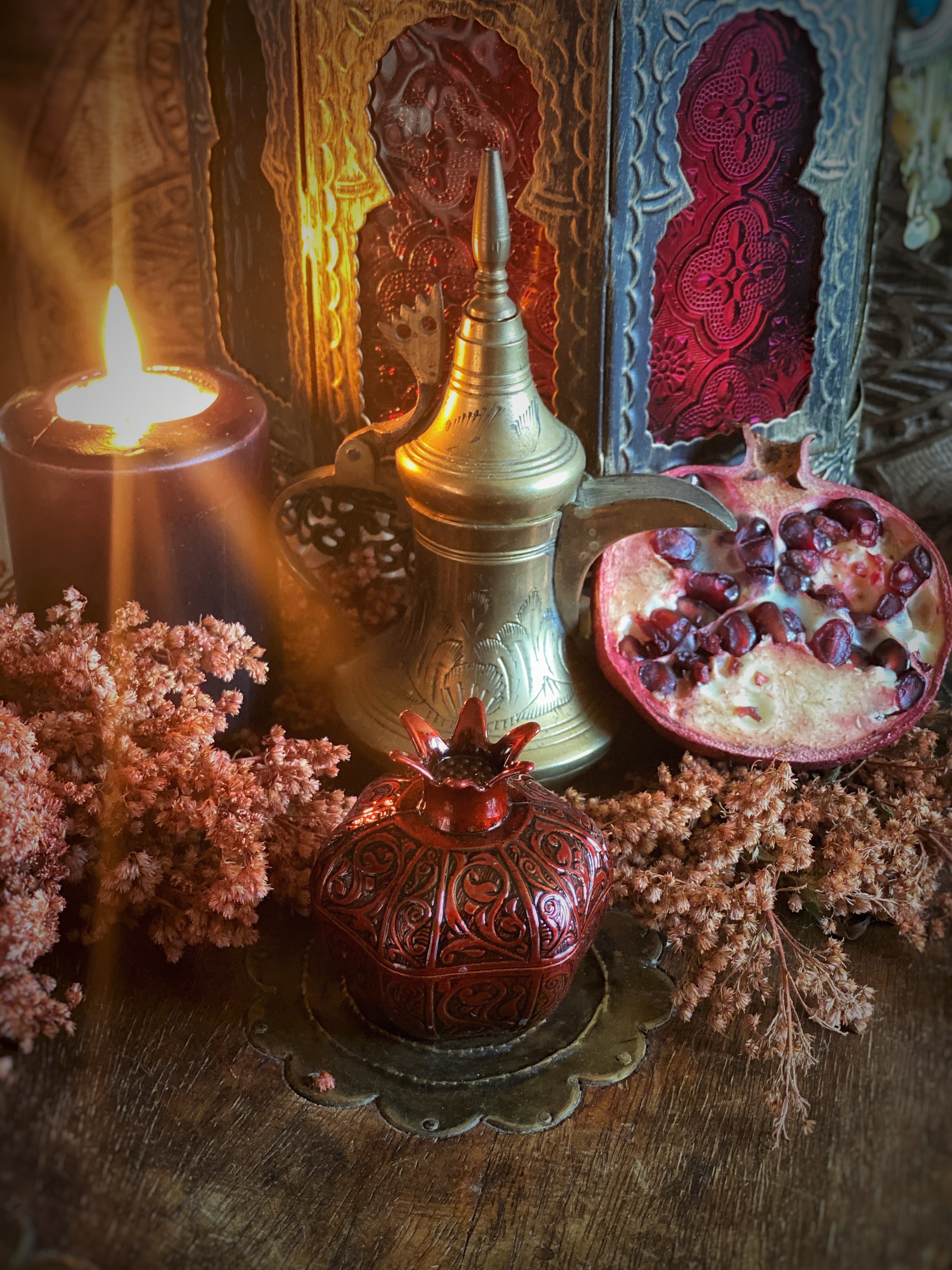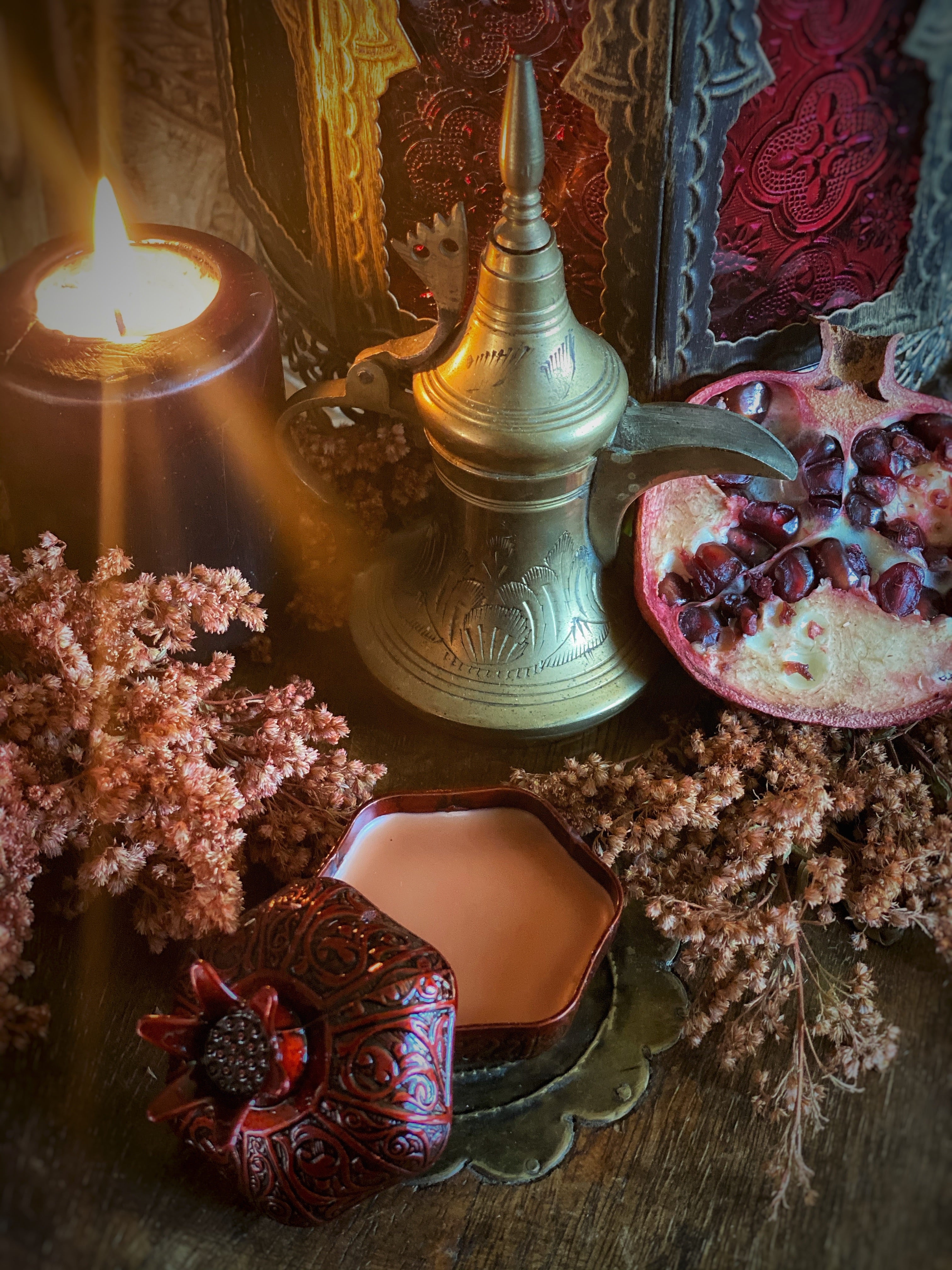 Persephone Solid Perfume // Ritual Perfume // Life, Death, and Rebirth Talisman // Devotional Perfume
Her story is intimately woven into the cycle of life, death, and rebirth. Transformation and transmutation echo within her pages, the changing seasons, and the inescapable changes in her life that force her to either wither away and die into the depths, or adapt to her new circumstances with strength and become the Queen of her new realm. Every Autumn she descends in the depths of the Underworld where she spends the darker days of the year, only to return in the early spring to coat the ground with fresh blooms and fresh wisdom that can only come from going deep into the shadow of self and descent into her own psyche. One can also sense the deeper meaning of her story in her connection to her Mother, Demeter. She leaves the guidance and protection of her mother and is forced to discover her own power, creating her own way in a world foreign to her. Each season she emerges from the underworld with a deeper sense of self and a new confidence to go with it. And so, Her story is also woven into our own.
This beautifully fragrant solid perfume casts a spell upon the skin with the amazingly transformative wisdom of Persephone. Ritually poured into a stunning metal Pomegranate jar. With one introduction from jar to flesh, you become a walking altar to the Autumn muses. Her blend is one of sacredly chosen ingredients, witch-crafted in ritual on the Dark Moon. Hymns sang in her praises during the pouring into her vessel. These natural and mesmerizing fine ingredients are Frankincense, Styrax, Benzoin, Rose Absolute, Hibiscus, Cinnamon Bark, Labdanum, and Black Currant. These ingredients were slowly warmed into a base of Pomegranate oil and ethically sourced Beeswax.  To really appreciate the magic of this blend, apply it between your breasts and on your pulse points. Her scent lingers for quite sometime upon the skin and can be reapplied when needed. Being a sacred perfume, it should be applied as such upon the skin.

Once you have applied all of your solid perfume, you can also use the jar to leave offerings for Persephone on your Altar space. Or for whatever your heart desires.
You receive 2oz of fragrant solid perfume that will linger on the skin, this will last you a very long time and the metal jar is timeless in beauty, complimenting your altars or sacred space. 
A hymn to recite before your first pressing of her perfume to skin.
Daughter of Zeus almighty and divine, come, blessed queen, and to these rites incline:
Only-begotten, Pluto's honor'd wife, O venerable Goddess, source of life:
'Tis thine in earth's profundities to dwell, fast by the wide and dismal gates of hell:
Zeus' holy offspring, of a beauteous mien, fatal, with lovely locks, infernal queen:
Source of the furies, whose blest frame proceeds from Zeus' ineffable and secret seeds:
Mother of Bacchus, Sonorous, divine, and many-form'd, the parent of the vine:
The dancing Horai attend thee, essence bright, all-ruling virgin, bearing heav'nly light:
Illustrious, horned, of a bounteous mind, alone desir'd by those of mortal kind.
O, vernal queen, whom grassy plains delight, sweet to the smell, and pleasing to the sight:
Whose holy form in budding fruits we view, Earth's vig'rous offspring of a various hue:
Espous'd in Autumn: life and death alone to wretched mortals from thy power is known: For thine the task according to thy will, life to produce, and all that lives to kill.
Hear, blessed Goddess, send a rich increase of various fruits from earth, with lovely Peace;Send Health with gentle hand, and crown my life with blest abundance, free from noisy strife;Last in extreme old age the prey of Death, dismiss we willing to the realms beneath, To thy fair palace, and the blissful plains where happy spirits dwell, and Pluto reigns.