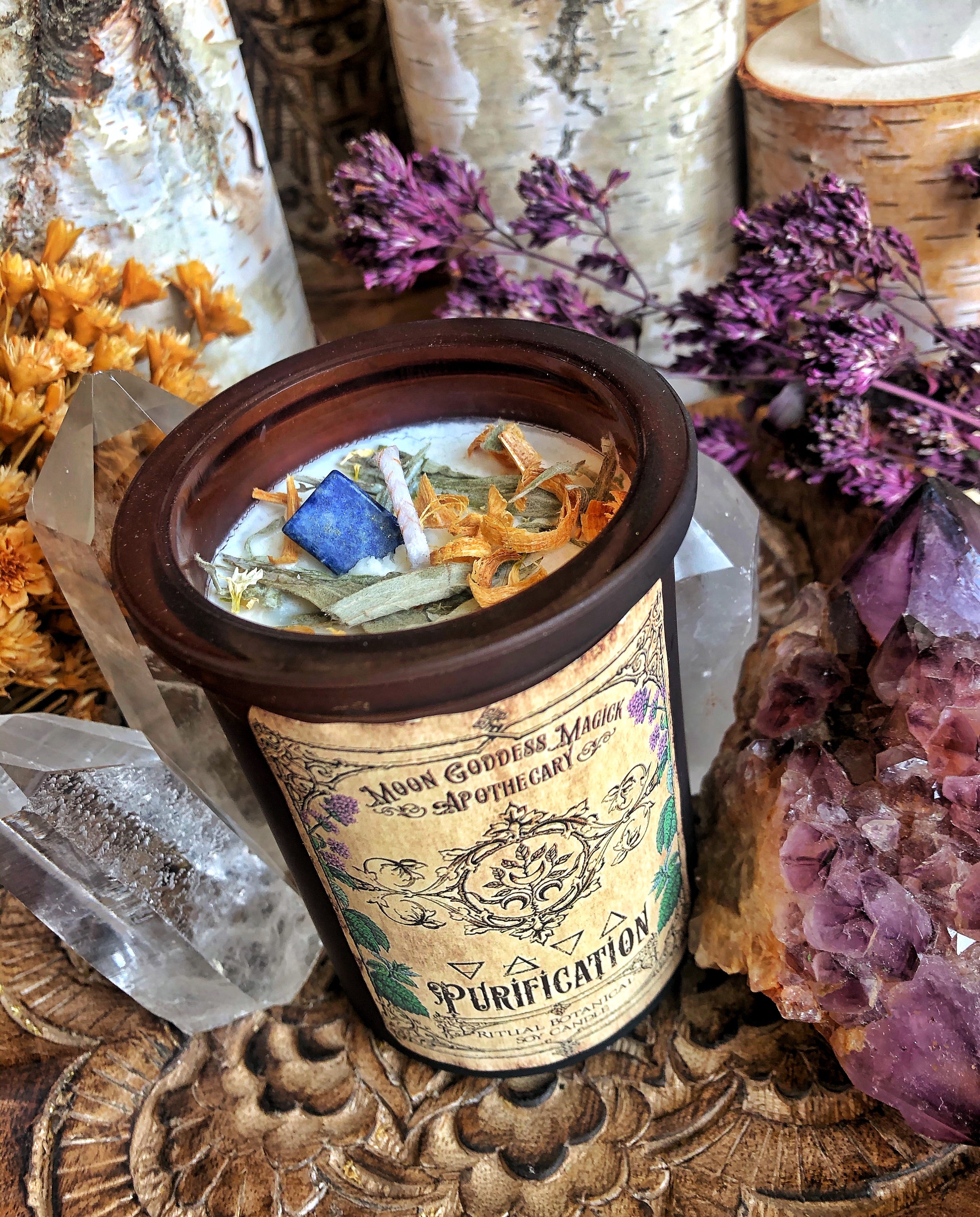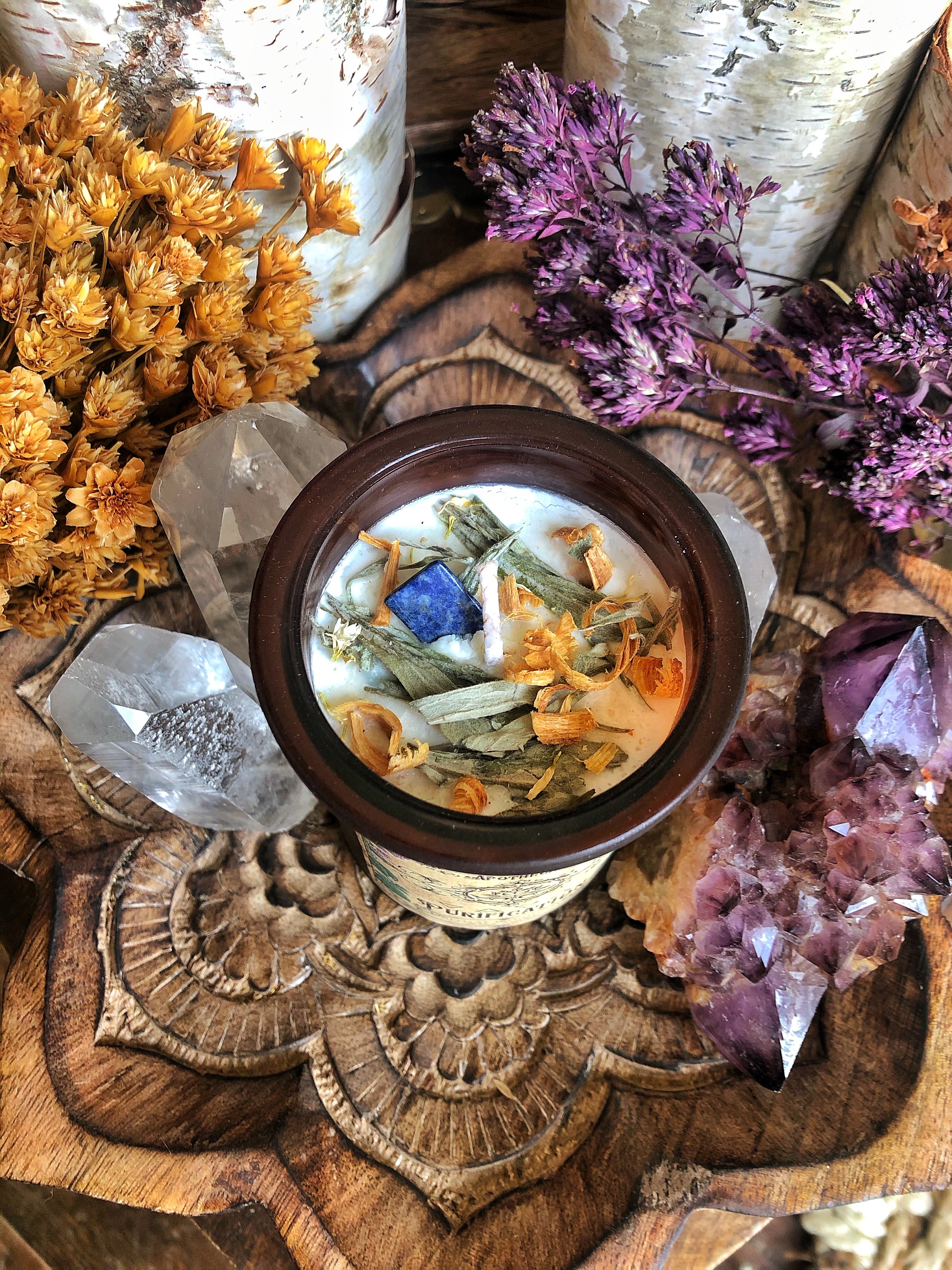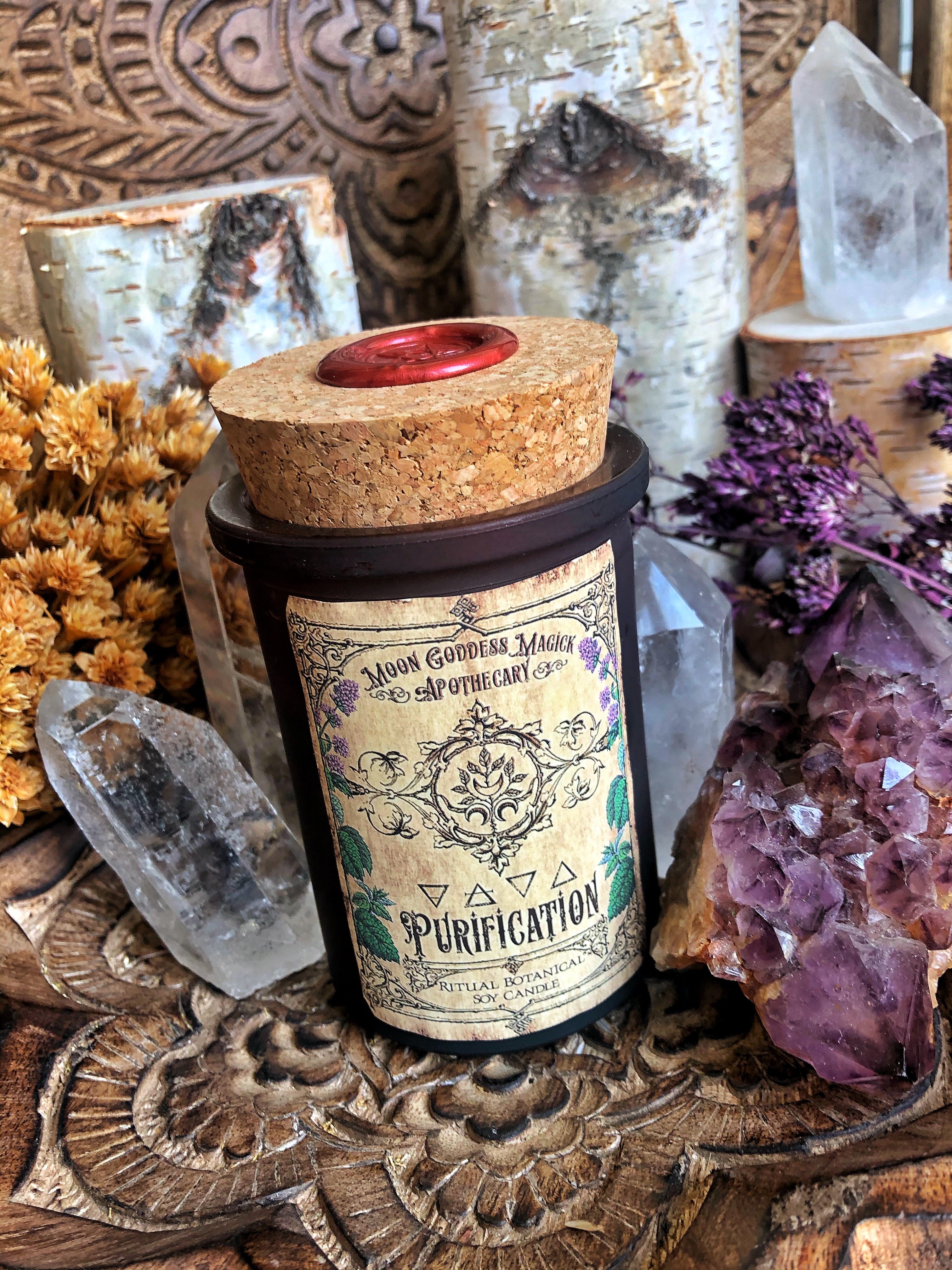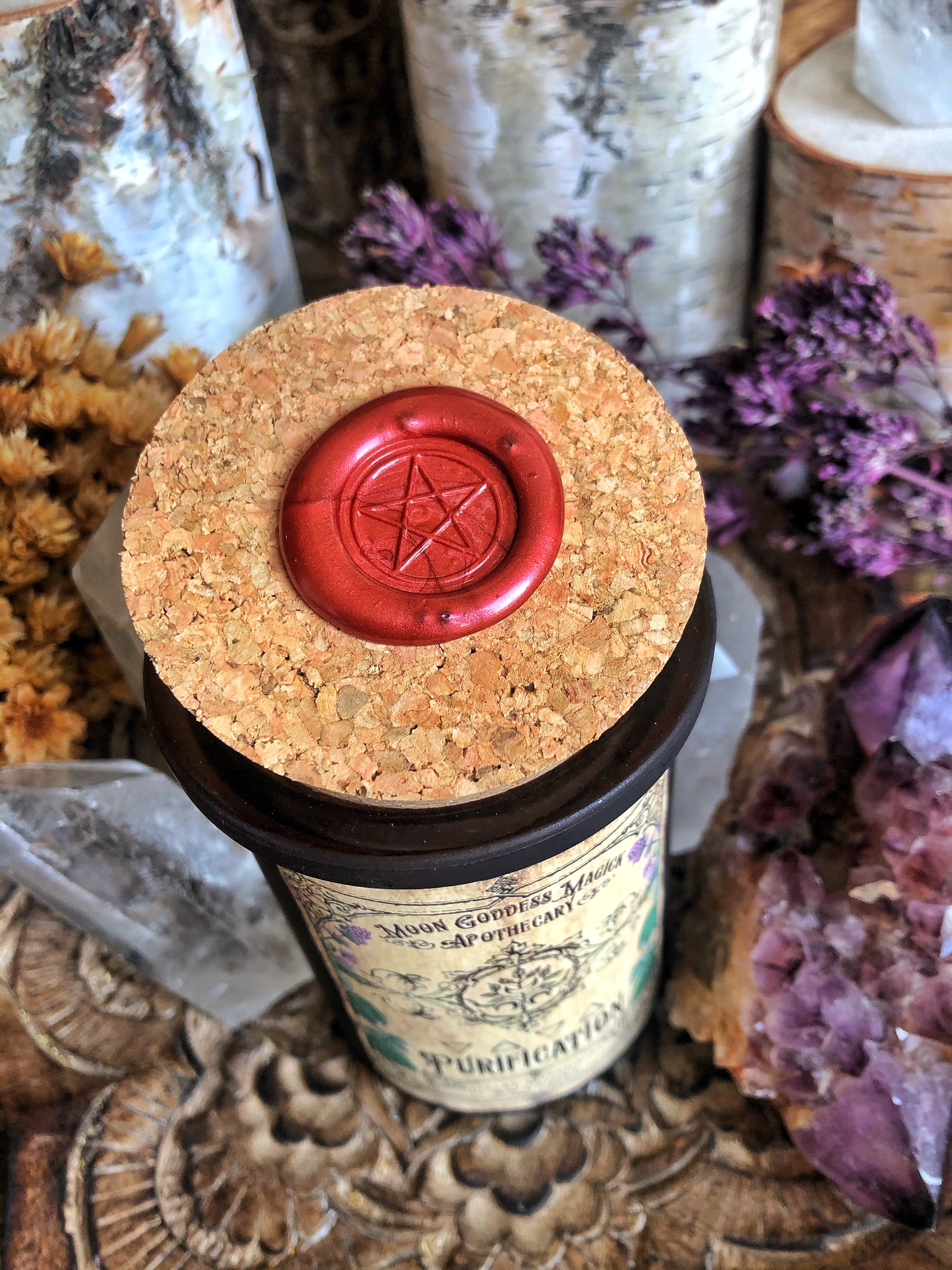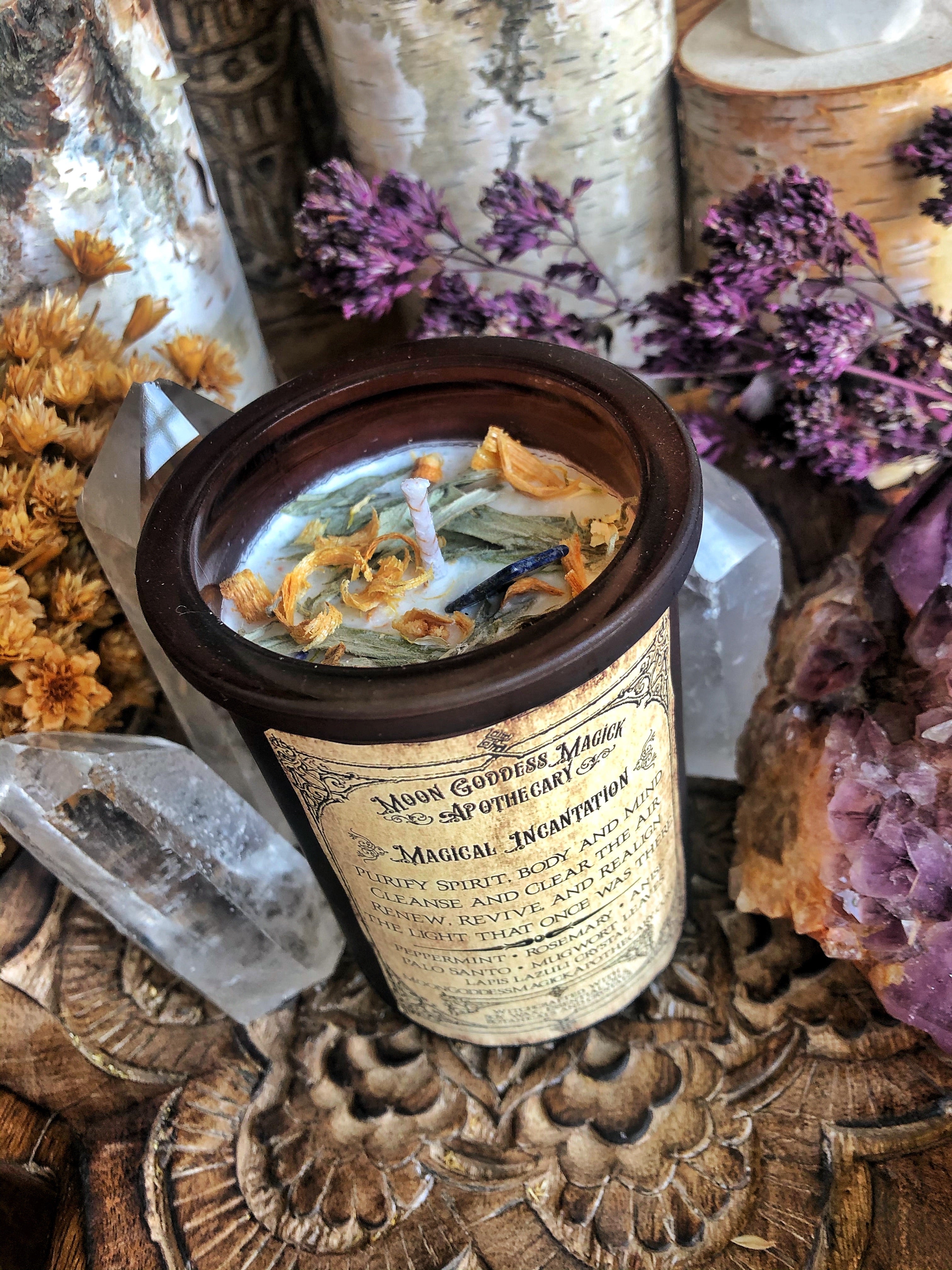 Purification Spell Candle /// Ritual Candle /// Incantation on the back Spell Candle for your Purification Rituals /// Aura Cleanse~ 6oz Amber Glass /// 30 hour burn
Purify Spirit, Body, and Mind,
Cleans and Clear the Air,
Renew, Revive, and Realign,
the Light that once was there.
I love employing this fragrant candle to cleanse and renew space and self
after feeling clouded or held back by unwanted energy that has clung to me. This works well after you've had unwanted visitors, if there has been a quarrel in the home, after a long day of work, or for other reasons of the same likeness.
The aroma of this candle is fresh, renewing and full of a life giving aura. Chanting the incantation alone can bring in new hope to a weary Mind, Body and Spirit.
Witchcrafted with Natural Soy Wax, Organic Cotton Wick, Essential Oils and Herbs of Peppermint, Rosemary, Palo Santo and Mugwort. With Mediterranean Sea Salt.  Lapis Lazuli also rests in the candle wax.
Moon Goddess Magick Apothecary Ritual Candles are hand-poured with all natural ingredients for your magical workings to align with the natural and supernatural elements invoked during ritual work. No unnatural dyes or synthetic fragrance oils are used. Candles are created in ceremony and in alignment with the proper astrological timing to increase their efficacy for ritual use.
♦These candles are Witchcrafted of 100% Natural Eco-Friendly Soy Wax, Organic Essential Oils, Absolutes, Resins, Woods, and Organic Herbs and Gemstones~ This 6oz candle will burn for 30+ hours and fill a space with its enchanting aroma when it is lit or simply sitting in a room. 
♦Directions for best results~ Once your candle begins to fill the air with the botanical aroma, you can begin to recite your incantation, repeat your incantation slowly with meaning and intent, feel your Magick from the depths of your being rise up and fill you with love. The incantations can be adjusted to your liking.

♦Each Ritual candle is held in a 6oz Amber Glass container, beautifully decorated with an incantation on the back, and graced with a lovely eco-friendly cork lid with a wax seal of a Pentagram~
♦Place on your Altar to invite in your desired intent~
♦After you have enjoyed your candle, continue to use the jar to hold Herbs, Stones, Sacred Items or Jewelry~ Use your Imagination!
•••♦♦♦General Candle Safety♦♦♦•••
♦Keep your Wick Trimmed at ¼ inch at all times~
♦Keep away from small Children and Pets~
♦Enjoy your candle away from anything that may catch fire~
♦Please do not put the lid on the candle to extinguish the Flame, it is cork and will catch on fire.
Always use caution when working with the element of fire.