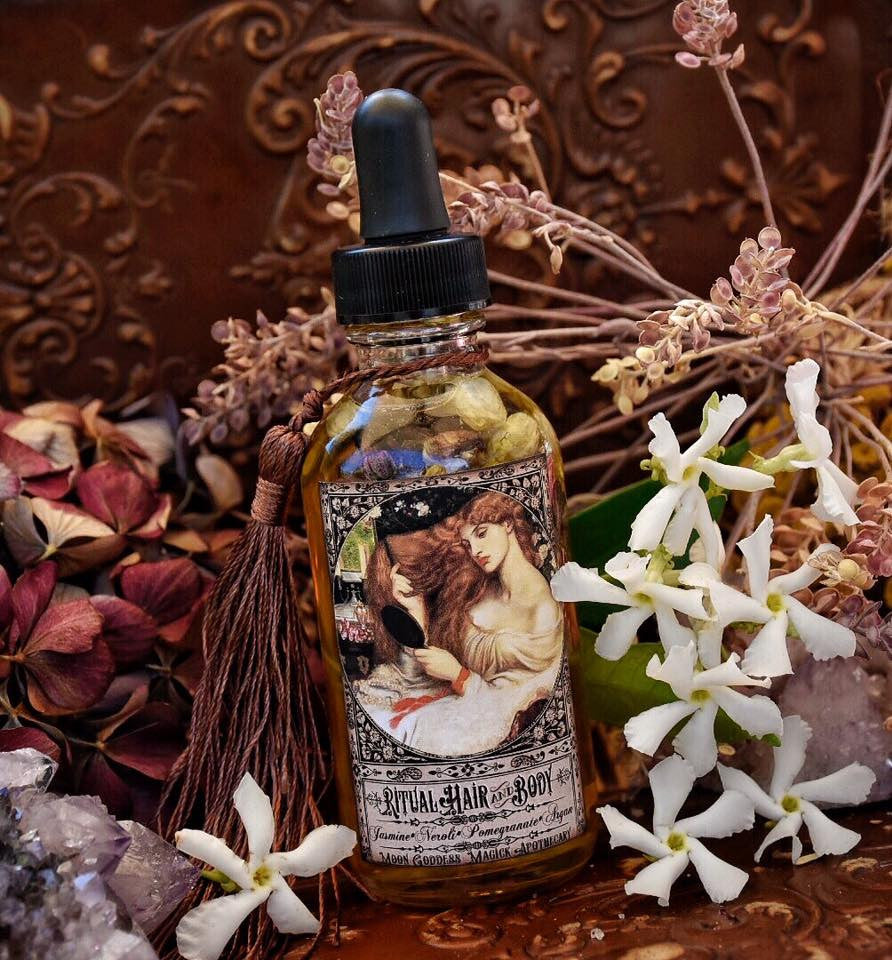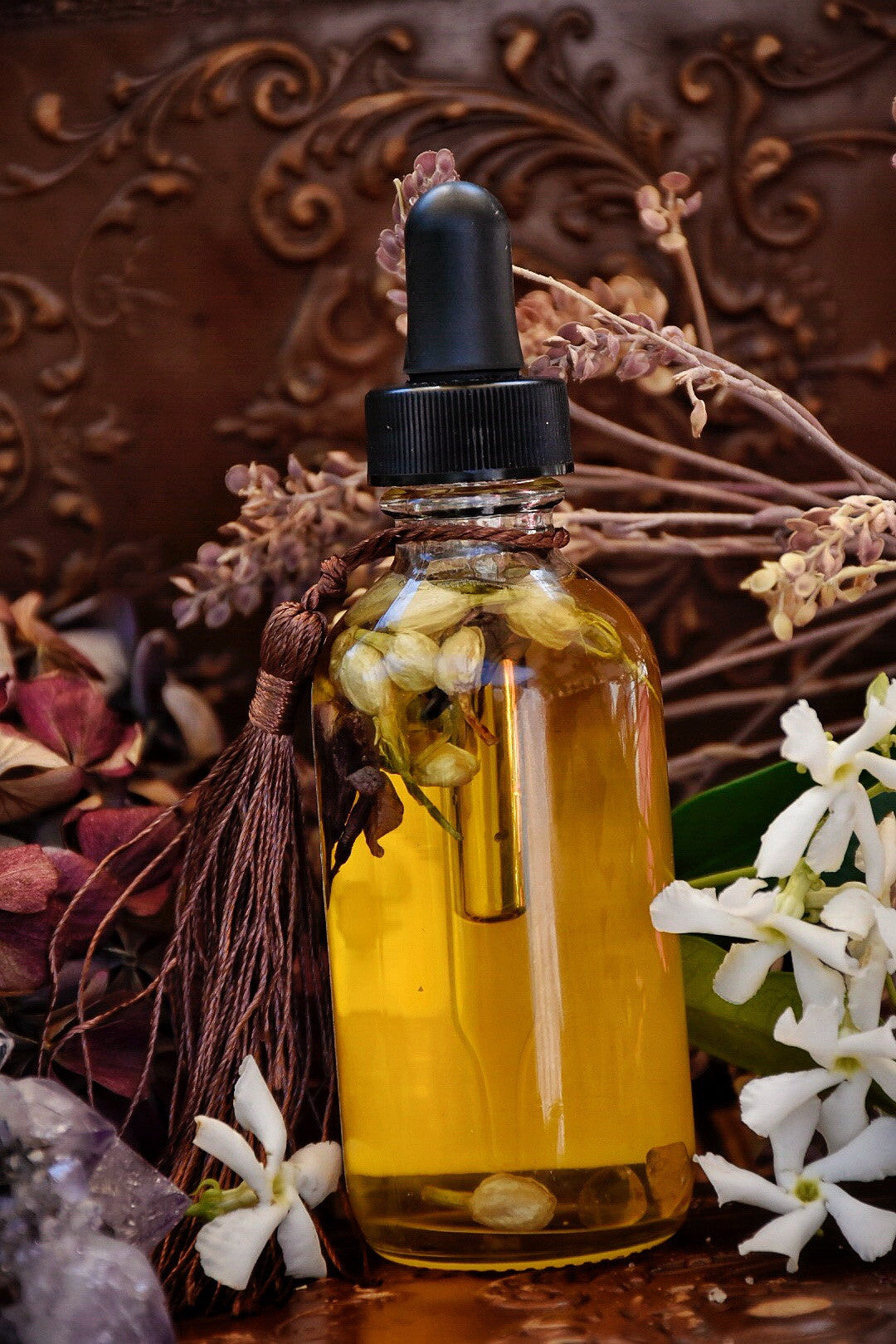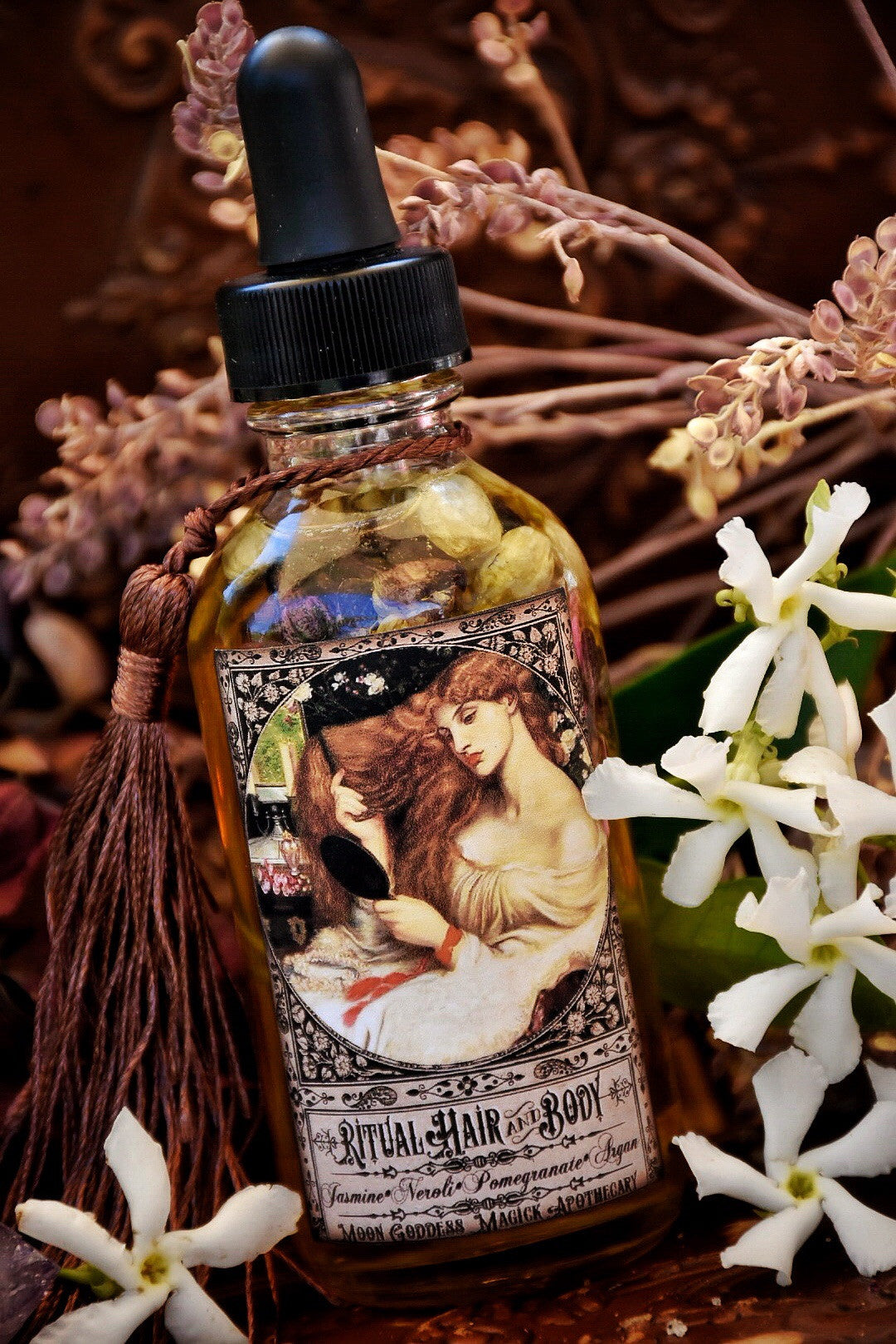 Ritual Hair and Body Oil~ Jasmine and Neroli~ Ancient Beauty Secrets~ Daily Beauty Ritual~ Huge 2oz Bottle with Dropper~ Beauty Oil
"Spirit of Beauty, whose sweet impulses, Flung like the rose of dawn across the sea, alone can flush the exalted consciousness with shafts of sensible divinity — Light of the world, essential loveliness." A.S.
Beauty Rituals and the use of Sacred Oils have a very ancient past, practiced for thousands of years by Queens and Priestesses who would have elaborate beauty and self care rituals to increase empowerment, beauty and at times, social status. Hair is said to be a direct connection to the soul, an extension of spirit growing from our crown, so caring for your hair and the holiest temple of your body are essential for Self Love.
This Ritual Hair and Body oil is meant for Self Love and Ritual preparation. Before you seek the council of the Gods and Goddesses, it is customary to invoke them with a pleasing scent. It is also pleasing for those that will be near you ♥
This luscious blend of Organic Oils of Pomegranate, Argan, Jasmine and Neroli....Graced with Rose Quartz Crystals and held within a generous sized clear bottle of 2oz with a glass dropper for easy application. Honor your self and the body that you have been given in this life by nourishing it with oils rich in anti-oxidants, delivering you anti-aging benefits and hair growth stimulation~ The chosen base oils are highly prized and costly for their amazing benefits and will serve you well in your daily Beauty Rituals, promoting hair growth and strength.
Suitable for the entire body and hair.
For the skin, these oils act as a luxurious potion, leaving your skin soft and blessed with divine scent. 
If you would like your bottle to retain its outer beauty, keep it away from water and be sure to not get any oil on the label. Please keep out of direct sunlight and use within 6 months of purchase.
Please see all pictures to notice the generous size of the bottle, also, more options for scents will be coming soon~ If you would like a custom scent just let me know