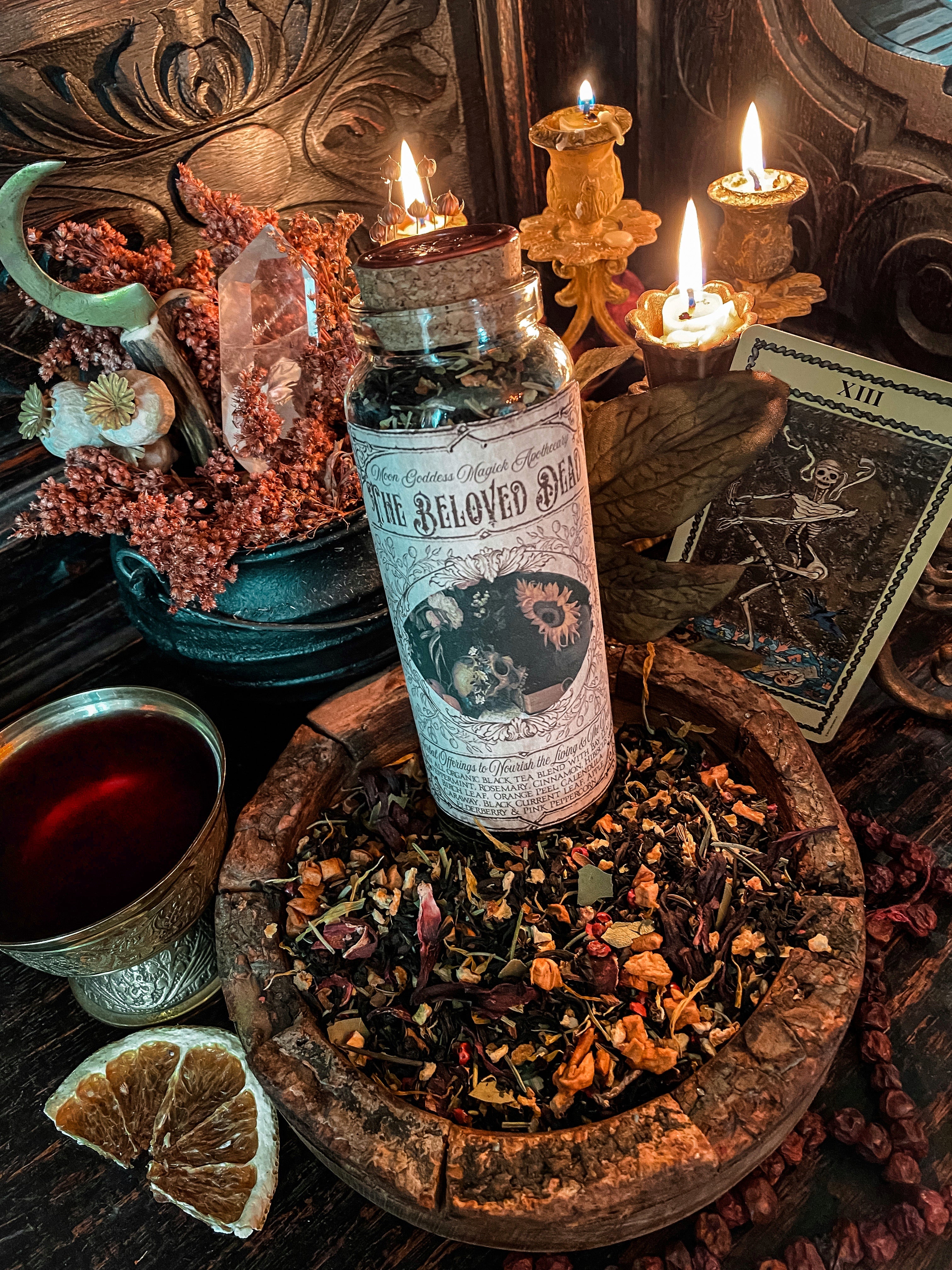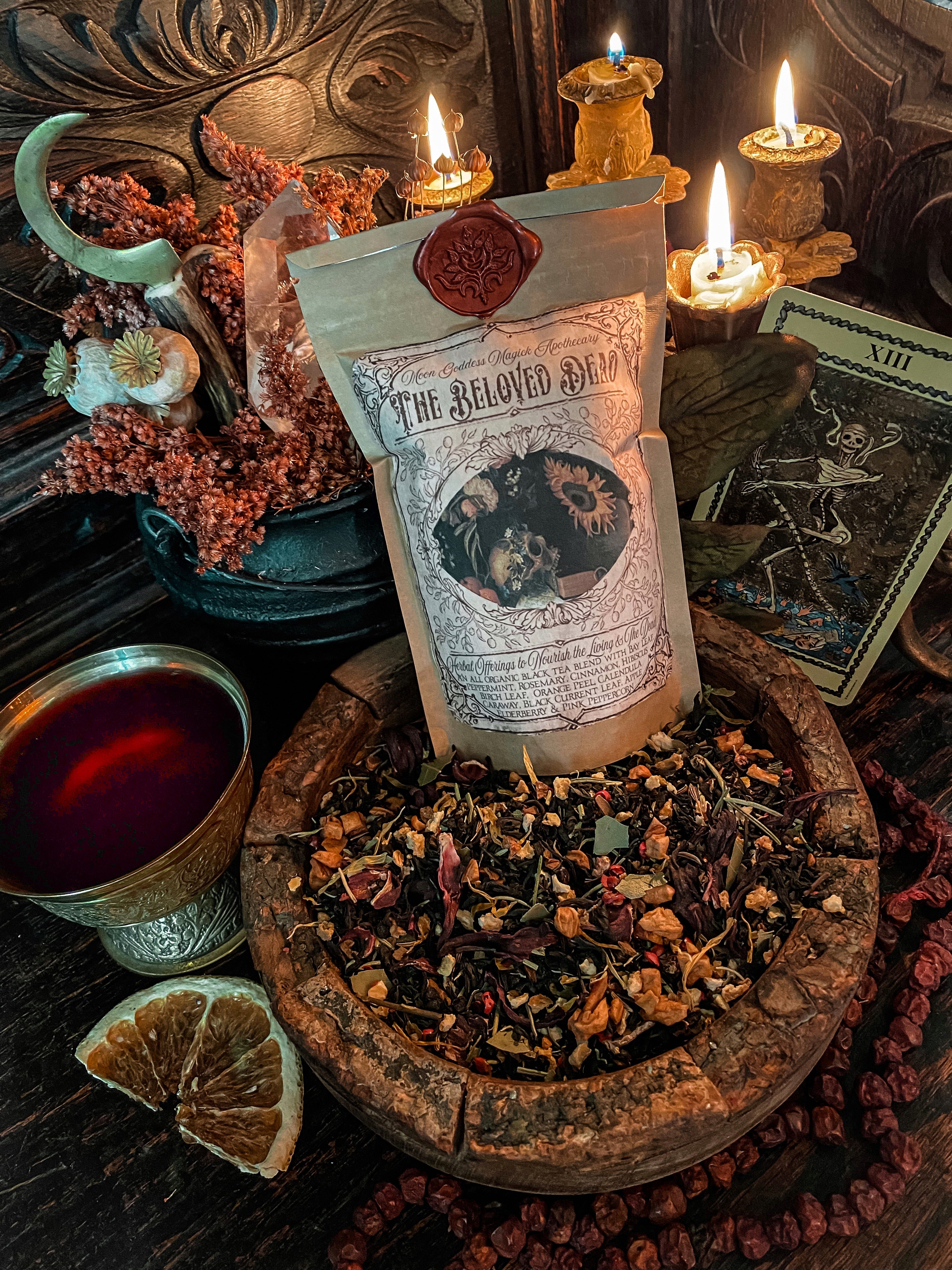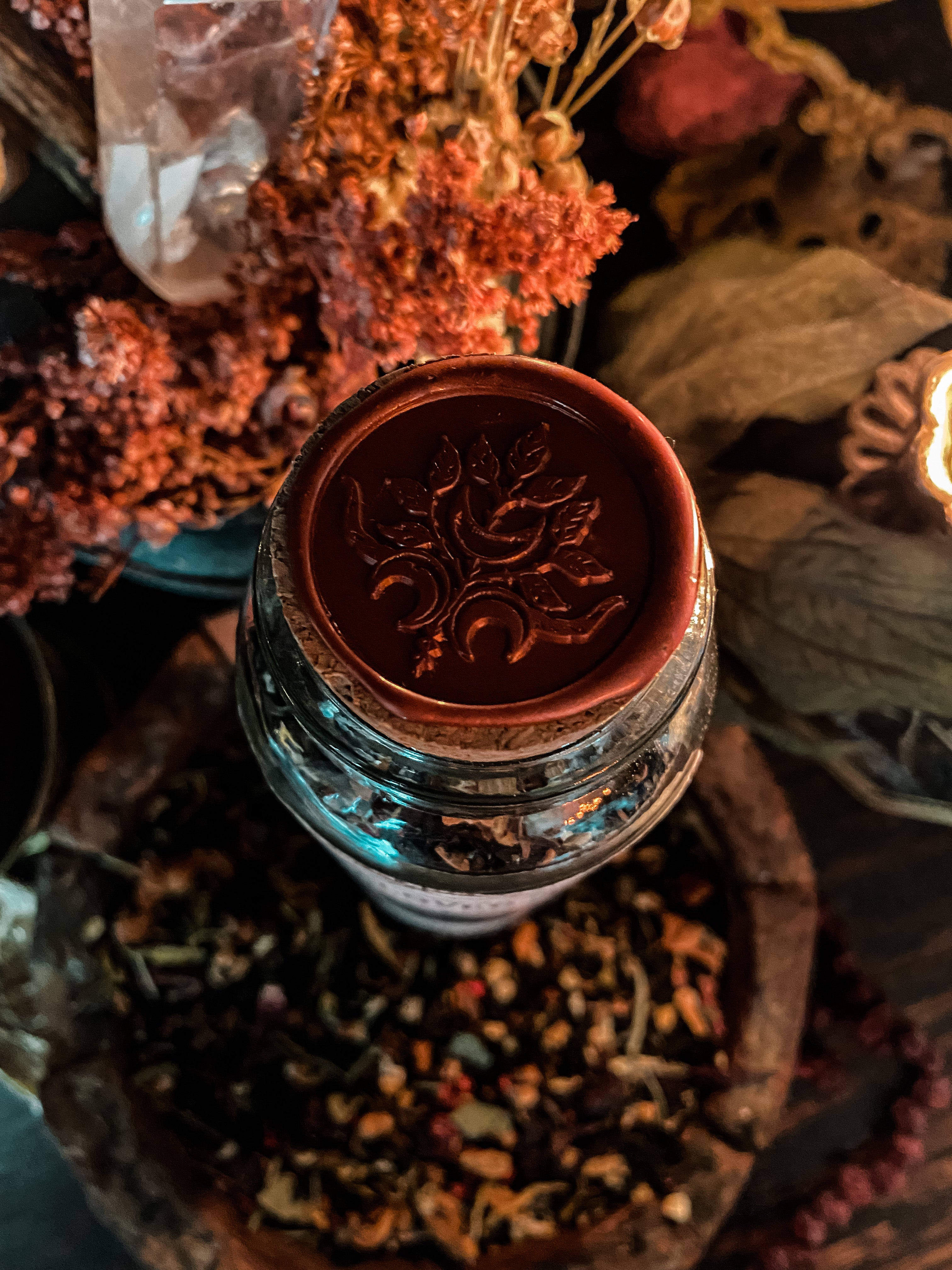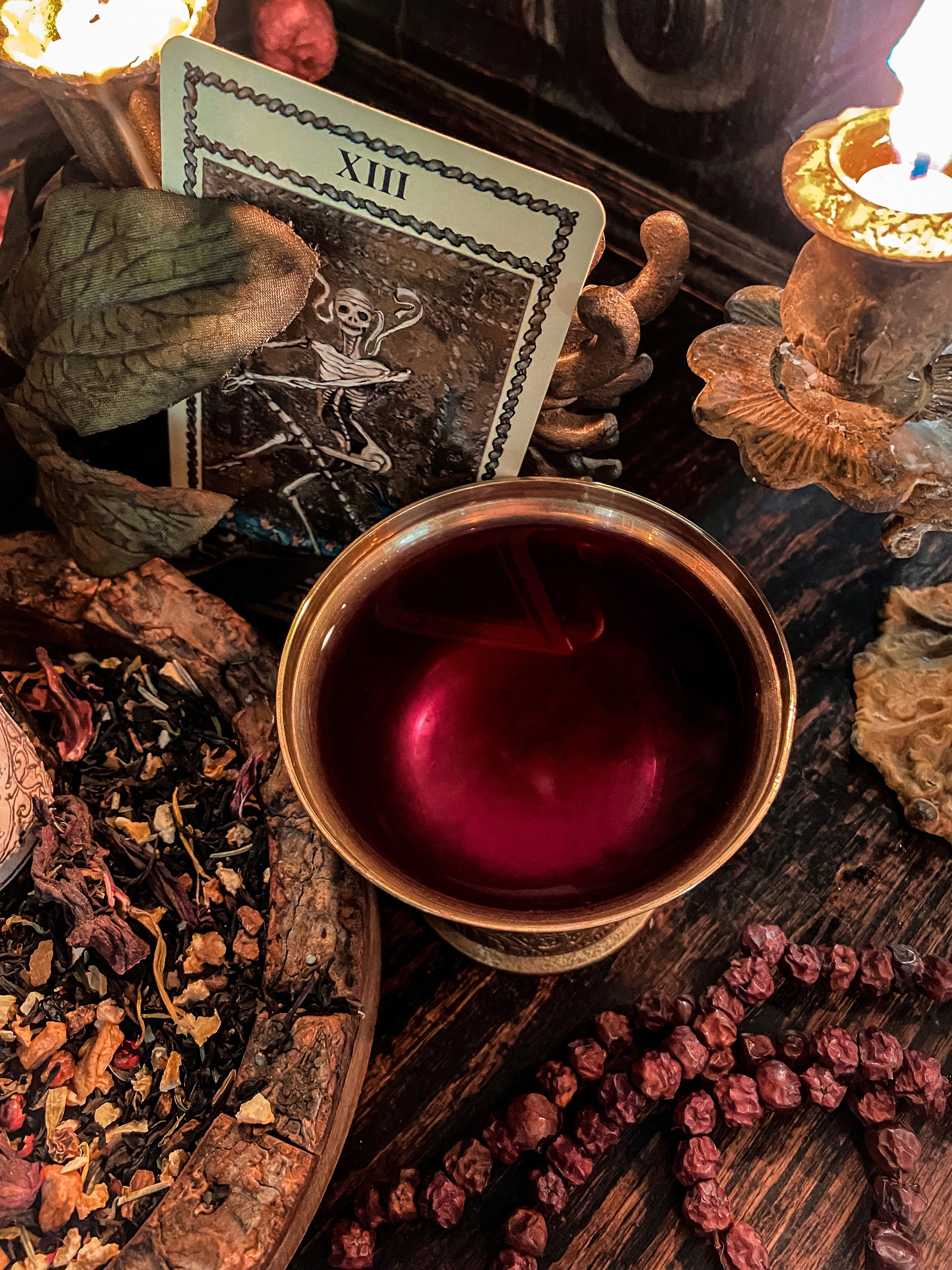 The Beloved Dead // Herbal Tea to Nourish the Living and the Dead // Two sizes
Our Beloved Dead, they live on through the beat of our hearts, we are the continuation of blood and bone, reflections of the line of mothers and fathers who created us. We are walking altars to our ancestral bloodline, and they want to see us thrive. Through our nourishment comes theirs.
•••
Haunting the senses upon first encounter. This beautiful and aromatic tea will deepen the connection between our realm and the realm of spirit.  An all-organic blend lovingly witchcrafted with Black Tea, crushed Bay Leaf, Peppermint, Rosemary, Cinnamon, Hibiscus, Birch Leaf, Orange Peel, Calendula, Caraway Seed, Black Current Leaf, Dried Apple, Elderberry, and Pink Peppercorn to nourish and honor the living and the dead.
Offering a hot cup of tea is a beautiful way to aromatically entice departed loved ones to come forward. Brew yourself and your beloved dead a warm cup, placing one on your altar and one in your hands. In this moment express gratitude and love for the ones you have lost that were dear to you. After leaving offerings for them, pay close attention to the realm of dreams where most of our ancestors can freely communicate with us to offer blessings, warnings, or guidance. After you have brewed your loose leaf tea, don't throw away your botanicals, scatter them in your garden, or add a little to the dirt of your house plants to continue the cycle of nourishment.
•••
If you don't already have a devotional space within your home to honor your ancestors, setting one up is easy to create from the heart, if you feel called to. Ancestor altars are usually set up in the heart of the home. They can include pictures of your loved ones, personal belongings that they held dear,  certain plants or dried herbs that remind you of them. If you don't have these things, don't worry. You can add whatever fills your heart with their presence. If you are completely unsure where to begin, start with the cultures that you are connected to by blood. These sacred spaces can be very small, or very elaborate. Once you have a sacred space set for them, leaving regular offerings of wine, water, honey, fruits, vegetables, herbs, and sometimes full meals is a beautiful way to nourish and honor them. Especially during Samhain and Beltane when the veil between our realm and the realm of spirit is at its thinnest. I personally do this all year and other days that were important to my family, such a birthdays, holidays, and even when I have a special occasion to celebrate. It fills my heart and my home with so much love and gratitude.
•••
Being a human being throughout the history of this Earth is bound to create a line of past family trauma, violence, or addiction. Its human nature to balance the forces of what is considered good, or bad, and often times those lines are blurred in times of war or hardships. If there is known trauma or addiction within your ancestral line, nourishing an ancestral altar to heal the pain from a past infliction is a beautiful way to transmute old negative patterns, addictions, and dangerous behaviors into healing loving energy. Engage in daily affirmations of love towards those that either inflicted pain or were the victims to it. The more you cultivate a loving and healing space centered around deep healing through acknowledgement of the past, the more diluted the negativity around your living bloodline will become. In doing this you will begin to see and experience that you are the one who will break the repetitive damaging patterns.  If the pain is too much for you to work with or recall, symbolically hand it over to your entire ancient line of mothers to be healed.