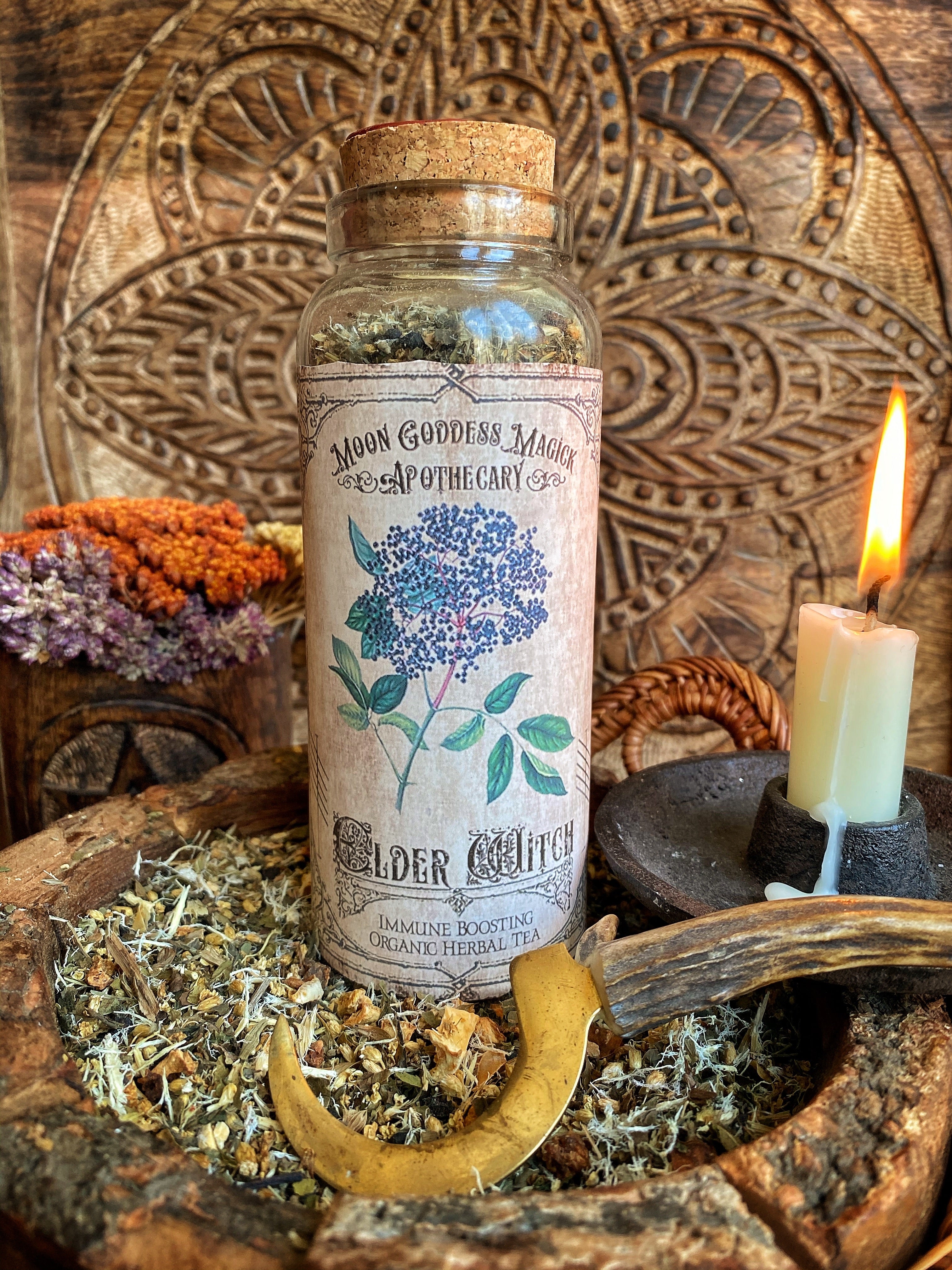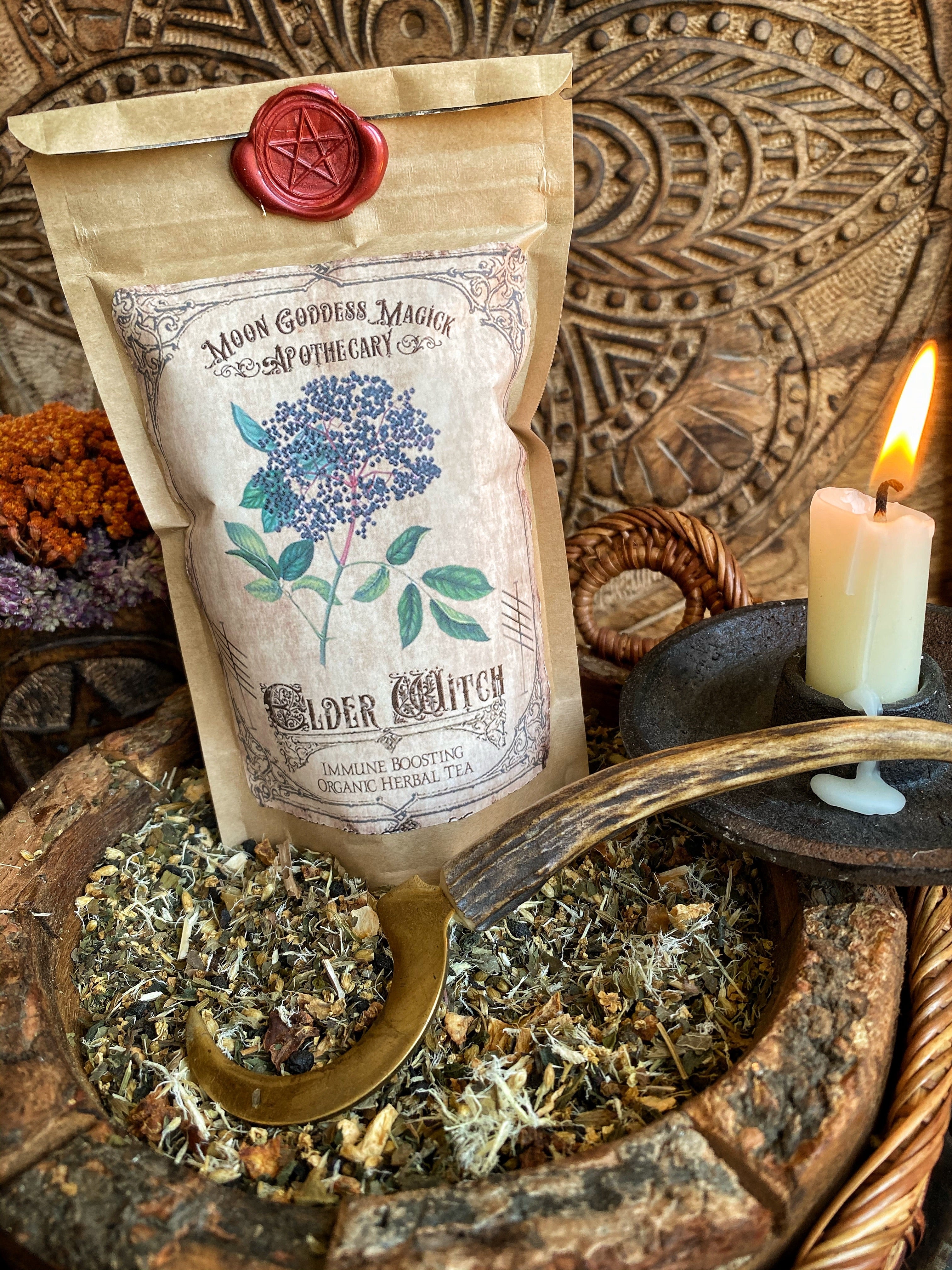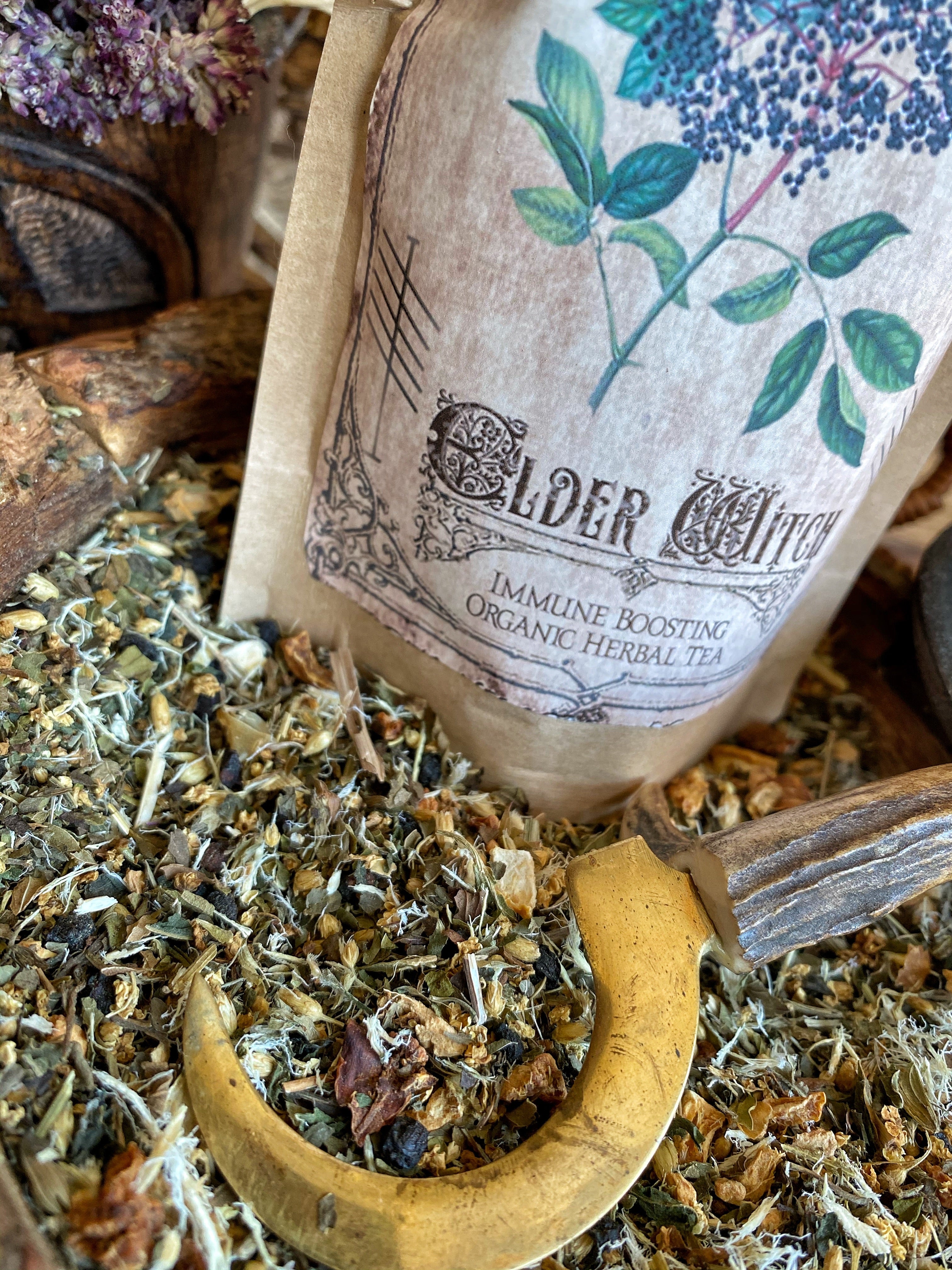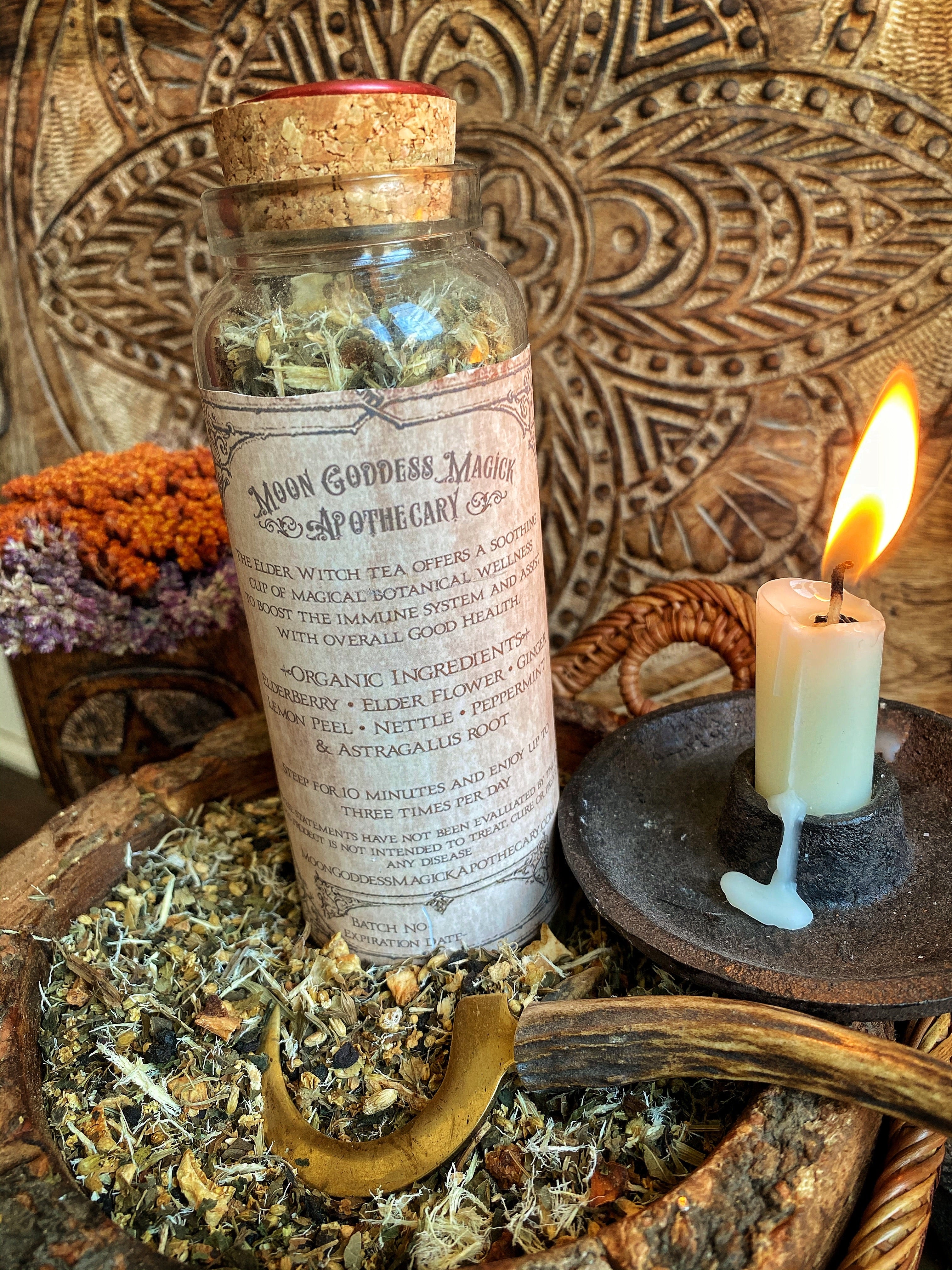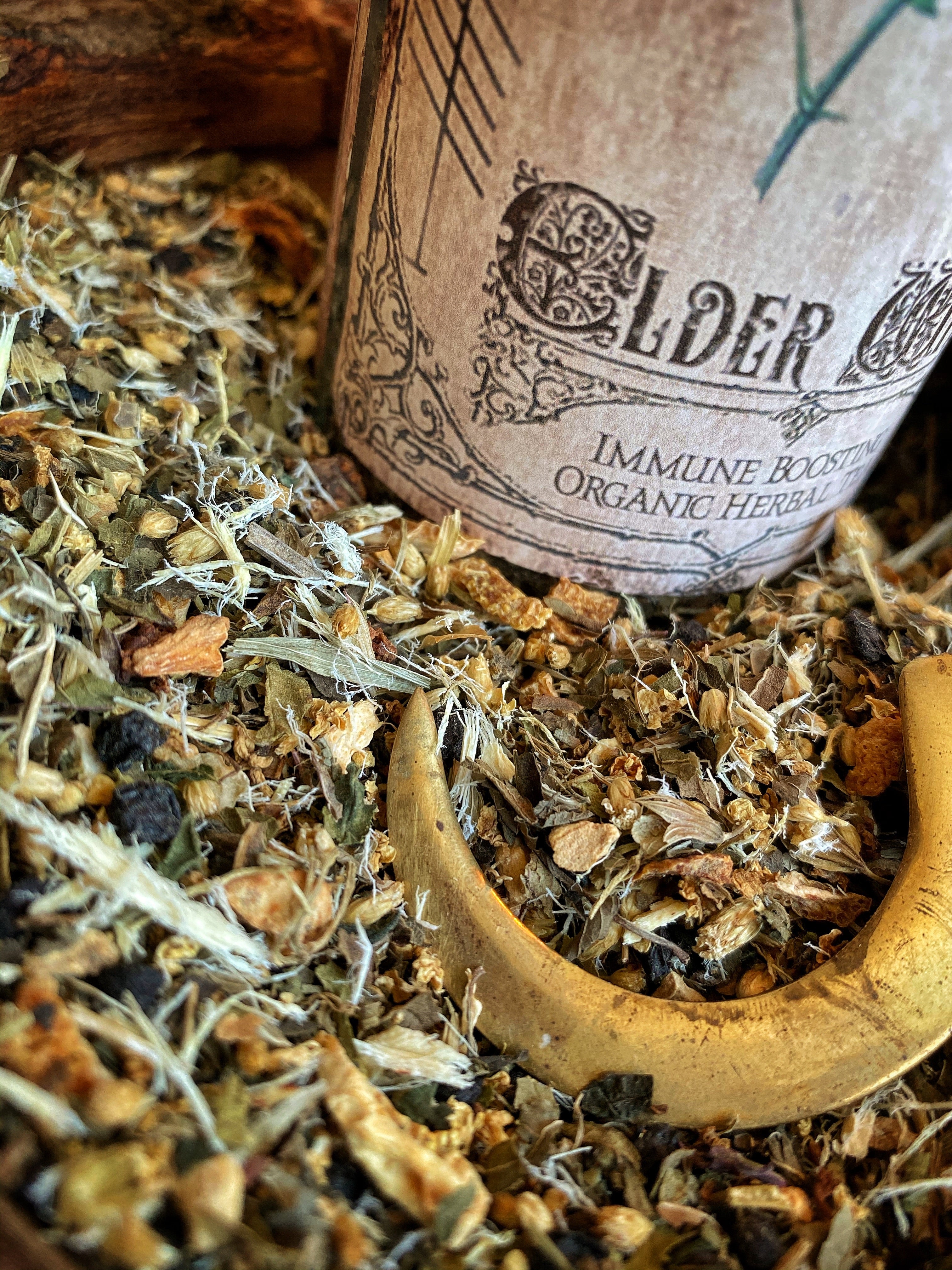 The Elder Witch Tea~ Organic Cold and Flu Tea for the Winter Months ~ Elderberry Tea ~ Elderflower Tea~ Lady Ellhorn~ Winter Tea ~ Makes up to 15 cups of Tea
The Elder Witch
Within the Elder Tree dwells a Witch, a Dark Mother, Lady Ellhorn, Keeper of transformative thresholds, wielding her healing and prophetic powers for those who seek her regenerative ways with reverence and honor. For Centuries, this Elder Mother has been revered for her powers of transformation, healing and mentoring through dark days.  
This Tea is inspired by the healing powers of the Elder Witch, perfect for the dark days of Winter. During the cold Winter months, we need the great gifts of the Elder Witch the most, her potent berries and flowers keep us strong and guide us through the cold season, not just for our health, but for the journey inward that happens as the days grow shorter. She offers us strength and protection and so shall this tea.
The Elder Witch Tea blend is flourishing with immune boosting botanicals that heal and nourish the body during the cold and flu season. Hand blended with high quality organic Elderberries, Elder Flowers, Ginger Root, Lemon Peel, Nettle, Peppermint and Astragalus. 
This blend can help soothe an aching body, assist in bringing down the hot fires within, all while supplying the body with essential minerals and vitamins to boost the immune system, giving way to a rejuvenation that can only come from the ancient wisdom of an old Mother Witch.
To brew your Tea and invoke the Elder Witch. Add 1-2 Teaspoons to your favorite Tea infuser and allow to steep for 15 minutes, allowing the tea to turn a deep shade of purple. If you don't have a strainer or infuser, you can just pour hot water over the herbs and divine them when you are finished with your tea. Makes about 15 cups of Tea
As you sip your Elder Witch Tea and imagine her healing magick working its way into your wary bones, you can recite this lovely phrase of gratitude to the Elder Witch, if you wish. I find it very charming and such a beautiful way to connect with the plant allies that are about to nourish you. After all, you are taking in the magical properties of the Elder Witch to heal your body.
"Many thanks to the Elder Witch, She who sees in the dark, may we be so inspired to learn from her ways and Midnight Arts ever towards the truth. A tree that offers everything for our healing and magical apothecary, may we be always respectful of her powers and potency"
- Corrine Boyer, from the "Under the Witching Tree" Borrowed with her permission.
When you finish your tea, call upon Lady Ellhorn and her wisdom by reading into the symbols and images that may present themselves in in the bottom of your cup.
Comes in a kraft bag for those that wish to try it, and a large 6oz jar for those who really love it.